WhatsApp may be gearing up to ruin part of the experience by introducing ads in Status, the messaging giant, however, also continually keeps adding handy new features to the app to enhance the user experience. The latest feature to show up in the WhatsApp beta on Android is the option to send 'private replies' to users from within a group chat.
First spotted by well-known WhatsApp tipster, WABetaInfo, this nifty feature first showed up in version 2.18.335 and allows you to select messages in a group conversation and be able to send private replies to a user instead of replying in the group itself.
Well, if you've been waiting for such a feature to find its way to WhatsApp then it's here now. Check out this feature in action down below:
How to 'Reply Privately' from WhatsApp Group Chat
Note: We tried out this feature using WhatsApp beta (version 2.18.336) on the Nokia 7 Plus, running Android 9 Pie.
1. Open a group conversation in WhatsApp and long-press the message you want to send a private reply for.
2. Tap on the 'three dots' icon at the top right and select the 'Reply Privately' option from the overflow menu.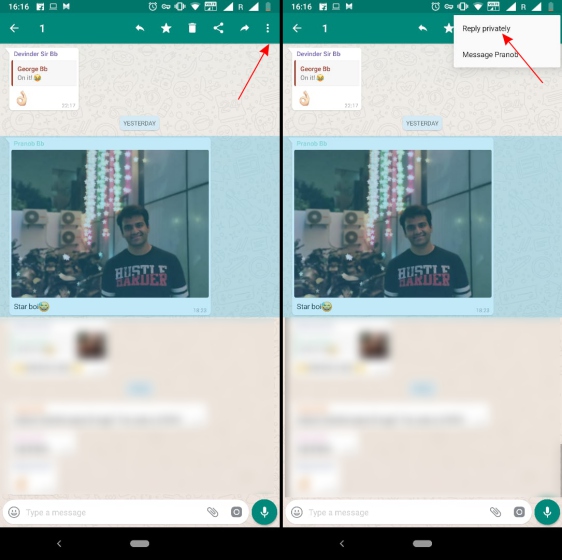 3. WhatsApp will open the chat window of the person you are sending a private reply to and you can now type and send the message.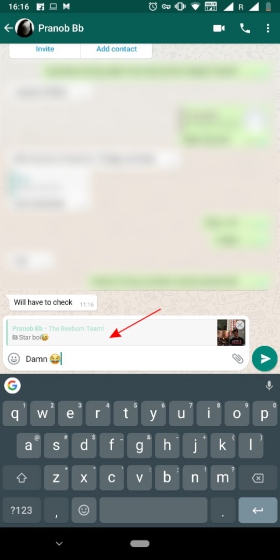 Here, tapping the quoted message will take the recipient back to the group chat to help them better understand the context of the private reply. This feature will certainly come handy for users who are hesitant in voicing their views in a group conversation, but still want to air their views
Another useful application of this feature will be in groups where only the admin has the permission to post messages. Earlier, you couldn't send any message in such a group, however, private replies change this and you can now quote a message to clear out your queries.
This feature is currently available only in WhatsApp beta on Android and should make its way to everyone very soon. So, what do you think about the 'reply privately' feature? Do let us know your thoughts in the comments below.
---