It has been over a decade since the creepy Slender Man became an internet sensation. From scaring kids to inspiring Roblox horror games, it has played a variety of roles in the gaming community. But now, it's making a comeback as a unique fashion statement in one of the most popular video games in the world. And unless you want to miss out on this trend, you must learn what is a Roblox Slender and how to make the most out of this in-game avatar. With that said, let's dive into the world of Roblox Slender.
All the characteristics and settings we are describing in this guide can be used directly within Roblox's in-game settings. But, if you want to push your character well beyond its limits, you should use Roblox Studio instead.
What is a Roblox Slender?
Slender in Roblox refers to players that follow a goth-punk style with their characters alongside a thin and extra tall body. Most of the time, you will see Roblox Slender with a male body type, but female Slenders aren't that rare either.
These players try to mimic the dark clothing style and the elongated body of Slender Man, often with long hair. But instead of copying the exact look of Slender Man, they also include elements from their personality to stand out.
Who Created Slenders in Roblox?
Much like the inspiration behind it, the history of the Slender avatar in Roblox is quite mysterious. However, the Slender trend gained a ton of popularity when streamers and content creators started posting content with this avatar.
If we were to go into the specifics, the Roblox community speculates that a player named "3bwx" created the Slender trend to overshadow the Ro Gangsters trend in Roblox and gain popularity. Others, however, believe that it was the player "TheNarrowGate" who created the first Slender avatar and started the trend as others started copying them.
That's not all. Some other player names that pop up in the discussion are "SharkBlox" (as per a Reddit discussion) and KhandyParker, who were using the Roblox Slender character before its widespread popularity.
Different Body Types in Roblox
Before we look at how to create and customize your Roblox character to look like a Slender Man, you first need to know about the different body types in the game. If you play the game regularly, you might already know that Roblox has two main types of body types:
R6: Classic blocky body made up of cubes and cuboids
R15: Realistic body with human-like features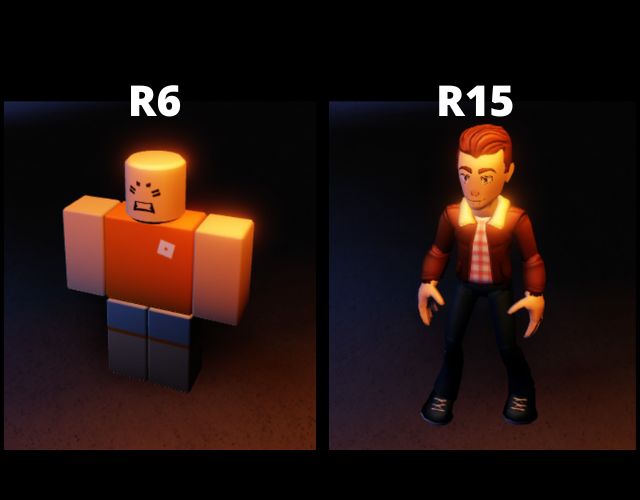 In the R6 body type, you can only customize the limbs, torso, and head in a limited way. But R15 allows you to edit all parts of your limbs that can be moved or animated. With that, you can guess that the R15 is the perfect body type for creating your version of Roblox Slender.
So, as long as your R15 body follows the characters described in the next section, you will have your Slender Man ready in no time.
Characteristics of Roblox Slender
Your Roblox body should have the following settings to turn it into a Slender:
Height: 105%
Width: 100%
Head: 100%
Proportions: 0
Body Type: 100%
If you don't know how to customize your Roblox character, you can use our linked guide to get a quick tutorial. Moreover, in some versions of Roblox, you don't get numerical toggles and sliders. There, you have to match the slider as per the following screenshot:
Your character's body should be as thin and as tall as possible. Then, once the body is ready, you need to apply the right set of clothing and accessories and complete the look. We suggest the following accessories:
Plain Black Shirt
Plain Black Pants
Black High-Wested Sweats
Stitch Face
Short Layered Hair
With that, you are now ready to create your own Slender character and join the group of some of the best Roblox characters of all time. And if you are inviting friends over, you should also try out the avatar in Roblox VR on Quest 2. Though, that's after you have figured out and set your own style. So, how do you want your Roblox Slender to look? Tell us in the comments below!
---
Load More