One of my favorite OxygenOS 11 features is Zen Mode 2.0 – an update to OnePlus' Zen Mode that helps users take a break from their smartphones. Although OnePlus is still in the process of rolling out OxygenOS 11 to its older phones, you can get your hands on Zen Mode 2.0 by updating the app from Play Store.
Use Zen Mode 2.0 on OnePlus Phones
In this article, we will be discussing the new features introduced with Zen Mode 2.0 and how you can use the app to disconnect and focus on your work, and not let your phone distract you in important situations in the real world. With that said, let's get started.
What Is Zen Mode 2.0 and How to Access It?
Zen Mode is OnePlus' take on digital wellbeing. The company updated Zen mode with new features alongside OxygenOS 11. You can get Zen Mode 2.0 for OnePlus 8 series, OnePlus 7 and 7T series, OnePlus 6 and 6T, OnePlus 5 and 5T, and OnePlus Nord from Play Store. Once you've installed it, pull down the notification shade and tap on the Zen Mode tile. If you're not seeing it, tap on the pencil icon and bring it to the accessible area. I'd recommend keeping it on the first page for quick access.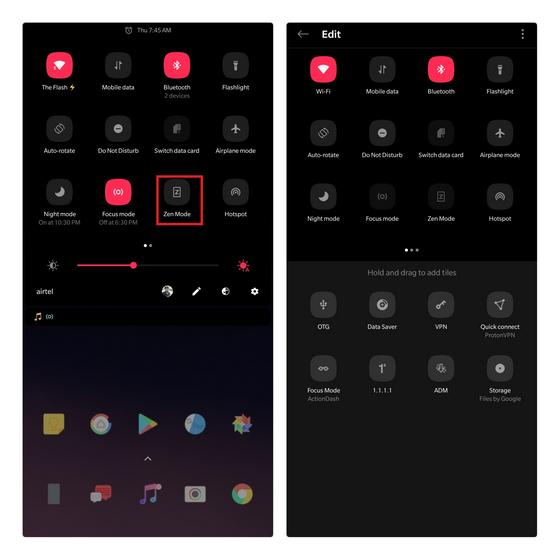 New Features of Zen Mode 2.0
Updated UI
Increased Time Duration Settings
White Noise Tones
Group Zen Mode
Updated UI
With version 2.0, OnePlus has overhauled the design of Zen Mode. The feature now offers a total of five themes namely Ocean, Space, Grassland, Sunrise, and Meditation. As the name hints, themes are based on these concepts and you'll see them in the background during your Zen mode session. Take a look at the themes in the image gallery below:
Increased Time Duration Settings
OnePlus previously offered 20 minutes as the default time duration for Zen Mode and then brought in the flexibility to tweak the duration to 30, 40, or 60 minutes. Zen Mode 2.0 lets you further customize the duration with new options of 1 minute, 90 minutes, and 120 minutes. In total, you can set the duration to 1 minute, 20 minutes, 30 minutes, 40 minutes, 60 minutes, 90 minutes, or 120 minutes on Zen Mode 2.0. To do so, tap on the timer on Zen Mode's home page and choose the duration that works the best for you.
White Noise Tones
OnePlus collaborated with the developers of sleep sounds and meditation app Tide to add white noise tones to Zen Mode 2.0. Through this collaboration, Zen Mode 2.0.1.0 gained five theme sounds – Jellyfishes, Light-Years, Country Mornings, Meditation, and Sunrise. These sounds are linked to the five themes available in the app. You can enable the sound by tapping on the music symbol present in the top right corner of the app.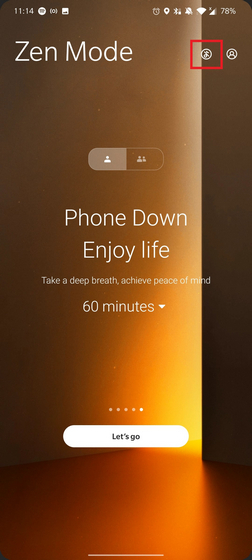 If you don't fancy having music in the background, you can disable it, even if you're in the middle of a Zen mode session. To deactivate ambient sound, all you have to do is tap on the music symbol present on the screen. You can press it again in case you want to re-enable the sound later.
Group Zen Mode
Lastly, we have Group Zen mode – a feature to help you put your phone down with your friends and family. You can tap on the multi-user icon on the home page to access group Zen mode. Here, you have the option to create a room or join a room others have created.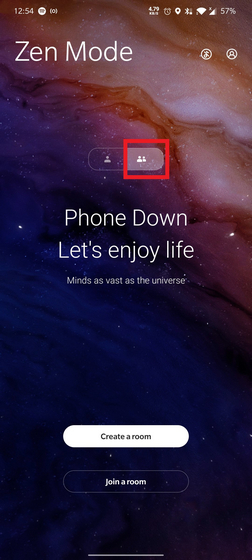 You can then configure the duration of the session and invite friends by sharing your room code. Although OnePlus makes bold claims by saying that any smartphone user can join the group session, that isn't the case right now. It may be in the works and OnePlus could add it in the future. For now, you're limited to other OnePlus phones.
Utilize Zen Mode 2.0 to Disconnect from Your OnePlus Phone
So, those are all the new features OnePlus added with Zen Mode 2.0. Two old features worth mentioning are daily reminders to get reminded to switch on Zen mode at a particular time and smartphone use reminders after continuous use for 2, 3, 4, or 5 hours. You can access both of these features from Zen mode's settings within the app. We hope this feature walk-through helped you understand Zen mode better. Before leaving to try it out, let us know your favorite Zen mode 2.0 feature in the comments.
---
Load More