Especially when working on shared projects, there are a couple of essential things I like to have at the disposal for smooth functioning. Seamless collaboration and the ability to delegate responsibilities to others with ease. Till iOS 13, I had to rely on third-party task managers for assigning tasks as Reminders app lacked this feature. But that's the story of the past, as I can now share reminders with others in iOS 14 and iPadOS 14 for a smooth-sailing collaboration while dealing with a shared project.
Assign Tasks using Shared Reminders Feature in iOS 14
When you have the responsibility to complete a huge project, keeping all the participants in sync is the key to getting the task done in time. Besides, delegating a specific task to the right person who can get the job with the desired efficiency also plays a pivotal role.
Whether you are a professional who has to deal with shared projects or a student who has to collaborate with classmates on assignments and case studies, "Assign Reminder" feature can be very handy. Let's find out how it works!
Assign Specific Reminders to Others on iPhone and iPad
Launch Reminders app and open the list. (You can create a new list or open the existing one. Tap on the Add List button and create a new one.)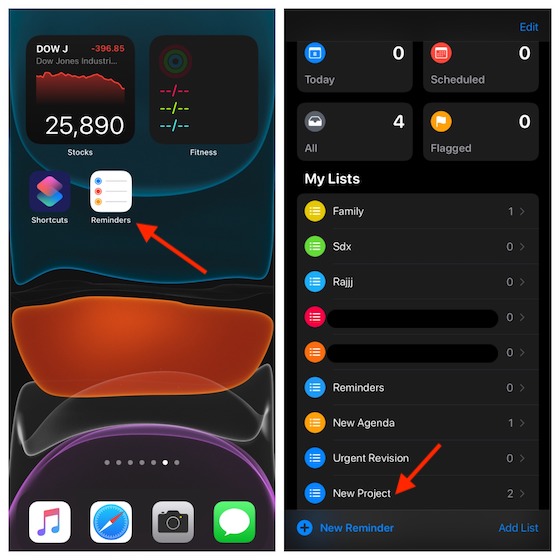 2. Now, tap on the options (…) button at the top right and choose Add People.
3. Next, send the invite to all participants. Simply choose a preferred medium like iMessage or Mail and send it as usual. In this test, I'm going to send the invite via iMessage.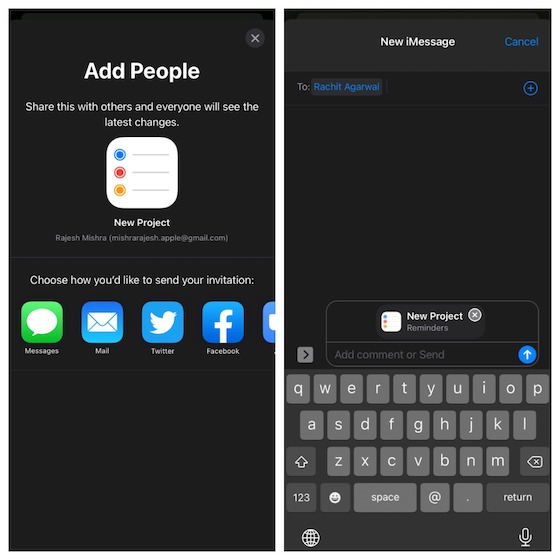 4. After that, tap on a task which you want to assign to someone else and then hit the "i" button.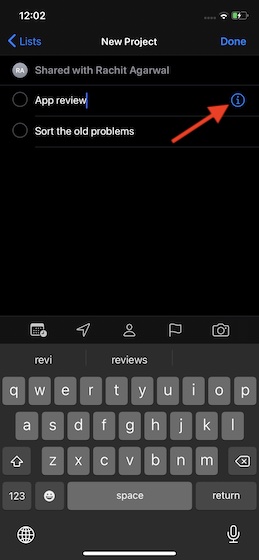 5. Next up, tap on Assign Reminder and then select one of the list participants.
Now, your friend will receive a notification about the task. Similarly, if anyone assigns the task to you, you will also get the alert.
Assign Multiple Tasks to the Same Person at Once
There is also a way to assign multiple tasks to the same person at once. The process is just as straightforward.
1. To get started, open the list in the reminders app. Then, tap on the ellipsis (…) button at the top right corner and then choose "Select Reminders" in the menu.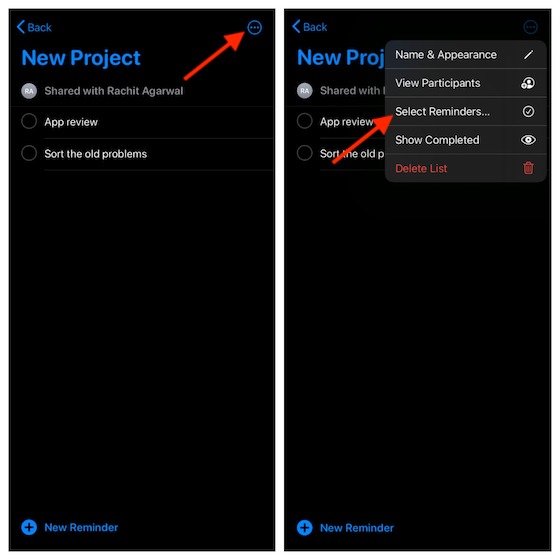 2. Now, you need to select all the tasks that you wish to assign and then tap on the options (…) button at the bottom-right corner of the screen.
3. Next up, tap on Assign and then choose a participant. Be sure to tap on Apply to confirm.
Share Reminders with Others on iOS and iPadOS
So, that's the way you can use the stock reminders app to assign tasks. While this nifty feature may not have got as much attention as Back Tap or App Library or even home screen widgets, it can prove to be very helpful for those who often have to work on shared projects. What's your take on this proficient feature? It would be great to have your opinion about it in the comments below.
---
Load More