From social networking services, to instant messaging apps, to video sharing websites, there are numerous means by which information can be shared online with others. However, when it comes to communicating thoughts and ideas effectively over the web, there's hardly a medium that works better, than blogging. Probably this is the reason that these days, anyone and everyone, from individuals to big corporations, has a blog. Out of the many blogging platforms available out there, the Verizon owned Tumblr is probably the most unique. Built around a "short-form" blogging approach, it lets users post text, pictures, as well as multimedia from an easy to use dashboard. But as impressive as it is, what if you want something else? Looks like you're in luck, as we've curated this listing of the best Tumblr alternatives from you. So what's the hold up? Get reading!
Best Tumblr Alternatives (2020)

1. WordPress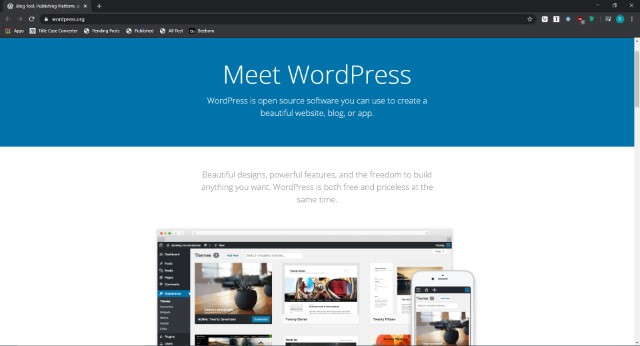 It's impossible to talk about blogging platforms without mentioning WordPress. WordPress is undoubtedly the most popular Tumblr alternative that you should consider. WordPress comes in two variants, a free and open source script based content management system (CMS) that can be installed on a web server, and a freemium blogging platform that helps you get your first blog started in seconds. It is extremely customizable, thanks to the innumerable themes and functionality enhancing plug-ins available for it. Not just that, it has everything you'd expect from a solid blogging service, including multi-user support, social network integration, SEO, and custom tags/categories. In essence, if you want a fully loaded blogging service, WordPress is an absolute no-brainer.
Pros:
Extremely popular and reliable
Strong administration features
Fully scalable, with robust support
Cons:
Gets fairly complicated (especially if your blog has multiple scripts, custom plugins etc.)
Web-based post editor not exactly the best
Best suited for:
Individuals getting started with blogging
Corporations wanting tailor made product/communication blogs
Monetization focused blogs
2. Blogger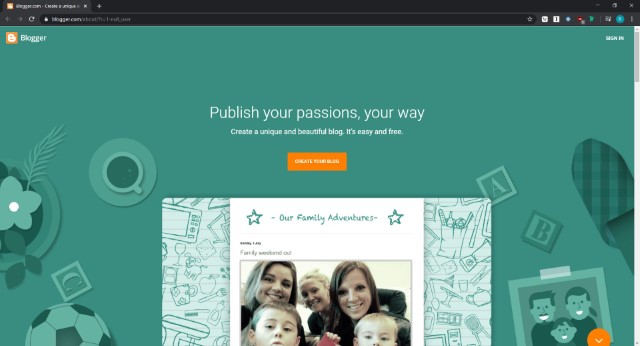 Owned by the tech giant Google, Blogger is one of the easiest blogging platforms out there. And if you're invested in the Google ecosystem, this is one of the best Tumblr alternatives for you. It includes a super simple web-based post editor, and you can have up to 100 blogs per account. Blogger also has options for viewing detailed stats, such as monthly page-views, traffic sources etc. for your blog. Oh, and there is full integration with Google's AdSense program as well, for easy monetization. Also, Blogger's terrible UI has been updated finally and it now has a beautiful Material Design language being used across the platform, making it one of the most gorgeous looking Tumbler alternatives.
Lastly, all the regular blog features such as multi-user support (with permissions), posting via email, and comments are supported too. But even with all of that, Blogger isn't without its downsides, most notable of which is that it doesn't let you host your blog on a web-server. So if you have your own custom domain, you have to use DNS functionality to redirect it to the blog.
Pros:
Backed by Google
Extremely easy to set up
AdSense integration for easy monetization
Cons:
Not scalable
Restricted customization, with barely any themes
Limited plugin support
Best suited for:
Individuals looking for occasional blogging
People who don't want to spend on features like hosting, custom templates
3. Soup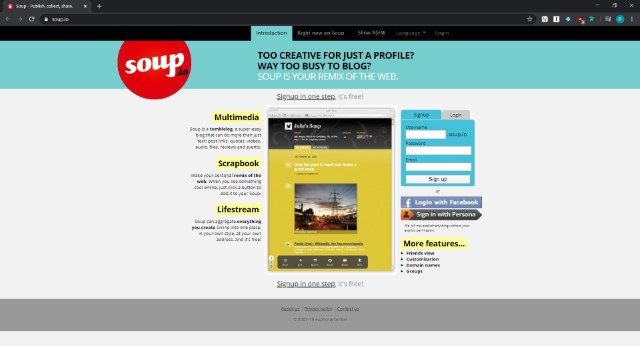 It may be oddly named, but Soup almost exactly mirrors Tumblr in both user interface and features, thus making a strong case for a robust Tumblr alternative. From texts to quotes, and from images to videos, it lets you post everything, and then some more. It can directly import posts from a large variety of social networks (e.g. Twitter, Reddit, SoundCloud), and lets you automatically publish posts to Facebook too. Also, you can point your custom domain to your Soup micro-blog easily. There are many Soup groups (based on topics like animals, TV shows etc.) that users can join and post to, thus creating a collaborative stream of posts. In a nutshell, Soup is a simple micro-blogging platform that works. Just don't expect it to match up to heavyweights like WordPress.
Pros:
Largely similar to Tumblr in features, helpful for migrating Tumblr users
Fairly good customization options, along with custom CSS editing
Auto posting via Email
Cons:
No custom plugins, ad-supported free tier
Nothing in way of monetization support
Looks unpolished
Best suited for:
Young bloggers looking for simple blogging and re-posting of content
4. Medium
Founded by the ex-chairman and CEO of Twitter, Medium has quickly risen to become one of the most popular blogging platforms in less than four years. It's a distinctly unique from the other blogging services, in a sense that it focuses more on factors such as quality of content, and how published stories connect with the readers, as opposed to statistics like page-views and traffic. A great medium (pun intended) for people who love to write and appreciate good words, Medium sports a minimalistic text editor, and has features such as keyboard shortcuts, sharing links, and the ability to set visibility, tags etc. for articles. You can even import posts from other services, as well as tag, follow your favorite authors. There's also support for setting up custom domains.
Pros:
Curated content, rich in quality
Private/public posts, scheduling options
Built-in stats for checking user engagement on posts
Cons:
Heavily restricted, with almost no customization
No Google Analytics support
Best suited for:
Serious authors looking towards writing quality content
Individuals focused on interaction and networking driven by posts
5. Mastodon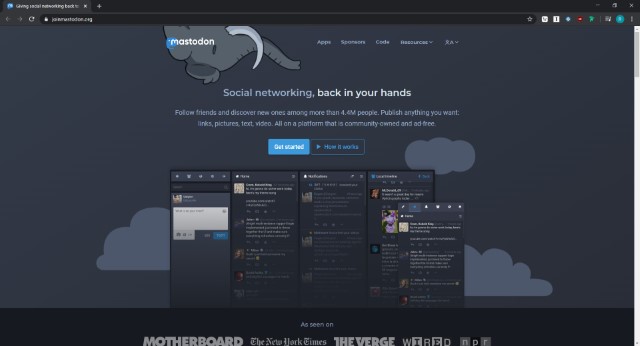 Mastodon is a lot like Twitter in the way it functions with people creating posts on the website, following interesting people, and getting followed by people who find them interesting. That's also, however, a lot like Tumblr, and Mastodon is definitely a Tumblr alternative you can check out. The service is entirely decentralised and open-source, and has a pretty huge user-base already. Like Tumblr, you can make posts on Mastodon, and just like Tumblr, other people can like your posts, repost them, and make comments. The user interface here is not a lot like Tumblr to be fair, but it does have a lot in common as far as features go. There are hotkeys here too, so you can easily create new posts, and do a lot more with just the keyboard.
Pros:
Decentralised
Large community
Dedicated servers for different types of content
Ad-free, non-algorithmic feed
Cons:
Can be a little confusing to get started with
Best suited for:
People looking for an ad-free social media network
6. Posthaven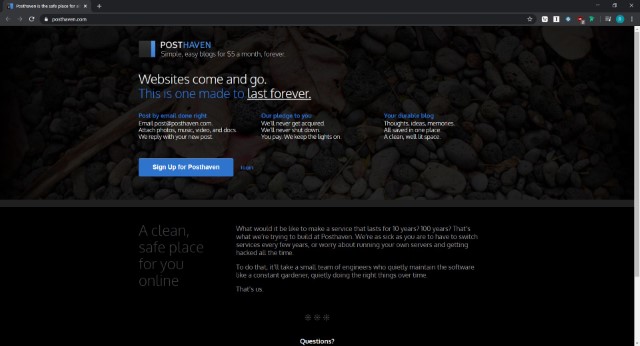 Want a Tumblr alternative that's going to stick around for good? Posthaven might just be what you're looking for. With an upfront asking price of $5/month for a blog account (each having up to 10 blogs), Posthaven, in its own words, is a service that aims to last forever. They also have a pledge that states that the service will never get sold or acquired, ever. It's founded by the creators of the now-defunct Posterous, and includes features like password protected blogs, email notifications for blog activity, and posts having documents and audio/video content. It should also be noted that Posthaven is quite young and still under development. All said, Posthaven is promising, but the fact that it doesn't even offer a trial account, and you can't start using it unless monthly fee is paid, is a downer.
Pros:
Minimal, with a balanced set of features
Near guaranteed to keep running
Future goals include permanent post links, even after users stop paying
Cons:
Sparse information on website
No trial accounts, nothing about monetization
Best suited for:
People who want a simple and reliable service, and don't mind paying for it
Users wanting to support an upcoming platform
7. Ghost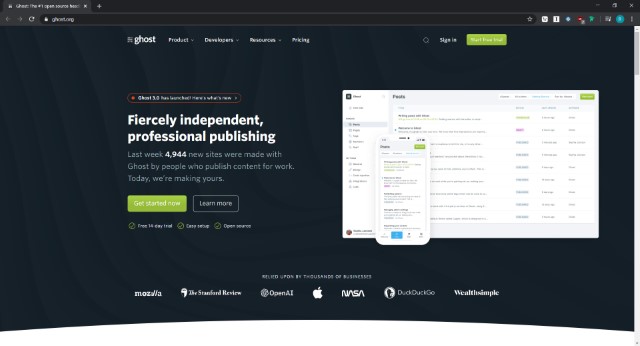 The result of a successful Kickstarter funding campaign, Ghost is an open source blogging platform that's intended to make writing and publishing content simple. Ghost is based on the Node.js run time environment, which makes it extremely fast and responsive. Just like WordPress, Ghost is also available in two variants, a web server hosted package (starting at $19/month), or a self hosted one ($5-10/month). Ghost is in active development, with features such as third party apps, post analytics, and developer tools in the pipeline. If you want a fast and responsive Tumblr alternative, do try out the 14 day trial of Ghost.
Pros:
Fast and responsive, Powerful dashboard
Real-time automatic formatting and preview as you type
Collaborative posting, direct code injection
Cons:
Hosted plans not exactly the cheapest
Still under development
Best suited for:
Users who don't want to bother with formatting content too much
Individuals focused on ease of use and setting up
8. Typepad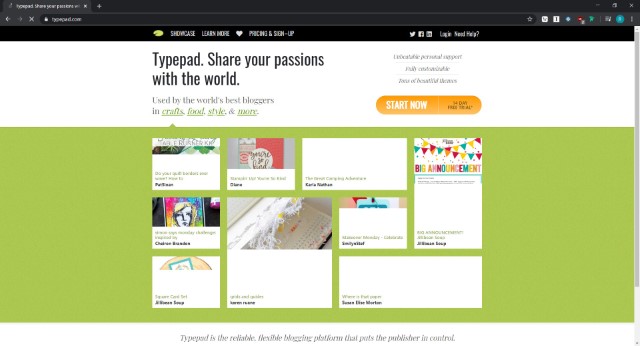 If you're looking for a simple yet powerful Tumblr alternative, look no further than Typepad. Having been around for quite some time, it is used by major names such as ABC, MSNBC, and the BBC to host their blogs. Getting started is easy, and there are numerous built-in analytics tools to give you the best idea of stats on your blog(s). What's more, Typepad also promotes blogs on its own network, which further increases the chances of garnering traffic. And of course, regular features such CSS based theme editing, Google Analytics support etc. are there too. Typepad does offer a free trial, though you're still required to provide payment details for it.
Pros:
Reliable and established
Ability to import posts from WordPress
Map custom domains
Cons:
Starting plans of $8.95/month a bit on the steep side, especially considering free alternatives
Not as extensible as solutions like WordPress
Best suited for:
Bloggers looking for an established platform
9. Site123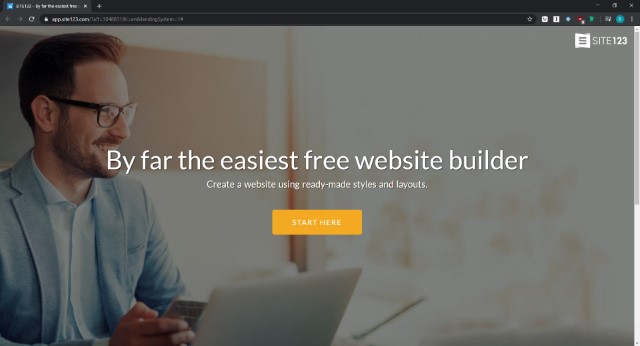 If you find the process of creating a more personalized website a complex affair, I would recommend you to check out Site123. While Site123 may not be as versatile as Tumblr, it offers all the essential tools to let you create a pretty good looking websites. And that too without having to dive into a steep learning curve. One of my favorite features of this website is a solid collection of templates that can give a tough competition to Tumblr's offerings. Being available in a wide variety, they offer you the needed flexibility to design your website to your heart's liking. So, whether you want to create a business website, a highly interactive blog or a photography site, it has got you fully covered.
Not to mention, it also allows you to use your custom domain name for online business. That means you can make the most of this platform to create an online store to give a facelift to your business. And with the website builder at the disposal, it will always be a tad easier to give a different look to your website. That's not all, you don't have to shell out a single penny to get started. In a nutshell, if you want a Tumblr alternative for a more simplified website creation experience, Site123 is what you should give a shot.
Pros:
Pretty easy-to-use
A large collection of templates
A handy website builder
Option to use a custom domain name for online business
Cons:
Lack of pro tools
Not enough customization
Best suited for:
People looking to create something that is more than just a blog
10. DeviantArt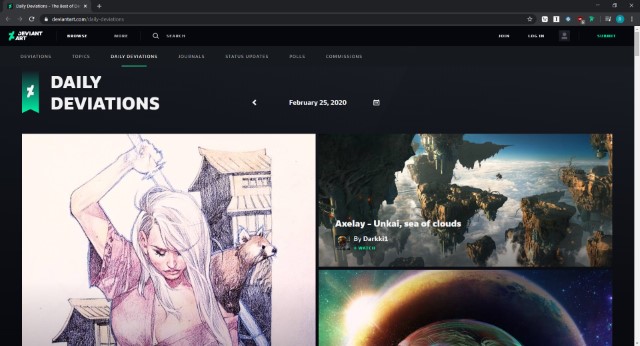 Well, I have specifically picked out DeviantArt for the folks who are looking for a Tumblr alternative for sharing artwork. Granted, DeviantArt is nowhere near as popular as its famed counterpart nor does it boast a range of customization tools, but when it comes to discovering unique art, it's clearly a better service. The niche community is great for exploring artistic content and also having the much-needed inspiration. Another notable feature of this platform is that it's not just limited to digital art. If you are good at hand-drawn art, it can give enough exposure to your creativity.
What has caught my attention in DeviantArt is a fan-fiction that I have loved to catch up with. If you are fond of creative stuff, it can easily become one of your hot ingredients. As someone who has always admired literature in its true form, I have found its poetry collection quite impressive. From emotional poems to hilarious couplets, it's got a lot to inspire you.
Pros:
Great for sharing artwork
A variety of artworks to explore
Interesting fan-fiction
Cons:
Quite limited to sharing and exploring an artwork
Lack of pro tools for blogging
Best suited for:
Designers and art work creators
Bonus: Twitter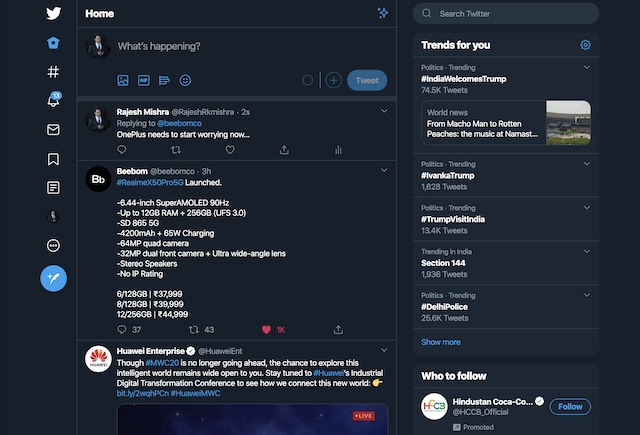 While Twitter is not a full-fledged alternative to Tumblr, I would suggest you take a close look at it for more than one reason. For starter, the micro-blogging site is loaded with a range of features to let you interact with your followers. From conducting a poll to figure out the opinion of a large number of people to communicate with followers via direct message, it's indeed hard to find a more agile platform than Twitter. In short, if you are hunting for a platform that can keep you in sync with the latest happenings and also let you share your views with millions, you've got to be already on board with tweeting.
Try Out These Tumblr Alternatives
While it's certainly one of the most popular and unique blogging platforms out there, Tumblr isn't the only one of its kind. Also, there's little denying the fact that it's geared more towards teenagers and casual bloggers. But if you're looking forward to having (some of) Tumblr's features with a bit of customization afforded by advanced blogging platforms, the above alternatives are going to serve you just fine. So try them out, and talk to us in the comments below.