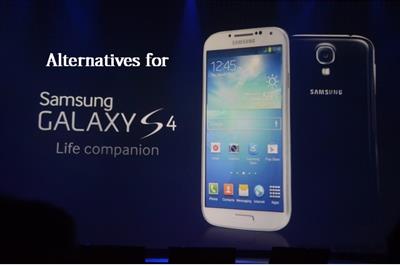 The Galaxy S4 is looking like it is going to be another success for Samsung. With sales in excess of over 15 million in the first 2 months alone, the mobile is on its way in becoming one of the most-selling handsets. While there is the usual frenzy of consumers who just cannot wait to get the latest offering from Samsung, for the first time, there are viable alternatives. Samsung is clearly miles ahead of everyone else in the mobile market, but there are a few devices that are wonderful and offer a significant challenge to the S4.
HTC One
HTC's latest mobile is a wonder. Featuring an all-aluminum design, it is easily one of the best-looking mobiles in the world today. Where Samsung has gone for its usual industrial design with the S4, HTC has devoted a lot of time and effort in ensuring that the One looks and feels like a work of art. Its brushed aluminum surface and slightly contoured back are an absolute delight, and at 4.7 inches, the device is not too unwieldy to use with one hand.
HTC One comes with a 4.7-inch LCD3 full-HD screen with a staggering ~469 ppi pixel density. The screen is one of the best there is, and color balance is wonderful. Text, images and video all stand out and nothing looks washed out on the device. SoC is in the form of Qualcomm APQ8064T Snapdragon 600, which is similar to APQ8064AB that is used in one version of the Galaxy S4. In HTC One, the quad-core Krait 300 processor is clocked to 1.7 GHz and is blazing fast. Also included is Adreno 320 which is sublime at rendering visuals. 2 GB RAM, 32 GB internal memory and the newly added Ultrapixel camera form the rest of the hardware.
The One is clearly a crowd favorite to be one of the best devices of the year, and thanks to the stellar hardware as well as the entirely reworked UI with Sense 5, it has a good chance of being so. It is level on most categories, if not better, than the Galaxy S4 and is without doubt a great alternative.
Apple iPhone 5
We cannot push away an iPhone from the contenders of the world's best smartphone race. The Apple iPhone 5 is soon going to be replaced by the Apple iPhone 5S but it still beats the competitors out there in terms of sheer number of amazing apps and games. The design of the iPhone 5 is very elegant, as always the case with Apple products. The Aluminum material used to build the phone is very similar to the HTC One.
The internals are powerful and feature packed as well. The iPhone comes with a 4 inch 1136 x 640 pixels IPS LCD screen with 326 ppi, which is same as the other iPhones from last 2 years but there is a new Gorilla Glass 2 pane for protection. There is an 8 MP BSI camera at the back with LED flash and a 1.3 MP front-facing camera at the front. The camera can now take full HD videos as well as high resolution images simultaneously without breaking any sweat, thanks to its Apple A6 processor. This new processor is based on ARM Cortex A15 like architecture with 2 CPU cores and an ultra-powerful PowerVR SGX544MP3 GPU, akin to the Galaxy S4. It multitasks with breeze, thanks to 1 GB of RAM, which is double compared to the Apple iPhone 4S.
This phone is bound to get the newly showcased iOS 7 operating system which will bring tons of features along with a completely new design and UI. This phone sells at a price very similar to the Samsung Galaxy S4 and other competitors.
SEE ALSO:  Sell Your Old or Broken iPhone at good price with CashiPhone
Asus PadFone Infinity
Although not released in India, the Asus PadFone Infinity is nothing short of an engineering and technology marvel. This phone is the third revision of what Asus thinks a smartphone should be. The Asus PadFone is built of with tough metal on the outside and is stuffed with powerful internals on the inside and still manages to be very slim at 8.9 mm. It also comes with a PadFone station which is actually an amazing accessory, turning your phone into a full fledged 10.1 inch tablet.
The Asus Padfone Infinity comes with a 5 inch full HD Super IPS+ LCD screen with  display sharpness of a whopping 441 ppi. There is a 13 MP BSI camera with flash at the back which is capable of recording full HD videos and clicking simultaneous high resolution images at amazing speed.
The internals include a 1.7 GHz Qualcomm Snapdragon 600 quad-core processor with 2 GB of RAM. The Adreno 320 GPU keeps the phone sailing along any kind of heavy games and multimedia processing. It comes with 32 or 64 GB of internal storage but lacks any storage expansion option. It is powered by a 2400 mAh battery and a complete array of wired and wireless connectivity options.
Sony Xperia Z
This is another handset to consider as an alternative to the S4. The 5-inch features Sony's OmniBalance design which has a heavy industrial influence. The onus was in creating a device that is balanced and symmetrical from all angles and has slightly rounded edges that accentuate the allure of the device. Another distinguishing feature is the fact that this device is dust and water resistant. However, Sony had to add an additional layer to the 5-inch full-HD screen to better enable the device's water resistance, and as such the contrast goes down. The mobile BRAVIA Engine 2 does a great job of ensuring color consistency.
Also, internal hardware is at the same level as the S4 with the inclusion of a 1.5 GHz Quad-core 1.5 GHz Krait CPU, Adreno 320, 2 GB RAM, 16GB internal memory, 13.1 MP camera that features an Exmor RS sensor, and a Li-Ion 2330 mAh battery. Sony has long been criticized for not including the latest hardware in their mobiles, and it is good to see the manufacturer make sure that its handset was not lacking in that regard this time around.
Overall, the Sony Xperia Z is a great mobile, and is one of the few that can claim to be a genuine contender to the S4. The only niggle when considering this device is the fact that Sony is known to be slow in rolling out the latest versions of Android, but then again, that issue is faced by users of Samsung devices also
Samsung has been known to go all-out when it comes to marketing, and the same is true for the S4 as well. However, this time around there have been devices launched by rival manufacturers that are as good, if not better, than the S4. Sony, for one, has devised its own marketing efforts that have managed to match what Samsung does. Also, the cost that these devices sell for is going to be a major factor, and currently the Galaxy S4 price is around Rs. 35,899 whereas the HTC One is Rs. 38,999 and Sony's offering is Rs. 32,450. For the first time since Android devices started gaining momentum, it looks like there are devices that can outmatch the Galaxy S4. If they actually manage to do so is another matter entirely.
Image Courtesy: techulator.com