We are familiar with the term "gut feeling", but most of the time we are not comfortable to rely on instinct alone and prefer to make decisions based on the information we have. That's why gathering and assessing information has been part of human lives since forever. Three popular methods of gathering and assessing information are using through quizzes, surveys, and polls. Conducting them has become easier by the day because the internet has provided us with many tools to do so. Here are thirteen tools to create online quizzes, surveys, and polls.
The Free tools to create Quizzes, Surveys and Polls
1. Google Forms + Flubaroo
Google Forms is a free online information collecting and organizing service. It's the youngest sibling of Google's Docs, Sheets, and Slides family. Having Google name behind it should be a guarantee enough, but Forms is really a full-featured service.
Aside for the standard form creation features, you can also use themes, insert pictures and videos, and use page branching and question skip logic. It's also responsive, so the forms are editable and usable on mobile devices.
The responses are automatically collected, processed, and presented in real time. The tight integration with other Google services means you can view the data in Google Sheets, and support collaborative form building. You can create forms and share them for others to use or you can use forms shared by others.
But even with all of its features, there's still room for improvements. Flubaroo is an essential addition that teachers and educators need. It's an add-on for Google Forms/Sheets that will give teachers the ability to grade and analyze their students performance.
To us Flubaroo, you must first open the Forms result in Sheets. Flubaroo is accessible from the Add-ons – Flubaroo on the Sheets menu.
Being a teacher myself, the features that I think will help me most are the ability to identify students who need more help on their study and questions that most students answer wrongly.
Flubaroo can email students their test result, but free Gmail users are limited to 100 emails per day while Google Apps for Education and Work users can send up to 1500 daily emails.
2. Edmodo
While the combination of Google Forms + Flubaroo is a general form making service modified for education, Edmodo was built with education in mind.
At the core, Edmodo is like Facebook within an education context. You can log in as teacher, student, or parent. Teachers can create classrooms, post assignments, invite students and colleagues, share resources, and more.
So, how do you create quizzes or polls? Since it's just one part of the whole Edmodo experience, the tool is not instantly visible. First, you have to log in to Edmodo as a teacher, create a class/group and view it. The quiz tool is located among the tabs above the group post field.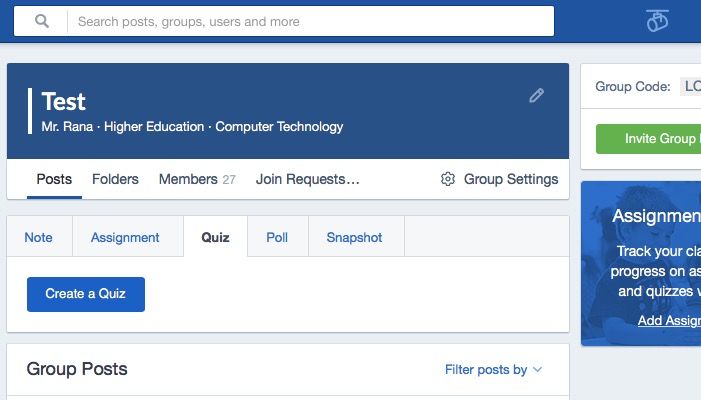 You can add as many questions as you need, and choose the type of question for each: Multiple Choice, True False, Short Answer, Fill in the blank, or Matching.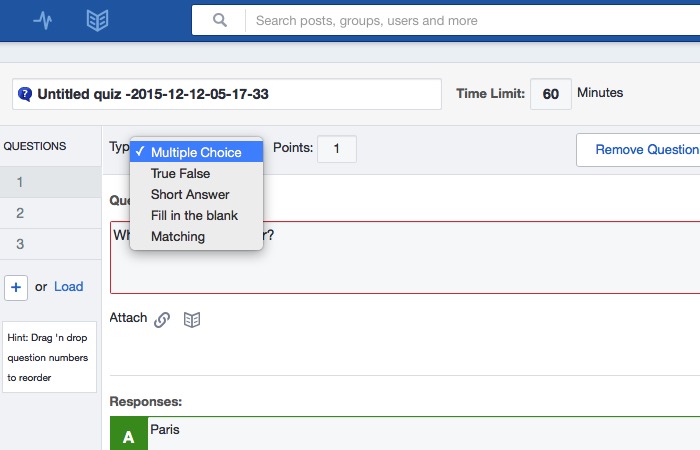 Edmodo is also available as free mobile apps for iOS, Android, and Windows Mobile.
3. ThatQuiz
The free ThatQuiz is the simpler version of Edmodo, focusing only on creating quizzes for students. Upon registering – teachers only – you need to create your class. Give the class a name and determine its level, and then add students name. Teacher can assign tests to students by giving them either the test code, link to the class website, or email invitation.
What sets ThatQuiz apart is its questions repositories on various school subjects – with an unfair emphasize on Math. You can create a test by simply choosing a subject, set how many questions the test should have, set the difficulty level, and set the timer. Different kinds of test will have different additional options.
If you want to create your quiz, choose Design from the left sidebar. There are only two available options: matching test and multiple choice.
ThatQuiz won't win any beauty contest, but it gets the job done fast. It took me less than a minute to create a 50-question English vocabulary test.
4. Kahoot!
As with their motto: "Create, play and share fun learning games for any subject, for all ages, for free!", Kahoot! focus more on the fun and game side of quiz creation. That's why it has Trending and Top Kahoot!-ers list – to spark competitions in creating, sharing, and playing Kahoot!s.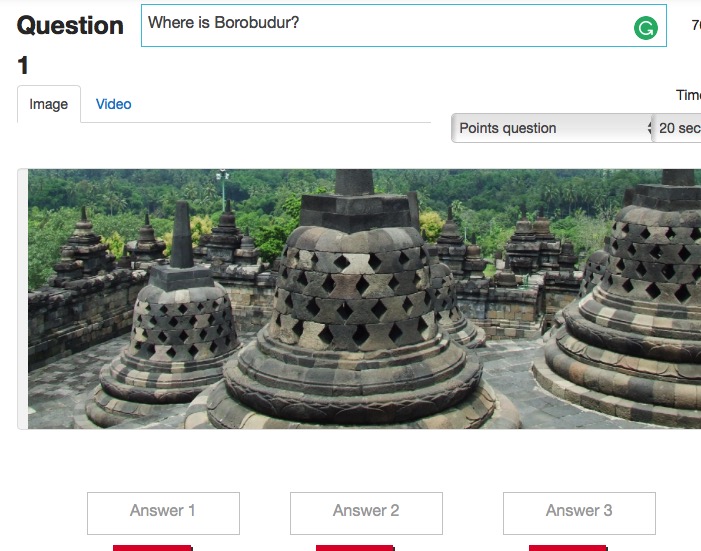 After signing up, you can start by creating your first Kahoot!, either a quiz, discussion, or survey. After that, you can share it to the world. Kahoot! keeps track of every item created using their service and rank them based on popularity.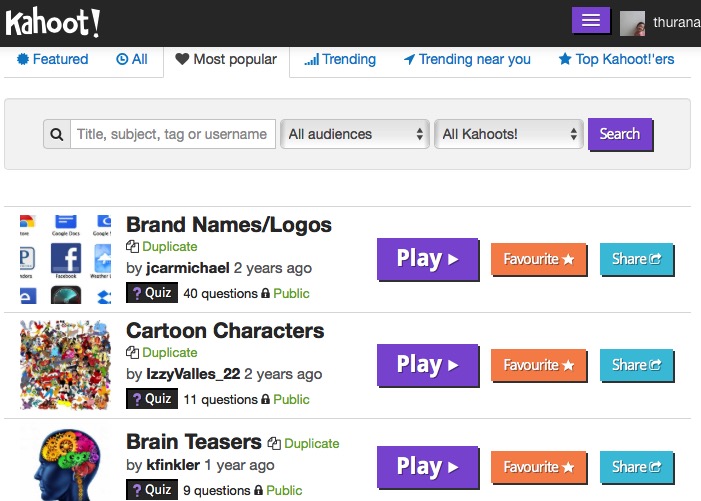 Real-time competition is the main selling point of Kahoot! Multiple players can compete in real time using their gadgets by logging in to Kahoot.It using a game pin, while one person administers the process using another device. It's a fun way to do a quiz, and would make an exciting classroom activity.
5. PlayBuzz
PlayBuzz is another online quiz, list, or poll creator that focus on fun and sharing. You can create quiz based on several pre-determined templates. But instead of question types, these templates are more theme-based, such as countdown, swiper, poll, personality quiz, flip cards, trivia, etc.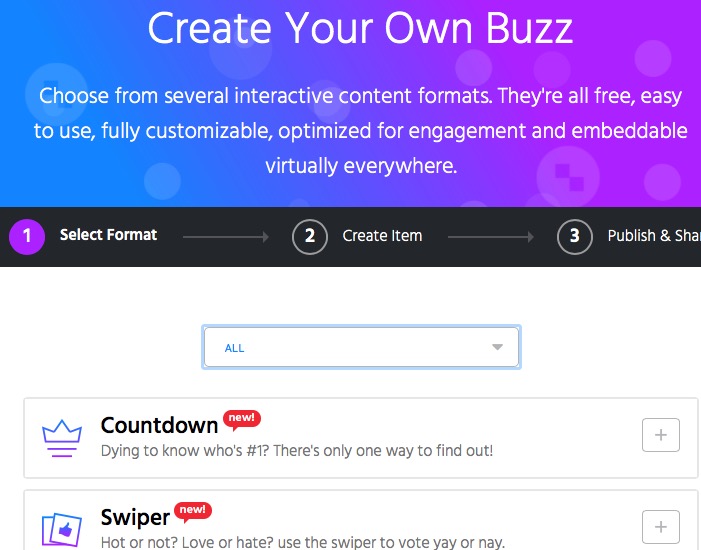 The service focuses on getting its contents viral, so it urges users to share via popular social media such as Facebook, Twitter, and Pinterest. One quiz that really caught my attention is "At What Age Will You Die?"
6. Socrative
One main reason some students stay quiet in class even during Q&A session is the fear of being ridiculed. This fact makes it difficult for the teacher to assess the student progress.  Socrative may give an alternative solution to that problem.
Teacher can sign up and create a classroom while students can log in without signing up. After all the students join the virtual classroom, teacher can create quick questions and get instant feedback from students. Teacher can also start a quiz or do a "space race" where the first student to answer wins.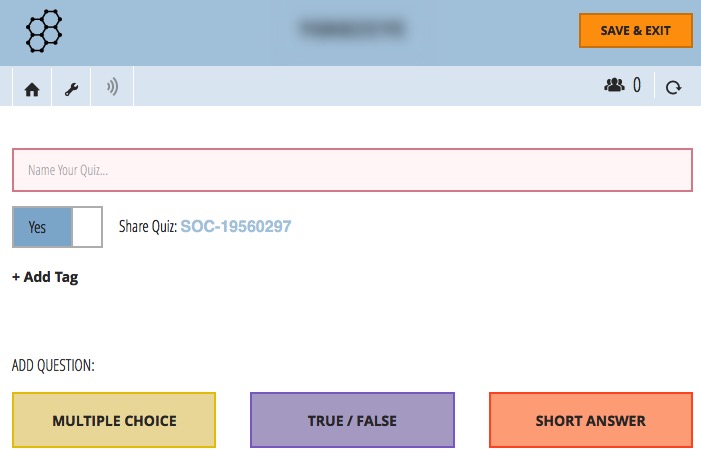 Just make sure you change the room number in your profile after the class ends, or any students with the number can "join in" anytime they wanted to.
7. TestMoz
The main advantage of TestMoz is that users don't have to register to use its free service. If you need to create and share a quick test, this service can be your choice.
Press the Make a Test button and you are ready to go. TestMoz supports 4 question types and does automatic grading. There's the option to signup for an account if you want to.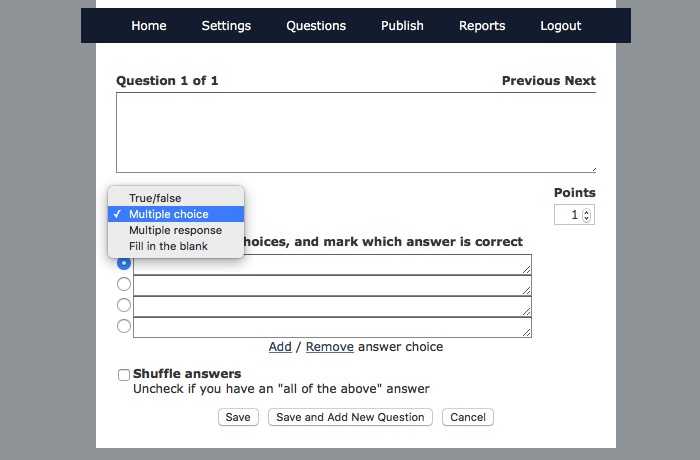 If you decide to take the no registration route, you need to keep the password for the test because there's no way to recover the test without it. You also have to save the address of the finished test to share with the test takers.
Registering gives you more feature such as test manager, test cloner, and public list of all your test.
8. Poll Maker
Quick poll creator? Check. 100% free? Check. No signup? Check. Add the ability to use themes, mobile optimized interface, and click fraud detection to that; and you have a  hard-to-beat online poll creator. Not only that, but Poll Maker can also create graded quizzes.
You can create your poll directly from the landing page, and you can see the final look of your poll next to it.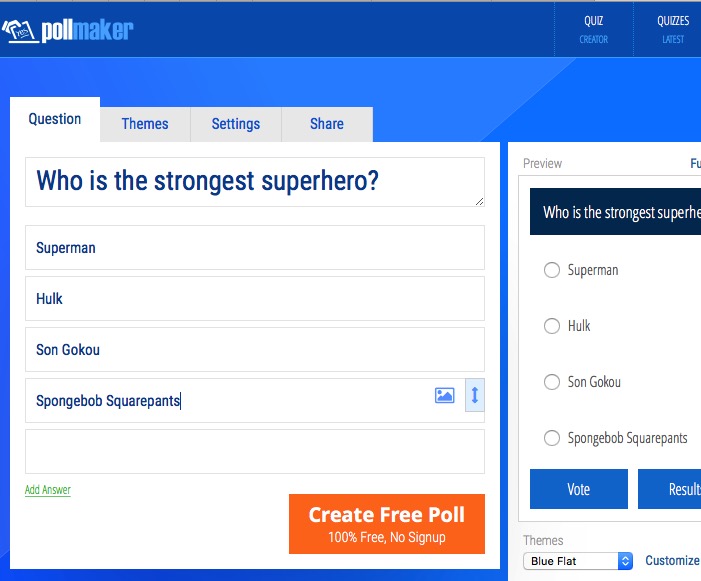 Click Create and you will get the sharing link with all the social media buttons. You can also embed the poll in your website or send it to your audience via email. The poll result will be accessible directly from the poll itself.
You need to signup to manage your polls.
Tools with Paid Upgrade Options
9. TypeForm
Typeform dubbed itself as easy, human, and beautiful. It's free version is mobile ready and doesn't limit the number of forms and responses. But those who upgrade to the paid version will get more features like: logic jump, custom email notification, custom thank you screen and 2 to 4 GB file upload.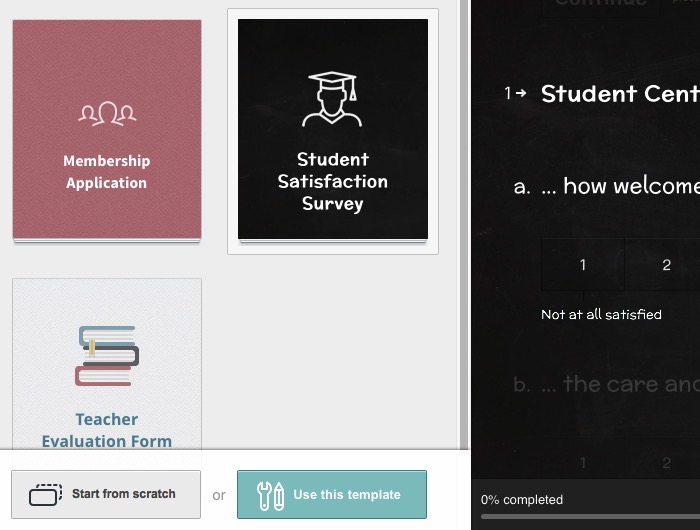 Typeform doesn't limit itself to quizzes, polls, and surveys. It can help you create any forms, either from scratch or using one of the ready-made templates. You create the form without logging in, but you need an account to save the form.
10. ProProfs
ProProfs dubs itself as a "knowledge management software", and gives many types of "product" for users to choose. There is a free plan that you can choose, but it's limited to public quizzes with no report.
After signing up, you can create a scored quiz, personality quiz, or choose one template from their library of 100,000 quizzes. The quiz creating process is relatively easy with many types of questions to choose from. But unless you are not planning on creating private quizzes or your company has set aside enough budgets, there are other free alternatives out there.
11. QZZR
QZZR is free to use. However there's the paid upgrade option that will give you Advanced customization, reduced (or no) QZZR branding, the ability to export data, and more. Anyone can use the service, but it looks like that the main target audience is companies and businesses.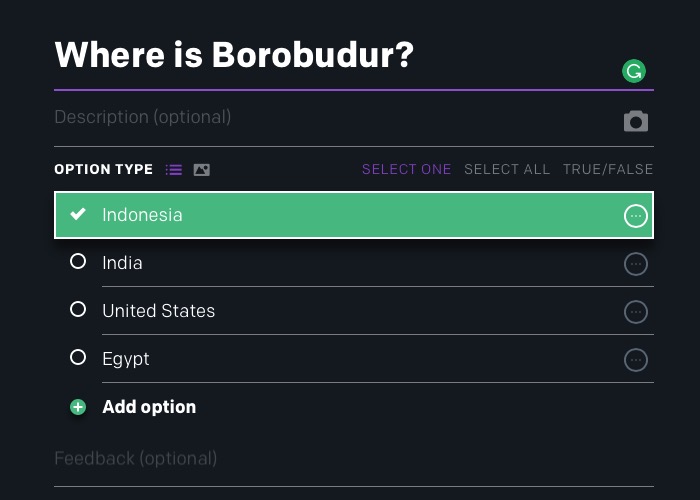 12. Survey Monkey
This one is another service that targeting business user. As the name suggests, SurveyMonkey specializes in creating surveys. The free option is limited to 10 questions and 100 responses per quiz. Hardly attractive for casual users. However, one selling point of this service is the option to buy targeted audience. If your business needs data fast, SurveyMonkey might be a good choice.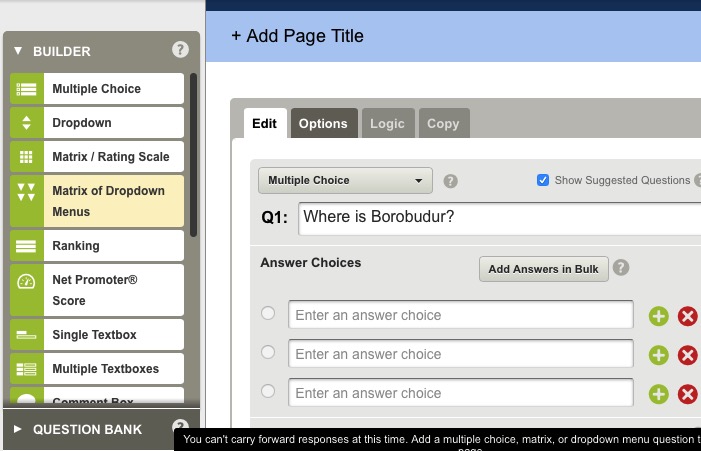 13. Poll Everywhere
If you have a live audience, and you want to do a live poll, PollEverywhere can help you. No signup required, and the created poll can be accessed via a unique link or by sending a unique text code from your phone, and the result will be played in real time.
The free plan limits the number of poll participants to 25 per poll.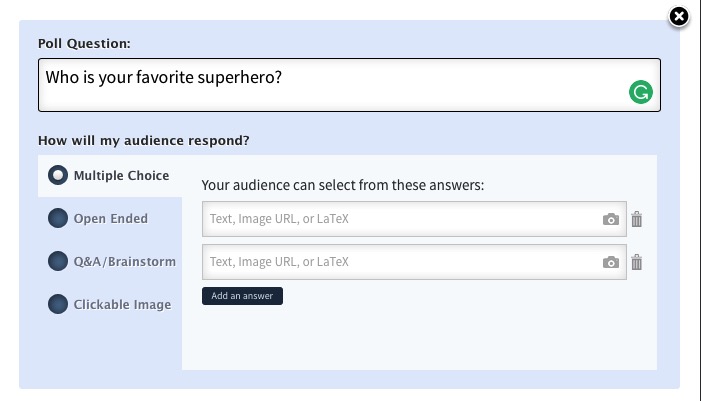 SEE ALSO: 10 Best Online Tools to Create Resume
Have you tried creating online quiz, poll, or survey? Which one is your favorite tool? Share using the comment below.
---
Load More