Over the past few years, Google Photos has become the de facto Gallery app on many Android devices. One of the reasons could be the free backup offered by Google and some nifty editing features like color pop, blur adjustment, filters and more. However, there is one feature that has been there for quite some time, but users seem completely oblivious to it. Android users may be under the perception that it's another gimmicky thing and not all that useful. However, in this article, I bring you the most underrated feature of Google Photos which can make your videos super steady and without any additional hardware need. Now having said that, let's begin without any delay.
Stabilize Your Videos with Google Photos
I want to talk about the most underrated feature of Google Photos and that is its powerful stabilization feature. Google has improved this feature by many folds since its first release, but in the peculiar Google fashion, the company has not made a big deal out of it. But trust me when I say this, the Stabilize feature makes your footage so steady that it almost feels like you are using a 3-axis gimbal. I know it sounds exaggerated, but you have to use it to believe me.
If you are using a budget device from Realme or Redmi or even the flagship K20 series, chances are your phone does not come with OIS (Optical Image Stabilization). Sure, they are equipped with EIS, but frankly, it's not on the same level as OIS especially in jerky environments. In that case, you can use the Stabilize feature on Google Photos to make videos extremely steady. Having said that, here is my personal experience with the OIS-equipped OnePlus 7T.
Testing Google Photos Stabilization on the OnePlus 7T
I recently bought the OnePlus 7T and one of the reasons why I picked it over the K20 Pro was that it came with OIS. I was keen to test its video stability, especially the "Super Stable" mode, but soon I realized the feature is capped for 1080p videos only. Nevertheless, I tried the 4K60FPS mode but OIS was hardly helping in any way. On the OnePlus 7T, OIS did not offer any kind of stabilization while shooting at higher resolution and frame rate. I suppose it must be similar on other Android devices too except– perhaps the flagship Samsung and Huawei devices. Nevertheless, I had to fall back on the Stabilize feature of Google Photos and voila, here are the results for you to decide!
OnePlus 7T (4K 60FPS Video with Built-in Stabilization)
OnePlus 7T (Same footage, but stabilized with Google Photos)
Now that you have seen the true prowess of Google Photos' stabilization feature, here is how you can use it on any Android device. Open any video on Google Photos and tap the "Edit icon" at the bottom.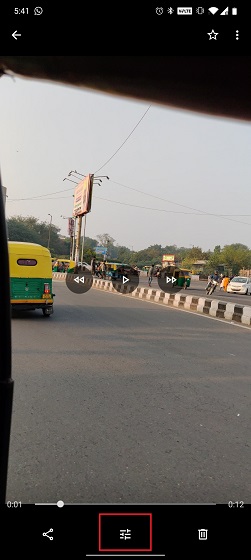 Next, tap on "Stabilize" and it will take a minute or more to stabilize the footage. Keep in mind, it does not crop your video unlike EIS and many software-based video stabilizer apps. You will get the same footage and without any reduction in quality. Also, the whole process is done offline so that is great.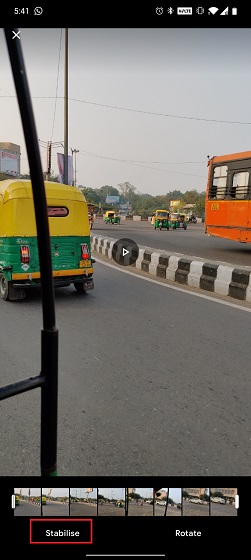 After that, just tap on "Save Copy" at the top-right corner and the stabilized video will be saved separately keeping your original video intact.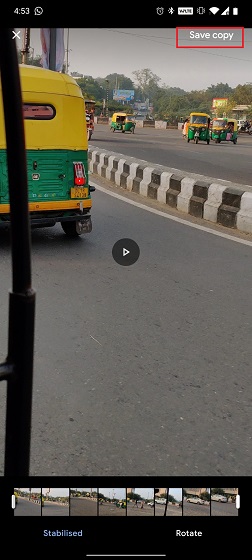 Make Videos Super Steady with Google Photos
So that was our look into the Stabilize feature of Google Photos and the promise it holds. Slowly, we are seeing Google is bringing lots of software-based improvements in many of its products including Google Camera, Google Assistant and more. In some cases, Google almost defies the need of additional hardware and that is truly baffling. We hope to see more features like this in the future. Anyway, that is all from us. If you are using a budget Android device, I would highly recommend using this feature. It will make your Instagram stories much better.
---
Load More