One of the best parts about owning an iPhone in the past has been the fact that it never dies on you. And no by dying I don't mean that it never runs out of battery, what I mean is that you don't have to face software problems, such as your iPhone stuck in a bootloop, recovery mode, or just stuck at the Apple Logo when restarting the phone. However, since the launch of iOS 11, iOS has become too buggy, and I have been facing all these problems on my personal iPhone. While I know that I can easily get it fixed by just walking into an Apple Store, I don't want to make a trip every time my iPhone starts misbehaving, which is happening quite a lot in the recent months. If you are also having the same problems you are going to love the tool that I am sharing with you today. It's called Tenorshare ReiBoot, and it is one of the best third-party iOS tools, I have used in a while:
Key Features
We will start our review of the Tenorshare ReiBoot by checking out all the features that it has to offer us. After all, at the end of the day, it is a utility tool and the features that it packs are what matters the most.
One Click to Enter/Exit Recovery Mode
One of the best features of ReiBoot is that it allows you to easily enter and exit recovery mode just by clicking on a button. All you need to do is launch the app on your Mac or PC, and connect your iPhone. As soon as you connect your iPhone, you will see an option to put your phone into recovery mode. Click on it and your phone will boot into recovery mode. Click on it again to exit the recovery mode. That's how easy it is.
Solve Screen Stuck Problem
One thing that I like most about this app is that it takes the guesswork out of the equation. It gives you proper options to choose from, allowing the software to quickly deduce the problem and fix it. To enter the problem iOS Stuck Solution mode, just click on the "Fix All iOS Stuck" option.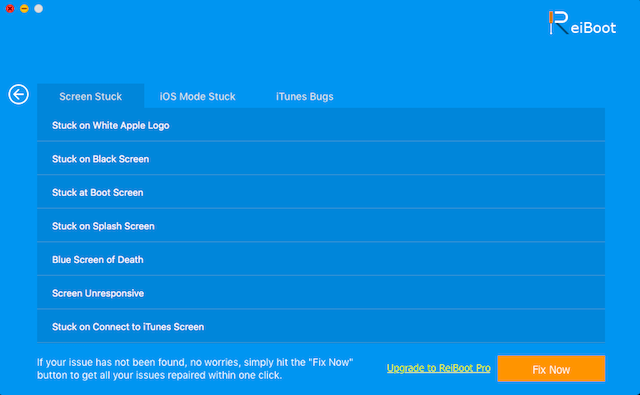 Here, you will see that inside the Screen Stuck problem, you get a lot of different options to choose from. Just choose the right option and then click on the Fix Now option to fix your issue. In my usage, it takes anywhere between 3 to 5 minutes to solve your problem which is nothing when you compare to visiting an Apple Store.
Similar to Screen Stuck mode, if your phone is stuck while updating to a newer version of iOS, DFU mode or just straight up hanged while you were using it, you can click on the iOS Mode Stuck, select the relevant option and click on the Fix Now button to fix it.
One of the major problems that I am encountering after the new iOS 11 update is when connecting my iPhone using the iTunes app. In past few months, I have had my iPhone stuck multiple times while backing up and syncing. Sometimes iTunes just straight up refuses to connect to my iPhone and doesn't recognize my device at all. If you are encountering any such problem, just click on the iTunes Bugs tab, select the appropriate problem, and click on the Fix Now button to solve it.
User Interface and Ease of Use
By now, its quite clear that Tenorshare ReiBoot provides one of the easiest navigational user interfaces. All you need to do is connect your iPhone, select your relevant problem, and hit the Fix Now button to solve the problem. I have never used any other software which makes it so easy to fix a problem on my iPhone. If in case, the problem you are encountering is not present in the list of pre-defined problems, don't worry, just click on the Fix Now button without selecting any problem and the software will automatically detect the problem and fix it for you.
Pricing and Availability
Tenorshare Reiboot is available to download on its website for free and works on both Windows and macOS platforms. The free version comes with certain restrictions and if you want to enjoy the full feature of this software you will have to buy the paid version which will cost you $29.95. The price might seem a bit too much at first glance, however, when you take the number of trips that you won't need to make to Apple Store in account, its price will seem pretty justifiable.
Pros
One-click problem fixing
Takes just a few minutes to fix the problems
Easily enter and exit recovery mode
User-friendly UI
Cons
Connecting on Windows PC for the first time can take a little time
Fix iOS problems Using Tenorshare ReiBoot
Whether your phone is stuck in a bootloop, or you just can't get it to work, Tenorshare ReiBoot can fix your problems within minutes. iOS 11 has been buggy and if you don't want to wait for Apple to fix things for you and want to take matters in your hands, download and install ReiBoot to fix all your iOS problems.