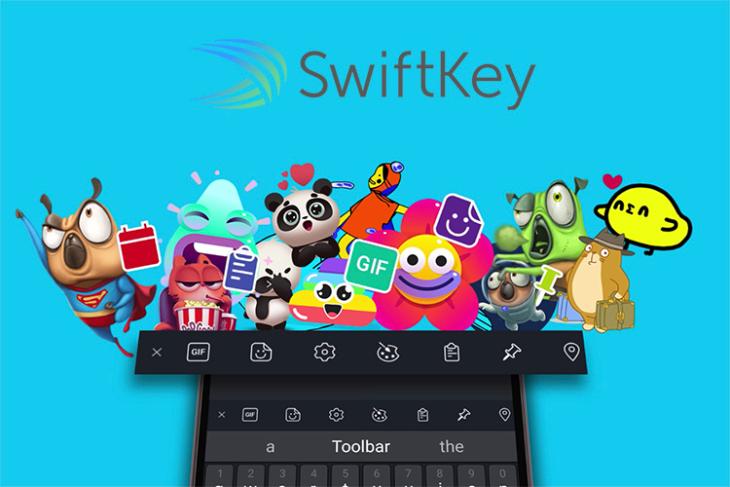 SwiftKey is one of the most preferred third-party keyboards for Android and iOS and now owned by Microsoft. While the keyboard has remained pretty much the same since its acquisition, apart from slight changes and new themes, Microsoft has now released a major update to the keyboard that replaces the old hub, and bring new editable stickers, besides other features.
The most noticeable change is the new expandable toolbar which can be launched by tapping on the "+" icon beside the predictions bar. It is designed to make options easily and quickly accessible, and gives access to features such as emoji, GIFs, stickers. You can also enter settings from this menu while SwiftKey has promised that it will soon bring two new features – location sharing in a message as well as exchanging information about calendar engagements via supported apps.
Another great feature comprises stickers which can be edited before sending. The company has also said that it will soon add Microsoft-exclusive packs of stickers and it is safe to assume that these stickers will support Microsoft apps like Skype on both Android and iOS.
Users can also save the stickers they have edited and can access them from the toolbar itself by tapping on the pin icon for Collections. Under Collections, users can also save their preferred emoji and stickers along with edited images that can be added in a document or sent as a message directly via most supported apps.
Besides these features, SwiftKey had added support for hybrid versions of eight Indic languages including Assamese, Bengali, Kannada, Malayalam, Marathi, Nepali, Odia, Telugu. By hybrid languages – Hinglish, for instance – Switfkey means that you can use two languages simultaneously. While the keyboard uses the English alphabet, SwiftKey prompts you with words in the other language's script when you type it in English. This is very convenient to multi-lingual users who do not want to compromise the ability to another language with English simultaneously.
The update is now available on both Android (free on Google Play Store) and iOS (free on App Store).