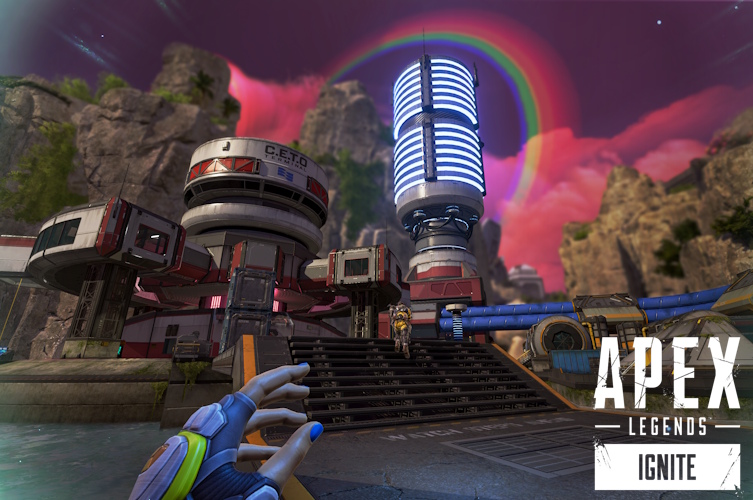 Storm Point was introduced to the Apex Legends map pool back in October 2021 with the Season 11 release. The map received a small but monstrous upgrade that brought the Downed Beast POI and IMC Armories in Season 13. Since then, the map hasn't received any updates, and it's been over a year. Sometimes change takes time, and Storm Point is finally getting a significant and electrifying upgrade with the Season 19 "Ignite" update in Apex Legends.
Apex Legends Season 19 brings the new "Energized Storm Point" map, and there's a lot to unpack. First things first, when Storm Point was launched, it became the game's largest map, around 15% bigger than World's Edge. Well, this update seems to change that as the map has been reduced in size, reigning in the coastline at Fish Farms while also pulling in Lightning Rod a lot closer in. More than 40% of the map has been revamped in this update. So, let's look at all of these map changes and more below.
All the New POIs Added in Storm Point
First, let's talk about the much-awaited and long-talked-about Wattson Town Takeover. TSM's original landing spot on Storm Point before Raven made them switch to Wall, Antenna has been rebuilt from the ground up into a new POI called the Pylon. The high disparity has been removed, so you no longer have just a single zipline to reach the top.
The Pylon is a multi-story building with Wattson's room, where you will find cute nessies all around. There's also a charge tower, borrowed from King's Canyon, in the middle of this POI. So, don't forget to visit this POI on Season 19 launch. Also, do you remember the dino park? Well, your pet prowlers no longer reside in this area and have been replaced with new buildings.
Next up, LG's home in comp Apex, Fish Farms, has been converted to the Devastated Coast. Yeah, this POI took major damage from the storm and now features wrecked buildings and a suspended house as well.
The south coastline on Storm Point took a major hit, so ECHO, which you might remember from King's Canyon, decided to set up its base on this map to speed up the recovery efforts in partnership with Wattson. Hence, Gale Station has now been replaced by ECHO HQ, and it now has a lot more playable area and amazing loot.
Moving further southwest, the ruins of the IMS Hestia have also been mostly cleaned up to debut a new POI in place of Shipfall. It's called Coastal Camp in Season 19. This POI is easier to navigate but the wreckage in the water will make for interesting plays in competitive. The Wattson collaboration with ECHO becomes evident in the remaining two Storm Point POIs in Season 19 – Zeus Station and CETO Station.
While the former replaces the High Point area next to Lightning Rod, the latter replaces the Prowler Island on the way from Cascade Falls to Mills. Two electrifying POIs with new building designs and immense gameplay opportunities.
Not shown in the images above, but all IMC Armories have also been rendered dysfunctional due to the storm. You can no longer fight Spectres to gain evo points and upgraded loot/attachments for your loadout. The IMCs too have been wrecked and now house standard loot bins. Other changes in Season 19 include the new legend Conduit, surprising care package weapon rotation, and more.
Storm Point Map: Season 18 vs Season 19
That's pretty much everything you need to know about the map changes coming to Storm Point with Apex Legends Season 19. The south side of the map has received the most significant updates with Shipfall, Gale Station, and Fish Farms being replaced with new POIs.
Though the wide shots of the whole map do not align perfectly, they are enough to give you a good idea of the key changes coming to the Storm Point map with the Season 19 Ignite update. Plus, that orangish-pinkish skybox with a beautiful rainbow streaking the skies will leave you spellbound. Trust me!
So yeah, after many seasons, Storm Point has received a significant update, and it will be interesting to see how competitive games play out on this revamped map. Which teams do you see contesting the Wattson Pylon POI? Let us know your answers in the comments section.
---
Load More