The web browsing experience is getting more and more intrusive these days, thanks to modern pop-up ads and autoplay videos with sound that nobody asked for (fortunately you can stop autoplaying videos) and stays as an uninvited guest in our browser tabs. To make things even worse, almost all modern websites try to act nice by asking if you would like to receive notifications from them. While I felt like I was having more control over my notifications in the early days, these notification requests have evolved to be a visual nuisance that shows up every time I visit a new web page. Being fed up of these never-ending notification requests, I found the way to block them permanently which inspired me to write this short guide to let you guys know how to block those annoying validation seeking notifications.
Block Notification Access Requests in Chrome for PC and Android
1. To get started, click on the vertical three dots found on the top right corner of your Chrome browser and choose Settings.
2. From Settings, scroll down until you find the Advanced settings which are hidden by default and can be expanded by clicking on the text that says "Advanced".
3. Click on Site Settings which can be found under Privacy and Security tab.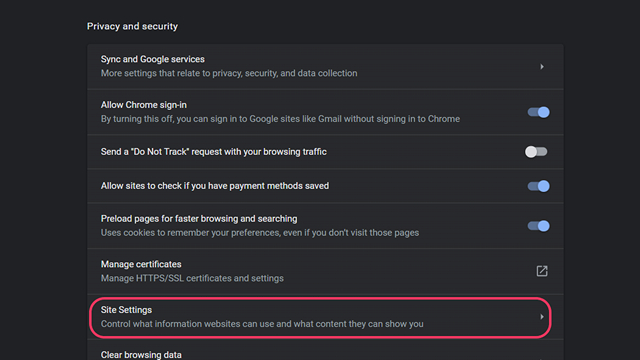 4. Inside Site Settings, choose Notifications.
5. In the Notifications settings, you will be able to view all the websites you have allowed notification access and the websites for which you've denied notification access as well. By default, the notification setting is set to Ask before Sending which you have to change to Blocked by switching the toggle found in the page to block those pesky notification access requests.
Block Notification Access Requests in Chromium Edge
1. To disable notification access requests in the latest Chromium-based Edge, click on the three dot menu icon in the top right corner of the browser and choose Settings.
2. In the side panel, click on Site Permissions and find Notifications from the list of permission settings.
3. Inside Notifications, you will find the same Ask before sending which should be toggled to Blocked just like Google Chrome (the browser is based on Chromium project after all) and you can browse in complete peace without worrying about notification requests.
Block Notification Access Requests in Firefox for PC
1. Click on the hamburger menu found in the top right corner of the Firefox browser and choose Options.
2. From the side panel, switch to Privacy & Security, and scroll down until you find Notifications under the Permissions tab.
3. Click on the Settings button that is present to the right of Notifications to manage the list of webpages you've allowed or blocked notification access.
4. You will see a checkbox that says Block new requests asking to allow notifications. It will be unchecked by default which is why you're getting all those notification requests. Keep the setting checked and click on Save Changes to confirm the changes and you're done.
So, that is how you get rid of those annoying notification permission requests in your browser. Let us know if you found this helpful in the comments.
---
Load More