Snapdragon is famous for its powerful chipsets which power most of the flagship mobile devices out there. Whether its Google, Samsung, HTC, OnePlus, LG, or Sony, every premium smartphone manufacturer, apart from Apple and Huawei, depends on Snapdragon SoCs to power their flagship smartphones. And now, Snapdragon is collaborating with Microsoft to bring the same power to Windows PCs.
At first thought, it seems counter-intuitive to use a mobile SoC in a full-blown PC running Windows, but when you pay close attention, you will realize that there are a lot of advantages of using Snapdragon's Mobile SoCs for Windows-based laptops.
Qualcomm's vice president of global product marketing, Don McGuire, succinctly stated the advantages of using Snapdragon SoC for PC as he outlined the company's vision,
We came up with these basic principles, the next generation of the PC should be beyond fast, easy to use, portable, convenient and connected like a smartphone.
Asus NovaGo and HP Envy X2
Finally, the Snapdragon 835 powered laptops are here and they bring all the above-mentioned advantages and then some. At the Snapdragon Technology Summit in Hawaii, Qualcomm has just unveiled the first batch of Snapdragon 835-powered laptops. The first two laptops are being produced by Asus and HP respectively. The use of Snapdragon SoC is allowing manufacturers to create a slim, light, and fan-less design making the machines portable and convenient to use.
While Asus's NovaGo is a traditional laptop with a 13.3-inch Full HD touchscreen, 8GB RAM and 256GB of storage, HP's Envy X2 is a 2-in-1 device with a detachable keyboard, 12.3-inch WUXGA+ display covered with Corning Gorilla Glass 4, 8GB of system memory, and 256GB of storage. However, different designs aside, they both bring the same benefits which are made possible by the use of Snapdragon 835 SoC:
Instant On: The first major benefit of using a mobile SoC is that just like your smartphones, your PC's will never hibernate. That means your PC will turn on instantly even after being on standby for hours.
20-Hour Battery Life: Since Snapdragon SoCs are really power-efficient the big battery inside the laptops will ensure that users get a 20-hour long battery life. That means you can now really cut the chord and travel without a charger.
Always Connected: The PCs will be always connected, thanks to the integrated LTE bands inside the Snapdragon 835 SoC, so no more hunting for open Wi-Fi networks on the go. Also, since Your PC will behave just like your smartphone, even when it's sleeping, it will be connected and will be able to receive notifications and updates in the background.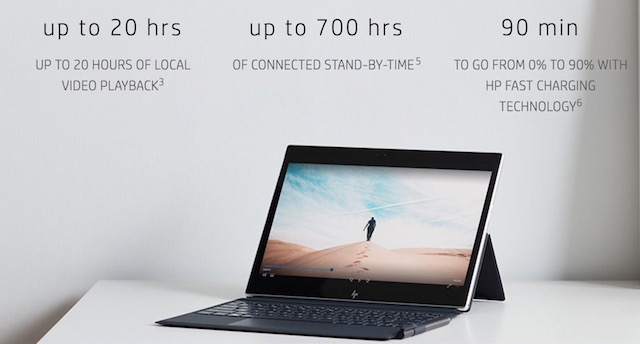 Pricing & Availability
The Asus NovaGo starts at $599 for the entry level variant which sports 4GB of RAM and 64GB of onboard storage and goes up to $799 which increases the RAM and storage to 8GB and 256GB respectively. Unfortunately, no pricing details has been released for the HP Envy X2. Also, there is no clear dates as to when the machines will be released to the public but we can expect them in early 2018.
As you can see, the Snapdragon 835-powered PC's bring a lot of advantages to the table. They are compact, have long battery life, are always connected, and cheap. However, there is one sacrifice a user will have to make if he or she is purchasing these laptops. Although users will get a full desktop Windows experience, the PC's will be running on Windows 10 S meaning you won't be able to install programs which are not available in the Windows Store. That said, these laptops will be perfect for students or anyone who doesn't need to perform power or graphics hungry program and just want a simple laptop for regular usage.
At the end of the day, the advantages far out-weigh the restriction brought by Windows 10 S and hence, I believe that Snapdragon SoC-powered PC's have a great future ahead. Do share with us your thoughts on the subject in the comments section below.
---