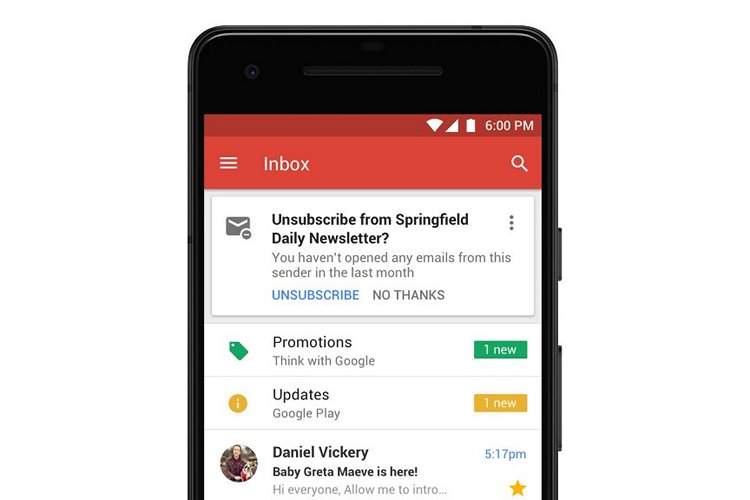 Google last month announced its first major redesign for Gmail in years when it unveiled a slew of major features for its e-mail service. The fresh new design not only brings elements of Material Design to Gmail, but also adds a host of new functionality to the service.
As part of the revamp, the company said it will add Smart Reply, Snooze, High-priority Notifications, AI-based 'Nudging', a Confidential Mode, native Offline Support, assisted Unsubscribe and more to Gmail.
While some of the aforementioned features, such as Nudging, Confidential Mode, Smart Inbox etc. have already been rolled out over the past few weeks, the company now says that it is finally rolling out the Smart Unsubscribe feature to its Gmail mobile app. As can be seen from the embedded tweet, the feature has only gone live on iOS right now, and is said to be 'coming soon' to Android.
New experiences on mobile can help you minimize inbox clutter. We'll start suggesting when to unsubscribe from newsletters. https://t.co/aToXavruhI

Now available on iOS
Coming soon to Android pic.twitter.com/2D6N62eDp3

— Gmail (@gmail) May 27, 2018
The Smart Unsubscribe feature will intelligently categorize emails and recommend mailing lists to unsubscribe. According to Google, the new feature will suggest newsletters or offers to unsusbcribe from when users haven't opened the related messages in their inbox for a long time. Google hopes that this will help users reduce inbox clutter and make the Gmail experience a bit better.
Gmail is already the most popular e-mail platform in the world, both for retail users as well as enterprises. With the addition of the new AI features and the visual changes that Google has been adding over the months, it is only becoming even better than it has ever been before.
So, what are your views on Gmail's new Smart Unsubscribe feature? Is it available yet on your iOS device? Or are you upset that Google hasn't rolled it out for Android yet? Do let us know in the comments section below.
---