Xiaomi Redmi Note 5 Pro is undeniably one of the most attractively-priced, and thus most desirable, smartphones available in India. Despite limited stocks and the weekly sales, the company has sold 5 million units of the Redmi Note 5 and Note 5 Pro combined and has no plans to stop any time soon.
In fact, it's looking to attract more sales by launching a new variant of the successful smartphone. While this variant will have all the same specifications as the original Note 5 Pro, it will come in a radiant new color – red.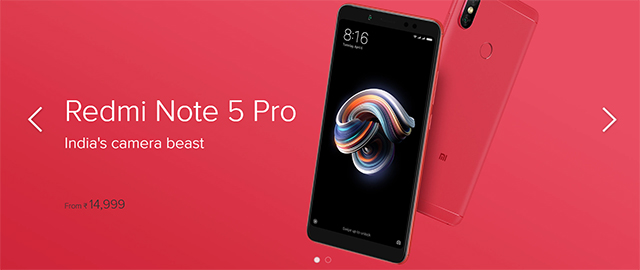 This was pointed to us by one of Beebom's readers who spotted a banner related to the new red-colored Redmi Note 5 Pro. The banner, as per the reader, was posted on Xiaomi India's website briefly and later taken down by the company. It does not mention any other detail, so it is not possible to judge a tentative date for the launch.
Notably, the company released a red Redmi Note 5 (which is rebranded as Note 5 Pro in India) in China for a price of 1,399 yuan (~Rs. 14,500). So, we expect the device to be priced the same as other color models in India. The Chinese variant also came with a pair of in-ear "Iron ring" earphones but we cannot guarantee the same for the Indian variant.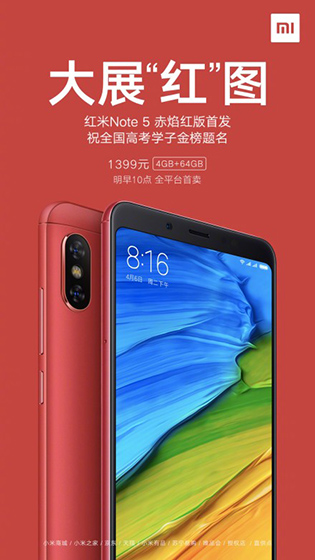 Producing a new color variant of a previously released smartphone is what has become a general trend in the smartphone industry.
But not just in red, the Redmi Note 5 Pro already comes in blue, golden, and rose gold colors. You can get one of those if you're not a fan of red – only if you're lucky enough to find these colors in stock.
Red is just one of the new colours being rumoured for the next-gen iPhone as more and more companies are hoping red will help users stand out in a crowd of mostly black or white smartphones – at least until red becomes the next black.
Of course if you have installed v 2.0 of the Beebom app then you would have already seen our take on all the red phones in India today. If not, check out the video by downloading the app today.