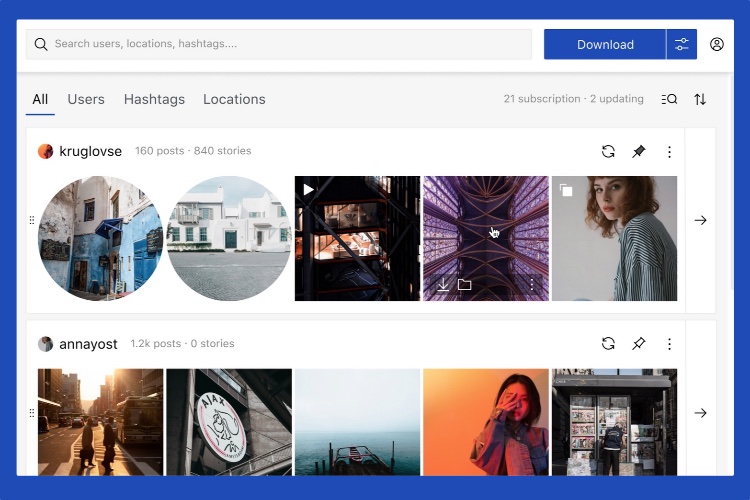 Instagram is one of the most popular social media platforms in the world. The service recently crossed 1 billion monthly active users and 500 million daily active users. Instagram has become the go-to platform for photographers, video creators, marketers, and more to showcase their work and promote their products. The only major drawback of Instagram is that it's a closed platform and doesn't provide any native way to download content for offline viewing. It also has no native desktop client, which is a bummer. In this article, we are sharing a service that not only lets you view Instagram content on your desktop, but can also download Instagram stories, photos, videos, and more, in mass. It's called Qoob Stories, and in this article, we are going to learn all about it.
Key Features
In this section, we will discuss the key features of Qoob Stories, so you get an idea of what this app offers. I am using my Mac for the screenshots included in the stories. But since there is feature parity between its Mac, Windows, and Linux apps, whatever you read here will be applicable for all the platforms. Okay, with that said, let's get to our features:
1. Browse Instagram Feed without Ads on Desktop
One of my favorite features of Qoob Stories, which is not even its USP, is the ability to browse my feed without seeing any ads on my Mac. Instagram doesn't offer any desktop client, and its web app is abysmal. The Qoob Stories app feels natural to use and gives the perfect desktop experience for Instagram. That should have been enough, but the app doesn't stop here. It also removes all the ads from the feed. Now, that is just awesome.
2. Download Instagram Photos and Videos
Qoob Stories makes it easy to download photos and videos from Instagram. It does that automatically if you want. Just add the username of an Instagram account, and it will automatically download all the photos and videos from that account. And all the photos and videos are of the best possible quality. They look better on my desktop than on Instagram itself.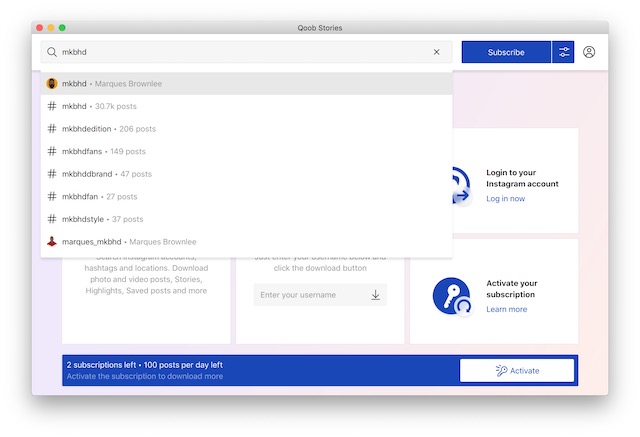 What I love about this app is that it downloads photo captions along with the photos. You can copy the captions from right inside the Qoob Stories app. This is helpful if you don't want to miss the context of the post.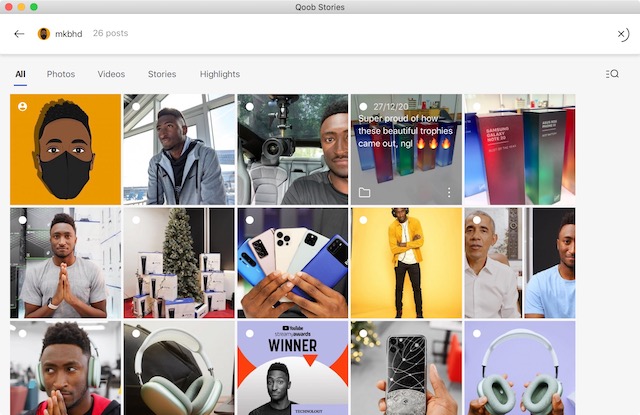 You can also link your account and download a copy of all your photos and videos. You can use this to create a backup of all the content that you have posted on Instagram.
3. Download Content Using Hashtags and Location Filter
Apart from letting you download content based on username, Qoob Stories also allows you to download content using hashtags and location filters. So, if you want to download posts and videos by filtering them using popular trends or locations, you can do so in seconds. Just enter the hashtag or location, and select from the suggested options. Select the right option, and the app will automatically download all the content for you.
4. Download Instagram Stories and Highlights
Qoob Stories not only limits your downloads to videos and photos but can also download Instagram stories and Instagram Highlights. You can download stories and highlights based on usernames, hashtags, locations, and more. If you have turned on automatic download, it will atomically download any new story that the user post in the future. This way, you don't have to keep track of when stories are being posted, as they will be available to watch offline anytime you want.
5. Browse and View Stories Anonymously
Another hidden feature of Qoob Stories is that it allows users to browse and view stories anonymously. So, if you want to research your rivals' products or just want to visit someone's profile and view their stories without letting them know, you can do that using Qoob Stories.
6. Full Control Over Automatic Downloads
Qoob Stories gives you full control over the automatic download feature. You can download what media you want to download (photos, videos, stories, highlights, all), the date range for the posts, disable downloads, and more. It lets you selectively download the content you want.
User Interface and Ease of Use
Qoob Stories brings a user interface that is both functional and pleasing to the eyes. You generally don't get both these things in an app. So I appreciate the attention to this detail made by the developers. Once you download and install the app, you can get started in seconds. You don't have to watch videos or read a manual to learn anything. The app is as easy to use as it gets.
At the top, there is a search bar where you can search by username, hashtag, and location. Once you select a profile, you can click on the Settings button to set conditions for the automatic download. Here, you can set the date range for the posts and select the media type you want to download.
Once you are happy with your selection, click on the Subscribe button start downloading the media. All your subscription channels appear in a list. You can add your username to create an offline backup of all your posts.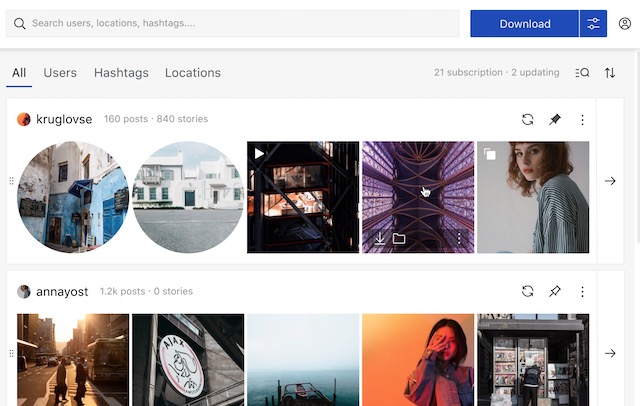 You can click on the arrow button on the list to see all the posts for that account. You can hover over a post to see the captions. A single click on a post will open in the default photo and video viewer of your computer. If you want to read comments and check any other associated information, right-click on the post and select the "Show on Instagram" option.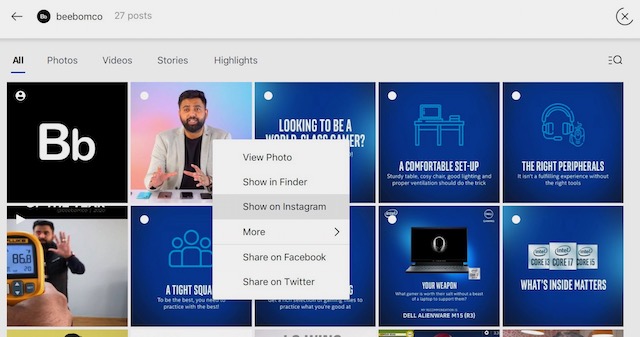 To see your Instagram feed, click on the profile icon at the top-right, and log in with your account. Now, you can surf your feed without any ads. As you can see, the app is pretty easy to use, and it just takes a few minutes to set everything up.
Pricing and Availability
There are very few apps that deliver on their promise, and Qoob Stories is one of them. I am still in awe of the app. It makes downloading Instagram content so effortless that you don't have to think twice once you set it up. For that convenience, I am ready to pay any price.
Still, if you have any doubts about the app, you will be happy to know that it comes with a free plan that allows you to subscribe to two different accounts for free and download 200 photos and videos every day. It is a very generous free plan and more than enough for testing the app before making any financial commitment.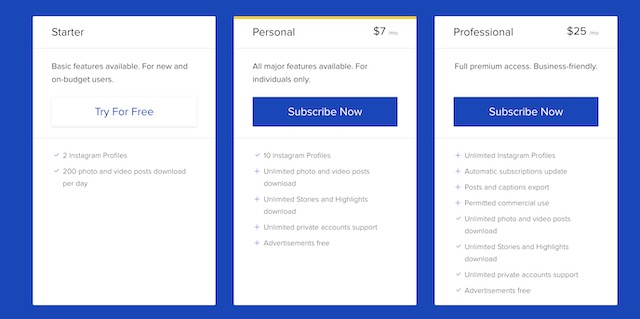 Once you are ready to pay, you will find its pricing quite reasonable. The premium plans start at $7/month. In this plan, you can subscribe to up to 10 accounts and download unlimited media. It also lets you download content from private accounts, which is just great.
If you want to have no restrictions, you should buy the Professional plan that costs $25/month. It removes the restriction on the number of subscriptions and permits you to use the app for commercial purposes.
The Only Instagram Downloader You Will Ever Need
I have been testing apps for more than a decade. Very apps surprise me now, and Qoob Stories is one of them. The app worked flawlessly and did everything it promised. I still can't believe how efficiently it can download media from Instagram accounts without me having to do anything. If you are looking for an Instagram downloader, look nowhere else. This is the best app that you can get.
---
Load More