PlayerUnknown's Battlegrounds for mobiles was being talked about for quite some time, with teaser trailers and whatnot. The company has now finally launched the game in its home-country, China, and it is available for free on both Android and iOS.
It's a China-only game, and it's only in Chinese (duh) but I still downloaded it on my phone to give it a whirl (duh again), and my experience was, well, equal parts fun and frustrating.
Let me just start off with the initial set-up that's required to play this outside of China. I'll not go through the entire procedure of getting this game up and running outside of China, we actually have a complete tutorial on the same so read that if you're interested. The frustration began, as can be expected, with the language.
I don't speak, read or even make educated guesses in Chinese. So navigating the menu was a task in and of its own. Although, since this is a China-only release, it makes sense that they didn't offer a way to change the UI language to English (or maybe they did, I've not yet figured out the entire menu… Google Translate is only so good until it gets annoying). Somehow, with help from gamers over here at Beebom who've played PUBG on their PCs and laptops, I traversed through the menu and got into a game. Somehow.
The controls are pretty intuitive for the most part, and walking and running is easy enough. However, some of the action buttons, especially the ones to go prone, crouch or look around are too small to actually be hit accurately 100% of the time. Plus the way the controls are laid out is a little weird. I'm not sure if there could be a better layout for a control scheme that has so many functions anyway, but still… this scheme is a bit too complicated. I hope the game works with gamepads (although I haven't had time to test that out yet) because gamepads will probably make it easier to play.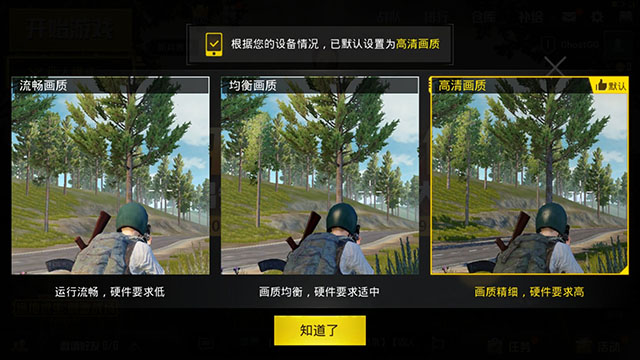 However, the minor, itty-bitty frustrations aside, PUBG on mobile is a really well-done port. At launch, it detects your phone's hardware capabilities and automatically suggests the best settings to play with… On my OnePlus 5, it suggested "Highest", which is obvious. The gameplay is smooth, and even with maps as gigantic as PUBG's, it's not too overwhelming to see on a mobile screen. Obviously, you'll struggle with aiming since there's no mouse, but that's pretty much a given for any FPS game on mobile.
Also, according to what I've heard from other people at work playing on their iPhones, the game works perfectly smoothly on the iPhone 8 Plus and, by extension, the iPhone X as well. It should probably work just fine on the iPhone 7 and iPhone 7 Plus too, but on anything older than that, you might have to compromise on the graphics quality a bit.
So yeah, if you're excited about PUBG on your mobile, go ahead and download it. We have a detailed guide to help you along the way, and to be honest, it's not that difficult anyway. Have fun, and all the best for that chicken dinner.