The Google Pixel 8 and Pixel 8 Pro landed a few days ago, and it brings some major upgrades, including the new Tensor G3 chipset, new AI photography features, and more. While watching the event, when Google revealed that there was a temperature sensor baked into the camera module of the Pixel 8 Pro, I couldn't help but let out a "Why?" I mean, I understand the idea of a temperature sensor being cool and all, but is it even useful in 2023? Most importantly, is it merely a gimmick or actually a sensor that works reliably? To find the answer to these questions and more, I tested the new temperature sensor on the Pixel 8 Pro.
How Does the Temperature Sensor on the Pixel 8 Pro Work?
First things first, the Google Pixel 8 Pro is the only device that features the brand new Temperature sensor. The non-Pro variant misses out on this. When I first received the review device, the sensor was just a dud as the phone did not come with a dedicated app to use it right out of the box.
It was not until very recently that the Pixel Thermometer app (Free) was listed on the Play Store with a mere file size of 4.55MB. I installed it as soon as I learned of it and annoyed the heck out of everyone, pointing my camera at them and taking the temperature of whatever was in sight. I looked like an absolute madman. By the way, you will need to place the phone within 5cm or 2 inches of the surface you are measuring for the "best results."
As for the Pixel Thermometer app, there are 11 different material options that you can choose from. This also includes a Default mode which you can use if you don't want to think too much about having to manually select a material. Once you select the mode, all you have to do is point at a surface, hit the "Tap to measure" button, and the sensor will instantly give you a reading.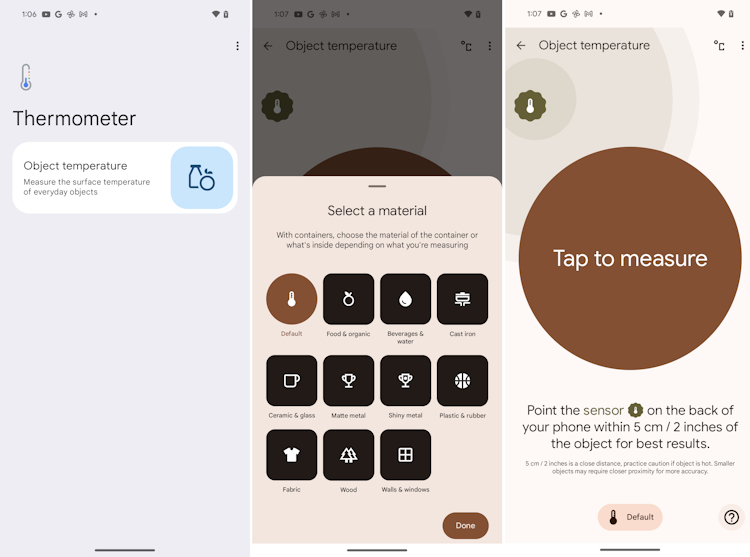 I know what you are thinking, does the new temperature sensor let you measure human body temperature? Even though Google has yet to get FDA approval for adding a body temperature mode in the thermometer app, can we still trick the sensor into getting a reading? I let my intrusive thoughts win and obviously had to test it out. Let's check out my observations.
Thermal Gun vs Pixel 8 Pro Temperature Sensor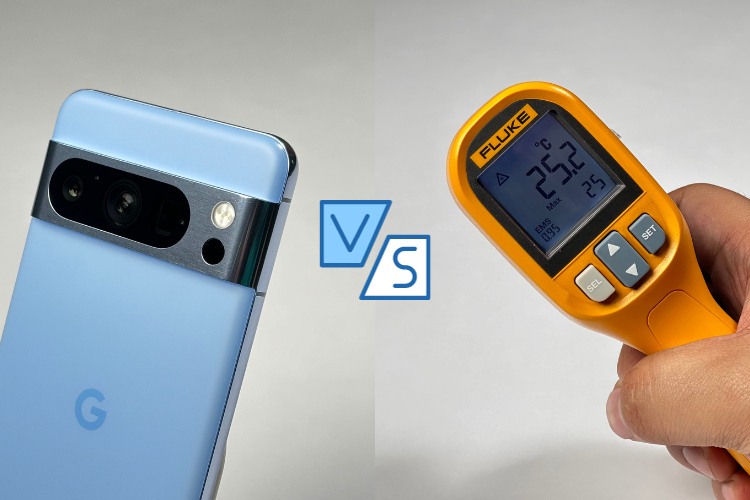 We have a thermal gun here at the Beebom office and it came to me; there was no better way to put the thermometer sensor's accuracy to the test. So, here are the results, spanning across multiple objects using different materials:
Note: All the tests were done in an AC environment with an average room temperature of roughly 25°C. Also, the tests were carried out using the Pixel 8 Pro temperature sensor app's Default Mode since it turned out to be the most reliable.
| Objects | Thermal Gun Reading (In Celsius) | Pixel 8 Pro Temperature Sensor Reading (In Celsius) |
| --- | --- | --- |
| A Glass of Cold Water | 8.8°C | 9.4°C |
| A Cup of Hot Water (Ceramic) | 75°C | 75°C |
| Metal Rod | 27.4°C | 28.1°C |
| Glass Window | 23.9°C | 24.8°C |
| Wall | 27.7°C | 27.4°C |
| Active Monitor Display | 31.2°C | 32.2°C |
| Running GPU Temperature | 44.4°C | 45.1°C |
| Gaming Laptop's Keyboard | 42.9°C | 42.2°C |
| Metal Bottle | 25°C | 24°C |
| Small Desk Fan | 21°C | 22.6°C |
| Wooden Desk | 24.7°C | 24.7°C |
| 150W Laptop Charger During Usage | 43.2°C | 44°C |
| Leather Bag | 24.2°C | 24.6°C |
| Plastic Bottle | 23.5°C | 24.9°C |
| Thick Microfibre Cloth | 25°C | 25.6°C |
| Pebble | 24.8°C | 25.1°C |
| Silicon Mobile Case | 24.8°C | 25°C |
| Rubber Crocs | 24.8°C | 24.7°C |
If you take a look at this list, you will see how close the readings are, so the temperature sensor seems pretty accurate. In fact, in my testing, I found that the Pixel 8 Pro's temperature sensor gave me a reading instantly while the thermal gun reading fluctuated a bit before settling. Moreover, I noticed that there was something off with the "Shiny Metal" material mode in the Pixel Thermometer app. The default mode gave the most accurate readings, and I decided to carry out all these tests in that mode for that very reason.
Does Pixel 8 Pro Temperature Sensor Work on Humans?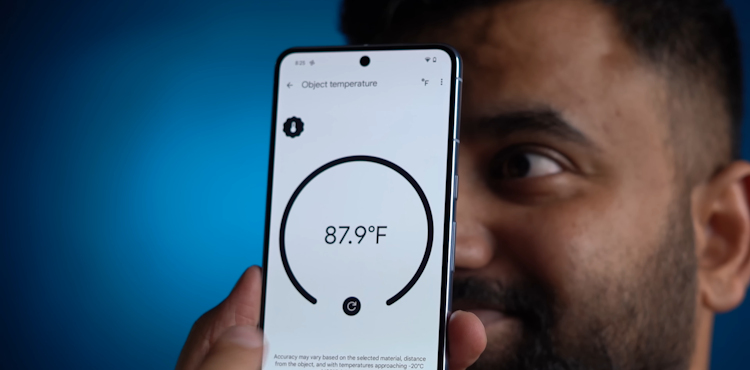 Though Pixel hasn't yet gotten FDA approval to use the temperature sensor for "medical purposes." However, can we still trick the Pixel 8 Pro sensor into getting a human body temperature reading? Yeah, don't worry, I have tested it out on multiple people, and I even have the readings. I was pretty surprised with the results. Take a look yourself:
| Subject | Thermal Gun Reading (In Celsius) | Pixel 8 Pro Temperature Sensor Reading (In Celsius) |
| --- | --- | --- |
| Person A | 33.3°C | 33.7°C |
| Person B | 35.1°C | 35.2°C |
| Person C | 34°C | 33.9°C |
As mentioned in our YouTube video, the feature is not approved for medical purposes just yet, so we suggest you use a thermometer for accurate readings and consult a doctor when required.
Pixel 8 Pro: Is Temperature Sensor a Gimmick?
Going by these results, there is absolutely no doubt that the temperature sensor on the Pixel 8 Pro is highly accurate and reliable. However, I honestly feel that it is a tad too late for a temperature sensor on a phone now. There are many things at play here. There is a good chance that Google designed the Pixel 8 Pro at a time when the COVID-19 pandemic was at its peak and thought it was crucial for the temperature sensor to see the light of day.
That is something that makes a lot more sense, given the fact that the pandemic has died down at this point. However, maybe the device was in its final stage and Google had to roll with the sensor by then. Moreover, if that was not the case, I don't get why Google would have opted to go through the hassle of approvals for the sensor. But in 2023, it is nothing more than a gimmick; one that no one will use after a few tries.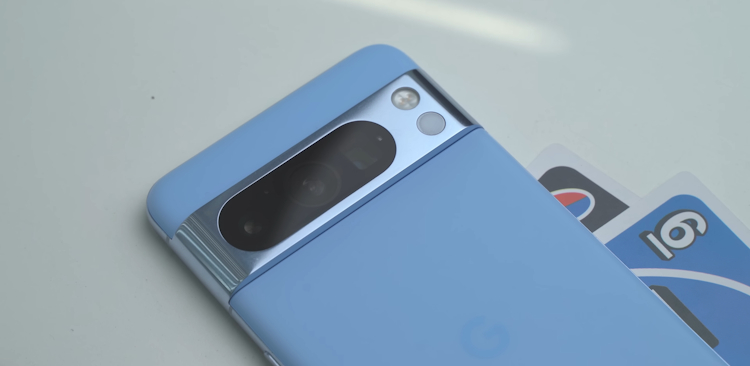 So, should you get the Pixel 8 Pro at $999 just for the temperature sensor? Absolutely not. I mean, how often did users use the Galaxy S8's heartbeat sensor? Or, let's say the Nothing Phone's Glyph interface, for that matter? This is just another one of those features that you will forget even exists on your smartphone. However, what makes the Pixel 8 Pro worth it are its formidable cameras, Pro Mode in the camera app, and a whole bunch of AI features that take mobile photography to the next level. Then again, that's my perspective. Let me know what you think of the Pixel 8 Pro's temperature sensor in the comments below.
---
Load More