We finally got our hands on the Pixel 8 Pro, and as expected, the first thing we did was test Google's latest Tensor G3 chipset. In this article, we have benchmarked the Tensor G3 on many standard tests to evaluate the performance improvement in CPU, GPU, storage, modem, and more. We have thoroughly tested the Google Tensor G3 on Geekbench, AnTuTu, CPU Throttling test, 3DMark, and other tests. So, without further ado, let's check out the Google Tensor G3 benchmark and thermal efficiency results.
Google Tensor G3 Specifications
Specs
Tensor G3
CPU
Nine-core CPU
CPU Cores
1x 2.91GHz (Cortex-X3)
4x 2.37GHz (Cortex-A715)
4x 1.70GHz (Cortex-A510)
Process Technology
Samsung's 4nm
GPU
7-core Mali-G715 GPU
Storage / Memory
UFS 3.1 / LPDDR5X
Machine Learning and AI
Google Custom TPU (Codename Rio)
ISP
Google Custom DSP (Codename Callisto)
Camera Capability
Take full resolution photos, SuperRes Zoom up to 30x, Magic Eraser, Best Take AI feature
Video Capability
4K at 60FPS, 10-bit HDR, OIS + EIS, AI-powered Audio Magic Eraser, Real Tone in Videos, Cinematic Blur
Modem
Samsung Exynos 5300 5G modem
Up to 3.0Gbps Peak Download
Up to 422Mbps Peak Upload
WiFi Support
Wi-Fi 7
Bluetooth
Bluetooth 5.3
Others
Av1 Encoder and Decoder
Tensor G3: Geekbench 6 Score
To test Tensor G3's CPU performance, we ran Geekbench 6 on the Pixel 8 Pro. It scored 1,771 in the single-core test and 4,429 in the multi-core test. It's not a bad score per se and falls in line with our expectations (close to Snapdragon 8+ Gen 1). Google has underclocked the CPU, as expected, and it becomes clear when you check the temperature.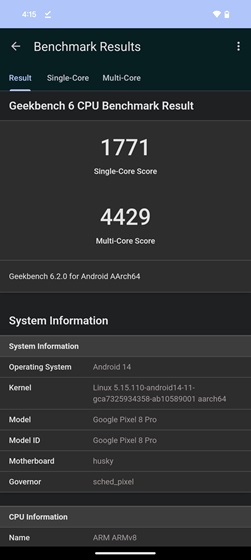 At idle, the Pixel 8 Pro had a temperature reading of 30°C and after the Geekbench test, the temperature rose to 37.3°C, which is on par with other flagship chipsets. That said, the Google Tensor G3-powered Pixel 8 Pro did show inconsistent scores initially, and we could not pinpoint the reason behind it.
Geekbench 6 Score
Google Tensor G3
Temperature
Single-core
1741
37.3-degree C
Multi-core
4429
Tensor G3: CPU Throttling Test
In the CPU Throttling test, the Google Tensor G3 disappoints. To keep the temperature and efficiency in check, it heavily throttles the CPU, indicating that if you perform back-to-back heavy tasks on the Pixel 8 series, it's highly likely to throttle. In a 15-minute CPU throttling test, the Tensor G3 throttled 60% of its maximum performance.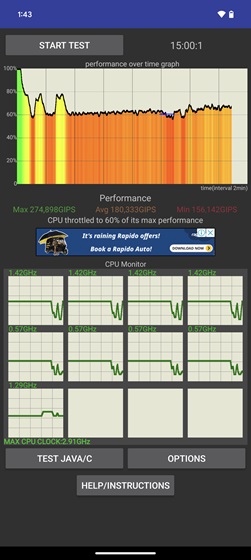 It scored a maximum score of 274,898 GIPS, an average of 180,333 GIPS, and a minimum of 156,142 GIPS. Having said that, the temperature was around 39°C after a 15 minute test. You are going to get better battery life on Google Tensor G3, but at the cost of performance.
Tensor G3: AnTuTu Benchmark
In the AnTuTu benchmark, the Tensor G3 scored a respectable 1,021,731 points, crossing the 1 million mark. Again, the temperature hovered around 37.5°C, which is quite good. And in the AnTuTu storage test, the Pixel 8 Pro, which comes with an old UFS 3.1 storage, scored 37,511 points.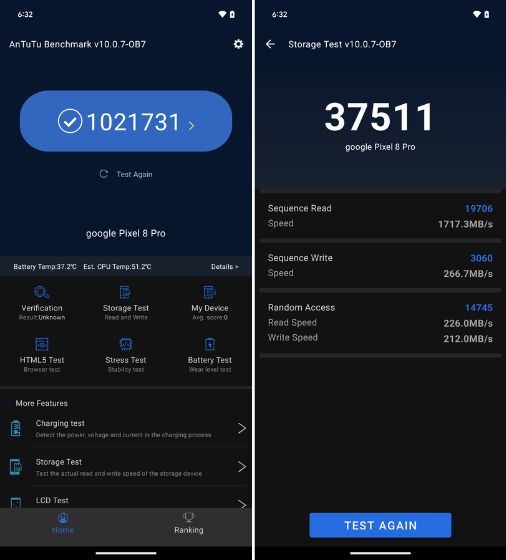 It has a sequential read speed of 1717.3 MBps, sequential write speed of 266.7 MBps, random read speed of 226 MBps, and random write speed of 212 MBps. At least, Google could have paired the Tensor G3 with UFS 4.0 storage to offer better speed and efficiency.
Tensor G3: 3DMark Wildlife Test
To test Google Tensor G3's GPU performance, we ran 3DMark Wild Life tests on the Pixel 8 Pro. In the standard Wild Life Stress test, the Tensor G3 scored a best loop score of 8,489 with 68.3% stability. Moreover, runinng the more intensive Wild Life Extreme Stress test, the Tensor G3 scored a paltry score of 2,396 with 66.2% stability. The temperature was close to 43°C after 50% of the test, which is a little on the higher side.
Google should have gone with 9 cores or packed the Immortalis GPU with at least 10 cores in the Tensor G3 chipset. However, the 7-core Mali-G715 GPU in the Tensor G3 is decent enough to pull you through most tasks. Sustained GPU performance will be something to look out for which we will let you know in our full review.
| 3DMark GPU Tests | Best Loop Score | Lowest Loop Score | Stability | Temperature |
| --- | --- | --- | --- | --- |
| Wild Life Stress Test | 8489 | 5797 | 68.30% | 43-degree C |
| Wild Life Extreme Stress Test | 2396 | 1587 | 66.20% | 43.8-degree C |
Tensor G3: 5G Speed Test
Google seems to be using the old Exynos 5300 5G modem by Samsung, but surprisingly, it performed quite well in our quick 5G test. The Pixel 8 Pro went up to 559 Mbps in download speeds and 67.9 Mbps in upload speed on Jio's 5G network in India.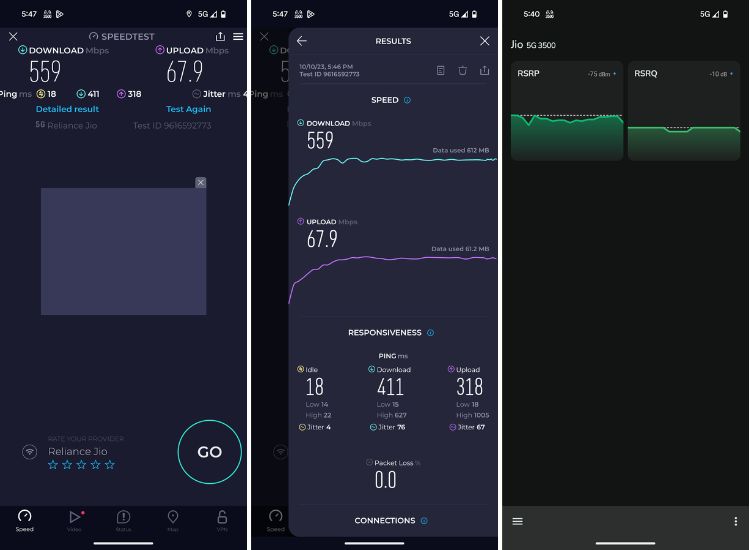 The interesting thing we noted is that the phone didn't get hot or even warm during multiple 5G speed tests. Seemingly, the modem on the Tensor G3 has gone through a 4nm fabrication process and that might be helping in efficiency. We can give a more conclusive verdict in our full review of the Pixel 8 Pro. Previous-gen Pixel 6 and Pixel 7 phones are known to have connectivity issues, so we plan on doing an in-depth connectivity test to give you a fuller picture.
Furthermore, we would suggest reading our in-depth comparison between Google Tensor G3 vs Apple A17 Pro vs Snapdragon 8 Gen 2. It includes not only a theoretical specs comparison but also benchmarks for all three chipsets.
---
Load More