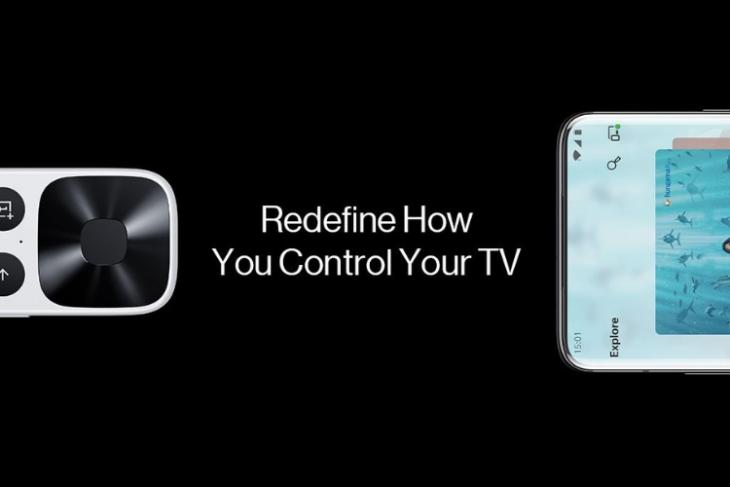 OnePlus TV is officially launching on September 26 and it seems like the Chinese giant cannot contain its excitement. OnePlus has steadily been revealing key features of its upcoming smart TV and well, CEO Pete Lau has today hinted at another handy feature that's going to elevate your experience.
Lau today took to Twitter to share a picture of the OnePlus TV remote, which looks so stunning, on one side and an app opened on the OnePlus 7 Pro on the other end. The renders are accompanied by the text "Redefine How You Control Your TV," which could suggest only one thing — the ability to control the OnePlus TV using your smartphone.
You will be able to use your smartphone as a remote control to control the OnePlus TV, ridding you of the hassles of going back anf forth on the TV itself.
Well, Lau had already hinted at this feature in a recent interview where he stated that improving on current TVs by offering "good interactions and user experience, specially connecting with your smartphone" is going to be an advantage for OnePlus.
Just a few moments ago, Lau has revealed that you will be able to type out text on your smartphone and search for content on the OnePlus TV, which is great. We all know it's a hassle to type on any Android TVs, jumping from one letter to another using the remote control.
Faster typing, easier searching, more seamless syncing #OnePlusTV pic.twitter.com/ykfik7k0a6

— Pete Lau (@PeteLau) September 17, 2019
While that feature sounds exciting, the company will obviously be mum on more details until September 26, but renowned tipster Ishan Agarwal has tweeted that the feature in question will be called OnePlus Connect. We will have to wait until the launch event for more details, or maybe Lau will tweet them out in the next few days.
This is "OnePlus Connect". It's useful, you will like it. #OnePlusTV #OnePlus7TSeries #OnePlus pic.twitter.com/qHXlEKEHwO

— Ishan Agarwal (@ishanagarwal24) September 16, 2019
As for details about the OnePlus TV, well, we already know that it will feature a 55-inch QLED panel with 4K resolution, Dolby Vision support, and Gamma Color Magic processor that will help you deliver improved picture quality. It will come equipped with 8 speakers, with 50 watts output, a kevlar back panel, and a minimal-looking remote.
Also, OnePlus TV will be powered by Android TV based on Android 9 Pie, but with some meaningful upgrades that further the experience. The company promises three years of guaranteed updates as well, which is great from a user investing in a new smart TV. So, waiting for the OnePlus TV with bated breath? What do you think the OnePlus TV will be priced at? Let us know your thoughts in the comments below.