When it comes to Android flagships, the first names that come to the mind are Google's Pixels and Samsung's high-end Galaxies, which charge handsomely for the class-defining smartphone experience they offer. But there is also another league of smartphones- christened 'the affordable flagships'- which offer the same fluid experience without any compromises, however, they don't burn a hole in our pockets. OnePlus pioneered the budget flagship segment, and soon, the category was saturated by devices from the likes of Xiaomi, Honor and Nokia.
We recently reviewed two such devices- the OnePlus 5T and the Honor View 10– and as expected, they proved to be excellent smartphones which make little to no compromises when it comes to offering the maximum bangs, and then some more, for their price tag. But one can never claim the superiority of one beast over the other one unless they are pitted against each other. So without any further ado, let's dive straight into the battlefield and see which device emerges the winner, the OnePlus 5T or the Honor View 10!
Design and Build Quality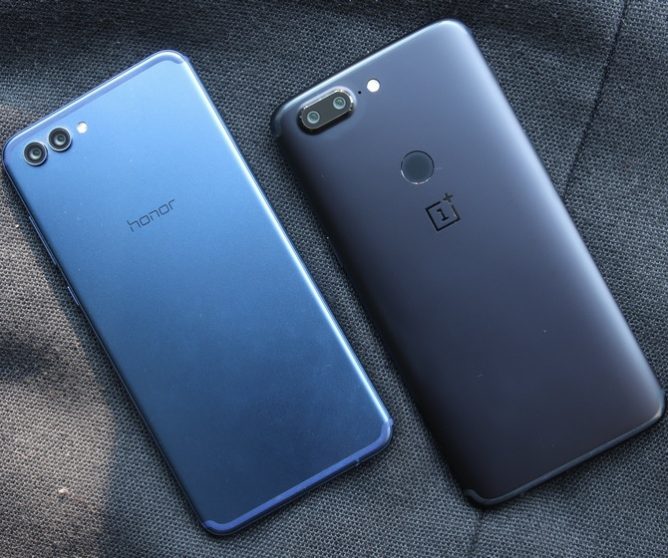 I am a huge fan of metallic build on smartphones, but that only makes it tougher to choose a favorite between the OnePlus 5T and the Honor View 10, as both of them are carved out of metal and are absolutely stunning to look at and use. But if you are torn between the two, let me simplify it for you. You can't go wrong with any of these two devices,  however, your aesthetic taste and style preference can affect your decision. How?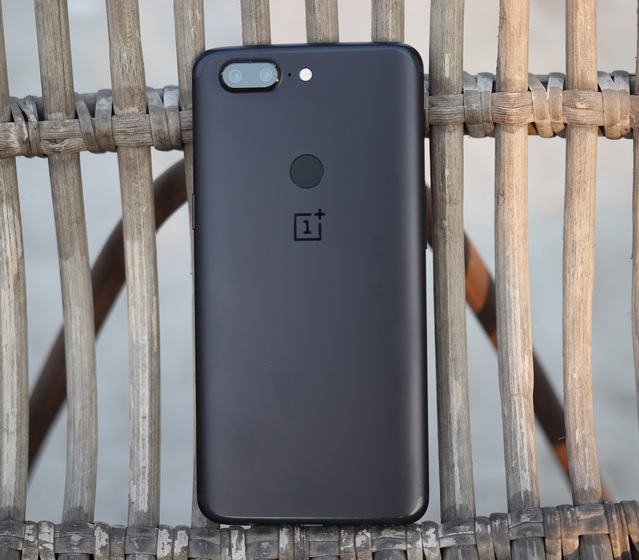 Well, the OnePlus 5T features a super-sleek, unibody metallic build, which is all about minimalism from the get-go. Be it the premium in-hand feel of a well-crafted device or the deep black paint job, which can put Neo from the Matrix trilogy to shame in the style department. Another great thing about the OnePlus 5T's build is the fingerprint sensor's placement on the rear panel, which is the ideal place where the index finger normally rests. So, unlocking the device after picking it up or authenticating payments, opening secure folders, etc. is a breeze, as you don't have to shift the smartphone in your hands to reach for the sensor embedded in the home button.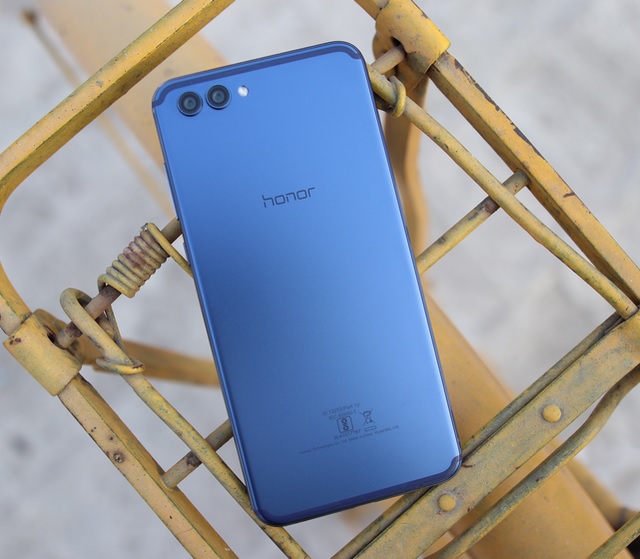 When it comes to the Honor flagship, the Huawei subsidiary absolutely knocked it out of the park with the Honor View 10's build quality, thanks to its clean appearance, rounded edges and the pleasant matte finish. A few users might find the fingerprint sensor embedded in the home button a bit difficult to reach, as the Honor View 10 is undoubtedly a tall device, but then, it varies from user to user. But one qualm I have with the Honor View 10 is the rear camera's protrusion, as the sensors are surrounded by metallic rings which have sharp edges and extend out quite a bit. It is present on the OnePlus 5T too, but in the Honor View 10's case, the protruding camera sensors are much more pronounced. So, application of a protective back cover (which is already provided in the device's retail box) is strongly advised, unless you want to scratch your shiny new flaghsip.
As far as color options go, the OnePlus 5T is currently available in three shades viz. Black, Red and White, while on the other hand, the Honor View 10 can be purchased in a wider palette of colors which include Black, Blue, Red and Gold. While the Honor View 10 might give you more color options to choose from, the OnePlus 5T's hue choices are rather limited, but do keep in mind that the white OnePlus 5T offers a sandstone finish, which in my personal opinion, feels much better to hold.
Display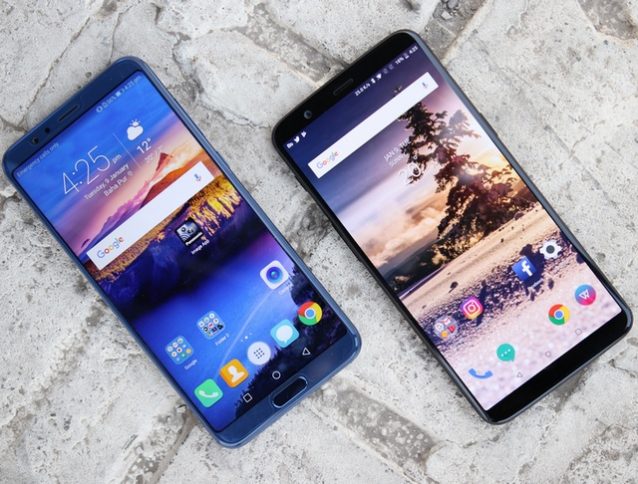 The display fitted in both the devices is of two different types- AMOLED and LCD- which have their own set of pros and cons, so it boils down to the users to choose between the two of them. Therefore, I am going to briefly describe them and discuss their respective benefits and drawbacks to make it easier for you to make a definite choice, depending on their alignment with your liking.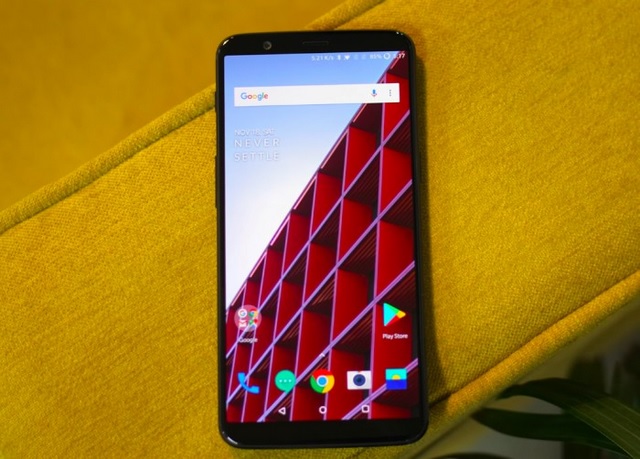 The OnePlus 5T is equipped with a 6-inch Optic AMOLED 1080 x 2160 display with an 18:9 aspect ratio. The screen looks gorgeous, and its visual appeal is intensified further by the minimal bezels and the uniform, symmetrical design. However, a taller display means it will be a cumbersome experience for users with smaller hands to reach the screen's top corners without adjusting the device's position.
Talking about output, the OnePlus 5T's AMOLED panel undoubtedly offers deeper blacks and higher contrast for a more lively color reproduction with superior viewing angles, and it is nothing short of a visual treat when it comes to watching high-quality videos. However, being an AMOLED panel, display burn-in comes along as an inevitable evil, but its occurrence is quite rare. Moreover, the OnePlus 5T's display is not water resistant either, so if you want to keep the OnePlus 5T's pixels from getting fried, better avoid taking pool selfies.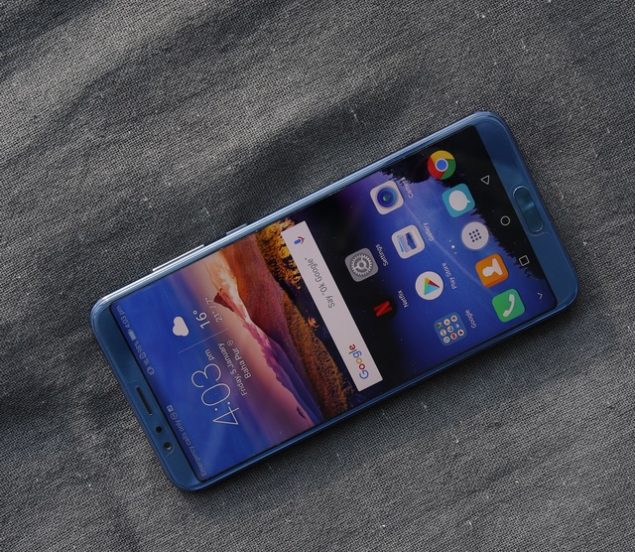 The Honor View 10, on the other hand, packs a 5.99-inch, 2160 x 1080 LTPS IPS LCD display, whose resolution can be toned down to 1440×720 for saving some battery juice. However, the Honor View 10's display does NOT have any kind of protective layer, which is one area where the OnePlus 5T emerges victorious with its Gorilla Glass 5 protected screen.
Longevity aside, I felt the Honor View 10's LCD display perform slightly better under direct sunlight, producing cleaner whites than the OnePlus 5T's AMOLED panel whose white color was a bit warmer when compared to the Honor View 10's display. Moreover, the OnePlus 5T's AMOLED screen will be slightly more taxing on the battery than the Honor View 10's display if it is used at high brightness levels, as LCDs are more frugal when it comes to power consumption. Therefore, the Honor device can last a bit longer on the same amount of charge compared to the OnePlus 5T.
Camera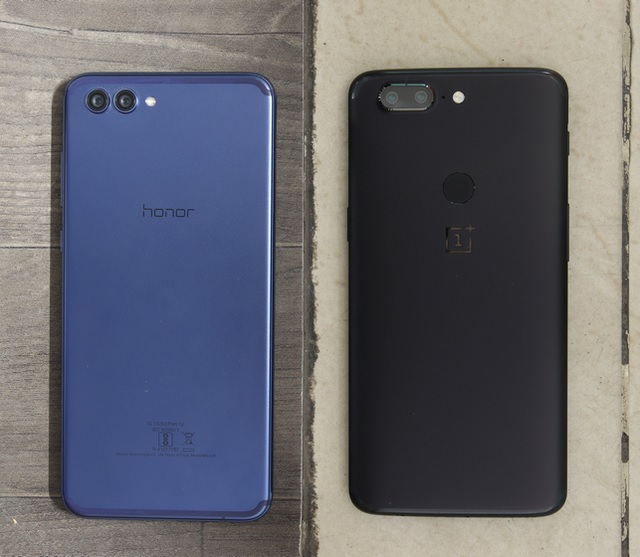 The OnePlus 5T has received glowing reviews for its photography prowess, thanks to its highly capable dual rear camera set-up, which consists of a primary 16MP sensor and a secondary 20MP sensor with f/1.7 aperture, while a 16MP unit takes care of the selfies. On paper, the OnePlus 5T's photography credentials appear rock solid, and much to the delight of users, it performs like a champ in real life too, capturing superior grade low-light shots and reasonably good selfies with accurate colors. Moreover, the device is capable of recording good quality 4K videos at 30fps and 1080p videos at 60fps, but the lack of OIS is something that you won't easily feel as the EIS does a pretty good job of compensating for its absence.
On the other hand, the Honor View 10 packs a 16MP + 20MP rear camera set-up and a 13MP front camera, which produces images with excellent sharpness levels and rich colors. The Honor View 10's portrait mode implementation is something worth talking about, as the AI-assisted portrait mode on this smartphone brings out excellent blur and depth effects, without disturbing the object's natural color. However, low-light shots are satisfactory at best, as the aggressive image optimization by the device's AI sometimes lowers the details.
When pitted against each other, this is how the rivals perform in the photography department: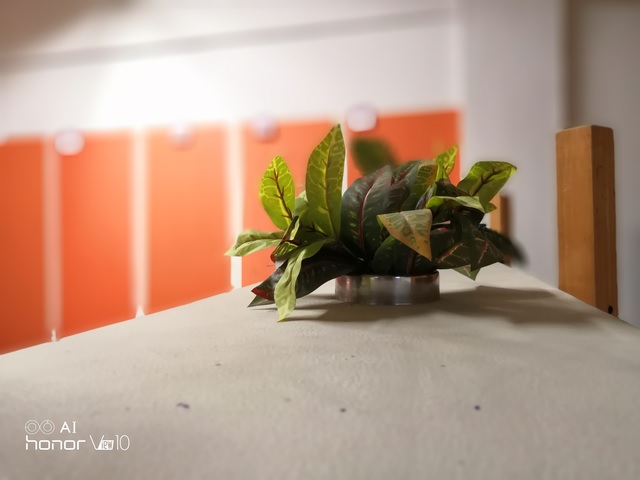 The depth effect created by the Honor View 10 (image above) is absolutely stunning, as it captures high levels of detail, and the excellent blur effect further enhances the object's vibrancy. On the other hand, the OnePlus 5T's portrait mode skills (sample below) is not up to the same level as the Honor View 10's, since its blur effect is questionably weak and the focus lock is unsatisfactory too.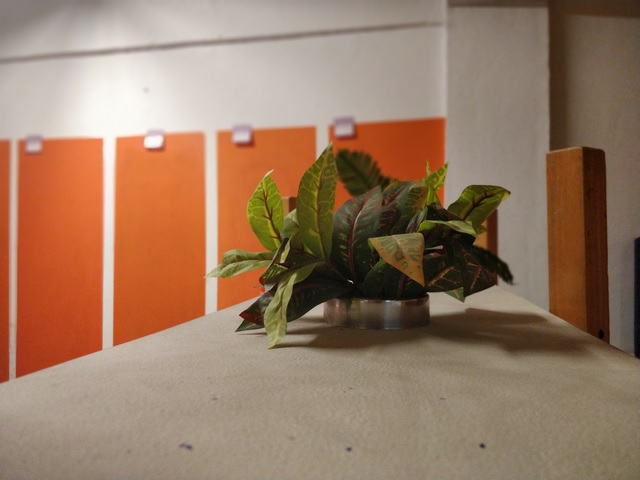 The following sample again showcases the superior blur effect created by the Honor View 10's camera as well as its excellent color reproduction. On the other hand, the portrait shots clicked with the OnePlus 5T exhibit insufficient depth of field and slightly inaccurate colors with a washed out appearance.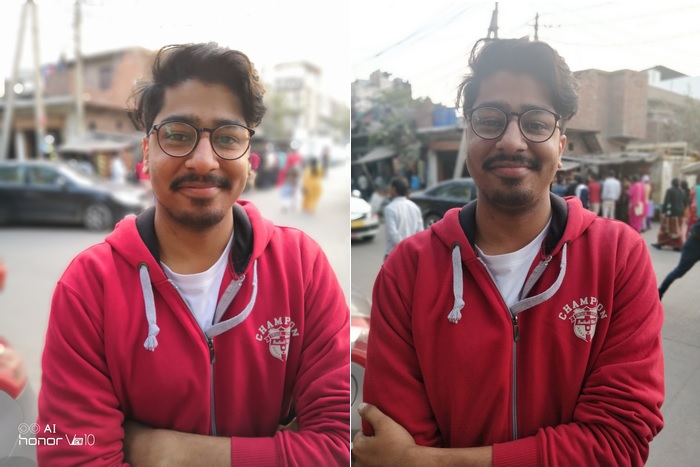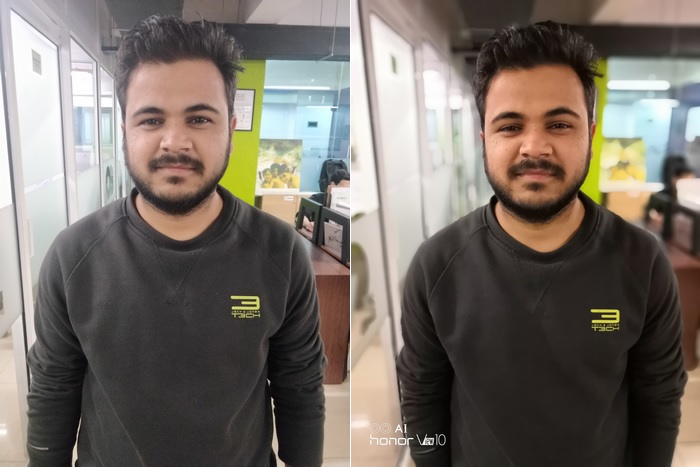 When it comes to low-light photography, the OnePlus 5T takes the Honor View 10 back to school, as the images captured by the OnePlus flagship contain a lot of detail and are sharp, whereas those clicked by the Honor View 10 suffer from aggressive smoothing, which ends up reducing the amount of detail.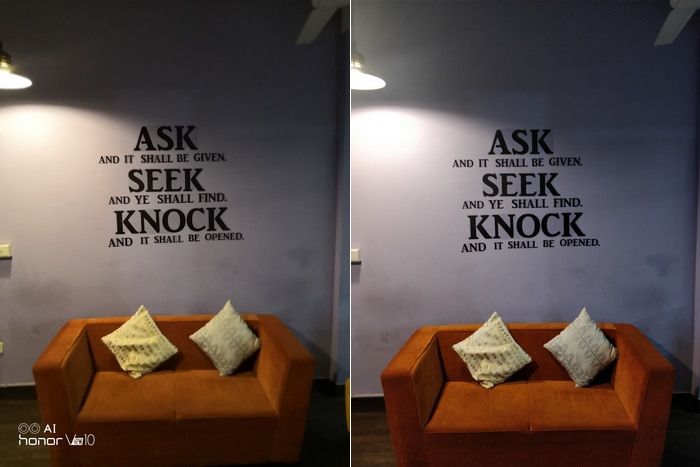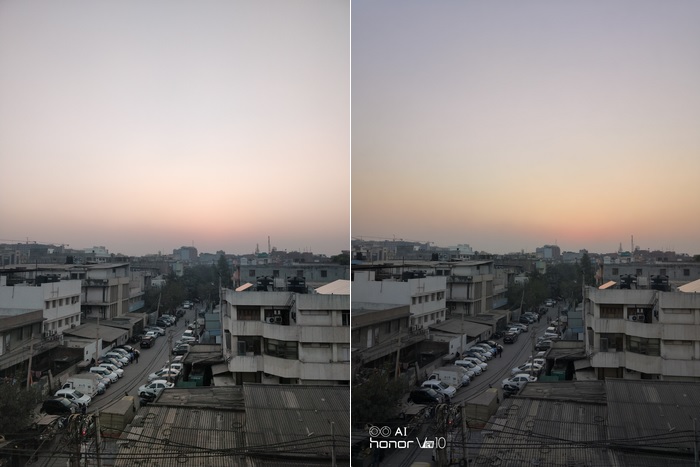 The same low light failure of the Honor View 10's camera can be witnessed here too, as its inbuilt AI takes a toll on the detail aspect of photographs in its bid to reduce noise. The OnePlus 5T doesn't perform aggressive noise reduction, which is why, the low light shots captured by the OnePlus 5T, despite being grainy, contain a lot more detail.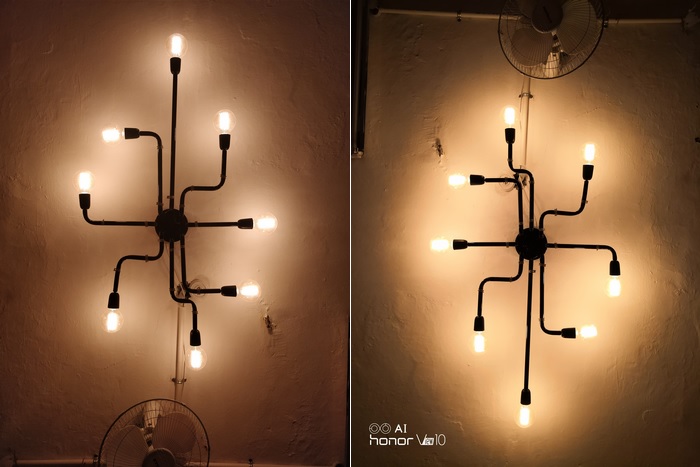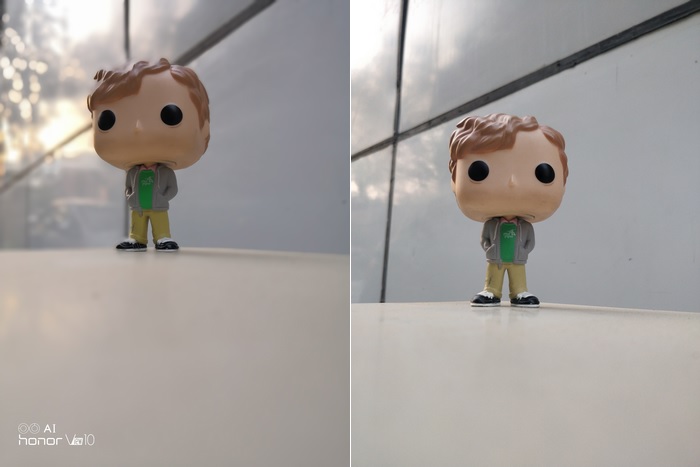 Selfies captured by both the smartphones are good, but the OnePlus 5T takes the crown here with sharper pictures that have more natural looking colors.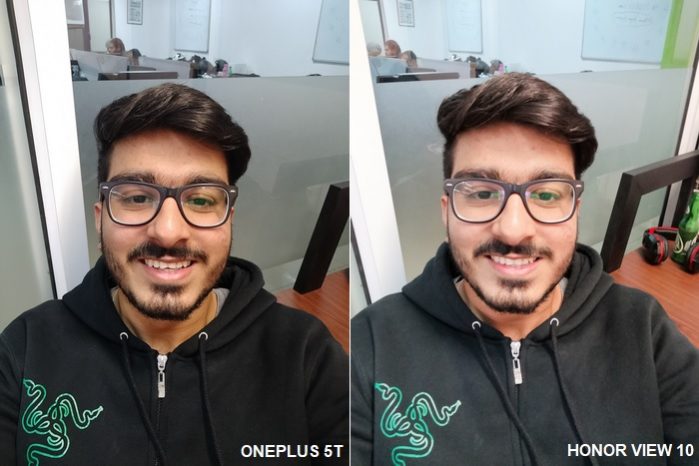 Performance
As far as performance is concerned, neither of the devices is a slouch in any manner, instead, they absolutely crush whatever task you throw at them. The reason? Their top-of-the-line processors and the generous amount of RAM to help them ace any activity. While the OnePlus 5T's Qualcomm Snapdragon 835 is a bonafide beast and may appear to be the winner on paper here, the Honor View 10's HiSilicon Kirin 970 processor has proven itself to be a venerable performer too.
Let's have a look at the benchmark scores of the two flagship killers and see how well they perform in synthetic performance tests with their 'Kirin 970 + 6GB RAM' and 'Snapdragon 835 + 8GB RAM' configurations.
As is evident from the benchmark scores, both the devices are neck-to-neck in Geekbench 4 assessment, however, the gap widens in the AnTuTu test, which saw the OnePlus 5T getting ahead of the Honor View 10 by a significant margin, thanks to the extra 2GB of RAM at its disposal.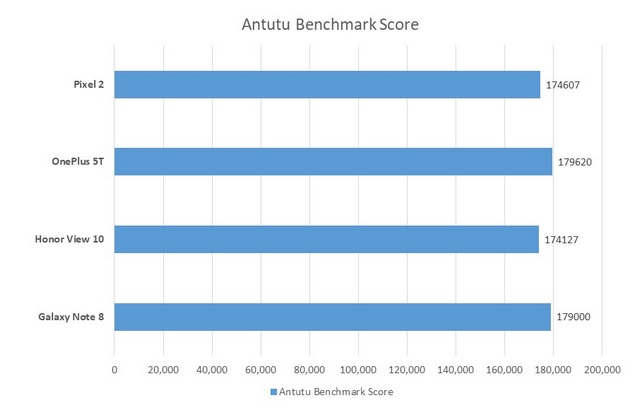 But as you might know, benchmark tests do not always reflect the true capability of a device, so I conducted an app speed test of my own to compare the real-world performance of both the devices. In the assessment, I tested out nine apps ranging from lightweight apps like gallery, YouTube and Google Maps to heavy games like Injustice: Gods Among Us and Shadow Fight 3, to compare how fast they load and reload after minimizing them.
In the speed test, the OnePlus 5T opened the nine apps, one after the other, in 1 minute and 10 seconds, while the Honor View 10 did the same in 1 minute and 11 seconds. When it came to reloading the minimized apps in the same order, the OnePlus 5T accomplished it in 1 minute and 46 seconds, with the timer having never stopped. However, the Honor View 10 lagged behind by just three seconds, finishing the test in 1 minute and 49 seconds. But let me be very clear, the narrow defeat suffered by the Honor View 10 doesn't mean that its a slow device by any means, as it performed at the same level as the OnePlus 5T on nearly every ground, be it intensive gaming or moderate usage.
Battery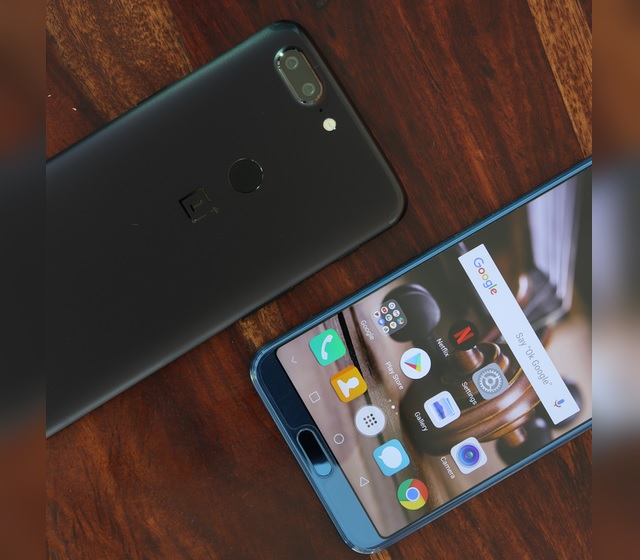 You can, and should, never make compromises on battery capacity when buying a smartphone, especially if you are a power user and are purchasing a flagship device to make the most out of it. This is one area where the Honor View 10 outperforms the OnePlus 5T by a significant margin, as the Honor View 10 packs a beefier 3,750 mAh lithium-ion battery, while the OnePlus 5T is equipped with a smaller 3,300 mAh unit.
But it's not just the mAh numbers where the OnePlus 5T loses points, it also appears to be at a disadvantage in the utility scenario, because its smaller battery has to sustain the significantly more power-hungry AMOLED screen. The OnePlus 5T lags behind in day-to-day usage too, as the device could barely manage 4.5 hours of screen-on time on full charge, while the Honor View 10 outlasted it by a significant margin, delivering 5-6 hours of continuous screen activity when juiced up fully.
However, the OnePlus 5T more than makes up for its smaller battery with super fast charging speed, thanks to its Dash Charging technology, which takes the battery from 0%-75% in just 35 minutes. Even though the Honor View 10 boasts of a quick charging technology of its own, it is nowhere as fast as the OnePlus 5T's, as the former's charging speed is comparatively slow and it could fill the battery only up to the 50% mark in 45 minutes.
Software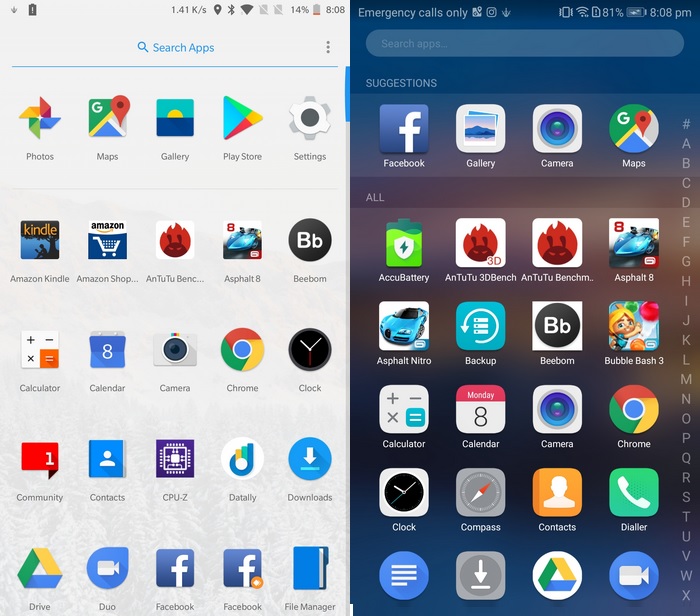 Software is one area which might prove to be the decisive factor for potential buyers who are torn between the OnePlus 5T and the Honor View 10. If you are an Android purist and like the no-fuss-no-frills experience of vanilla Android, the OnePlus 5T is the best choice for you, thanks to the clean UI offered by Oxygen OS 4.7.2 running on top of Android 7.1.1 Nougat. The rest of the software is the usual OnePlus affair with nifty optimization controls and a lot more.
On the other hand, if you are feeling adventurous and want to try an OS that is heavily integrated with AI-based features, then the Honor View 10's heavily skinned EMUI 8.0.0 based on Android 8.0.0 Oreo is perfect for you. However, the machine learning-based tricks baked into EMUI, which were aggressively advertised by Huawei upon its launch, are far from just marketing jargon, as they allow the device to learn the usage habit of users over time, and starts allocating resources to certain apps and functions accordingly. So what does that exactly mean? To put it simply, if you use an app or function on a frequent basis, the device will eventually speed up the process of opening and loading it over time, and will also dish out most used options for user's convenience.
Nonetheless, the Honor View 10, with its Android Oreo-based OS, is ahead of the OnePlus 5T, which is still stuck on Android 7.1.1 Nougat. However, the rollout of Android 8.0 Oreo for the OnePlus 5T has officially begun through the beta channel, so a public release is just round the corner.
Specifications: Honor View 10 vs OnePlus 5T
| Device | Honor View 10 | OnePlus 5T |
| --- | --- | --- |
| Dimensions | 157 x 75 x 7mm | 156.1 x 75 x 7.3mm |
| Weight | 6.07 ounces (172g) | 5.7 ounces (162g) |
| Display | 5.99-inch Full-HD LTPS IPS LCD screen, with 18:9 aspect ratio | 6.01-inch 18:9 Optic AMOLED screen |
| Processor | octa-core Hisilicon Kirin 970 chipset | octa-core Qualcomm Snapdragon 835, clocked at 2.45GHz |
| GPU | Mali-G72 MP12 | Adreno 540 |
| RAM | 6GB or 8GB | 6GB or 8GB |
| Storage | 64GB or 128GB, expandable up to 256GB with microSD card | 64GB or 128GB |
| Primary Camera | 16+20MP dual camera, with f/1.8 aperture, LED flash and PDAF | 16+20MP dual camera, with f/1.7 aperture and dual LED flash |
| Secondary Camera | 13MP, with f/2.0 aperture | 16MP IMX 371 sensor, with f/2.0 aperture |
| Battery | 3,750mAh, non-removable | 3,300mAh, non-removable |
| Operating System | Android 8.0 Oreo, with Huawei's EMUI 8.0 skin | Android 7.1.1 Nougat, upgradable to Oreo very soon |
| Sensors | front-placed Fingerprint, Accelerometer, G-sensor, Electronic Compass, Gyroscope, Proximity, Ambient Light Sensor, IR blaster | rear-placed Fingerprint, Accelerometer, G-sensor, Electronic Compass, Gyroscope, Proximity, Ambient Light Sensor |
| Connectivity | Wi-Fi 802.11 a/b/g/n/ac, dual-band, WiFi Direct, NFC, Bluetooth 4.2, A-GPS, GLONASS, BDS | LTE, WiFi 802.11 a/b/g/n/ac, Bluetooth 5.0, NFC, GPS, GLONASS, BeiDou, Galileo |
| Ports | USB Type-C charging port, 3.5mm headphone jack | USB Type-C charging port, 3.5mm headphone jack |
| Color Variants | Navy Blue, Midnight Black, Beach Gold, Aurora Blue, Charm Red | Matte Black, Star Wars Edition (India-specific) |
| Price | under $499 (₹29,999) | starts at $449 (₹32,999) |
SEE ALSO: OnePlus 5T Review: Exactly What The OnePlus 5 Should've Been
Which One Should You Buy?
Now that the advantages and shortcomings of the OnePlus 5T and the Honor View 10 have been revealed in a mano-a-mano contest, it now boils down to an individual's brand preference and the resultant of the smartphones' performance. Both the devices offer unmatched Android experience, top-of-the-line hardware and excellent performance for the price they command, but the OnePlus 5T takes the cherry when it comes to trust and global recognition, something the Honor View 10 loses some points for.
Moreover, OnePlus pays a close attention to its user community, and whatever issues are encountered, they are resolved at a quicker pace compared to a brand like Honor, whose user engagement is far below OnePlus. So, if you invest in the slightly expensive OnePlus 5T, you not only get 2 gigs of additional RAM for that extra bit of processing power, but also an assurance that your device will continue to receive comparatively more attention from its maker in the years to come, which is always a welcome move.
Well, that was just my opinion. Which device do you think is the better value for money? Let us know in the comments section below.
Buy from Amazon: (OnePlus 5T, ₹32,999)
Buy from Amazon: (Honor View 10, ₹29,999)