OnePlus 5T, the successor to the wildly popular OnePlus 5 was unveiled yesterday and it is definitely a looker. The Chinese giant made its flagship device more competent for 2017 by upgrading to a beastly 6-inch 18:9 AMOLED display. But wait, did you catch any differences in the OnePlus 5T renders and official device?
While most of us were drolling over the remarkable screen of the OnePlus 5T, some sharp-eyed users noticed there was something off about the bezels of the device and then they took to Twitter to spread the word of the discovery. They found that the minimal side bezels shown in the renders at the launch event varied greatly from the actual side bezels on the device. Here is the tweet that shows off the huge difference in these bezels:
See the difference? pic.twitter.com/3Scm9uVf8d

— Grundelwalfe (@ethanusha) November 16, 2017
As you may have just noticed, the two OnePlus images shown in the tweet above do have some significant difference in the side bezels. Such form of misleading presentation is not expected from a company of OnePlus' stature. Hence, the users are now rebuking the render used by the Chinese giant to make the OnePlsu 5T appear bezel-less when the same isn't true. Still, OnePlus has plastered these renders are plastered all over its official website as well.
This is a tactic that has previously been adopted by many phone makers to make their new devices appeal more to the masses. The misrepresentation has only increased recently due to the front of smartphones slowly pushing for an almost edge-to-edge design. Some minor differences in the render may stay unnoticed but you can see the side bezels of OnePlus 5T render and the device, here's a side-by-side comparison of the two: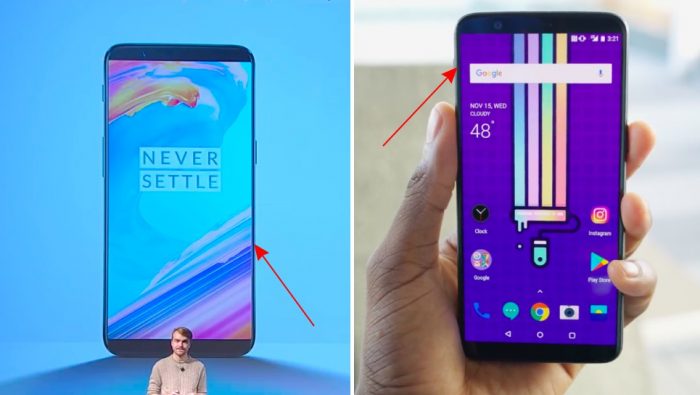 This wouldn't greatly hurt the reputation of a company that's created one heck of a device, retailing at about half the cost of some of the most popular devices. But, this also doesn't give them a free pass to provide users with an incorrect view of the OnePlus 5T. It is a minor controversy that could've been avoided by using 3D renders at the launch event. So, does this affect your outlook towards OnePlus? Let us know your opinion down below.
---