Microsoft OneNote is one of the best note-taking apps out there. I mean, the app is packed with features, available across platforms, and is free to use. That said, despite bringing so many good qualities, the app is not for everyone. For example, the app is too complex for beginners and requires you to create a Microsoft account if you want to sync your notes across devices, which some users might not be comfortable with. My biggest complaint with OneNote is that it just takes too much space on my devices and is too heavy on resources. I mean, a note-taking app should not tax my devices so much. So, for these reasons or some of your own, if you are looking for a OneNote alternative, you have come to the right place, as we are bringing you the top 10 best OneNote alternatives that you can use:
Best OneNote Alternatives
1. Evernote
Evernote is probably the most popular note-taking app and the best OneNote alternative out there. The app brings all the features that you can think of and is one of the most complete note-taking apps you can find. One of the best things about using Evernote is that it is an app which you can trust to be around for decades. That allows you to completely invest yourself in the app and structure it just the way you want to, as you know that you won't have to redo it just a few years down the line. Coming to the features of the app, I love how it allows us to organize our notes into different notebooks. You can even create stacks of notebooks which is great if you have as many notes as I do.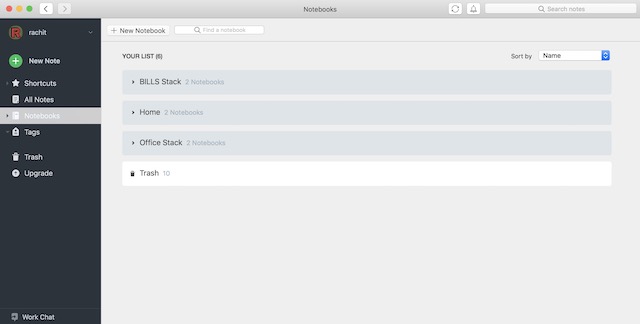 One of my most favorite features about Evernote is that it makes it really easy to share your notes with your classmates, friends or, colleagues to help you collaborate on notes. Evernote by far has the best collaboration feature out of any note-taking app that I have used. Apart from personal usage, Evernote is also great for business use as it allows team members to collaborate on ideas, share research material, manage projects and more. Recently, Evernote launched a new "Spaces" feature which makes it really easy for team members to collaborate with each other.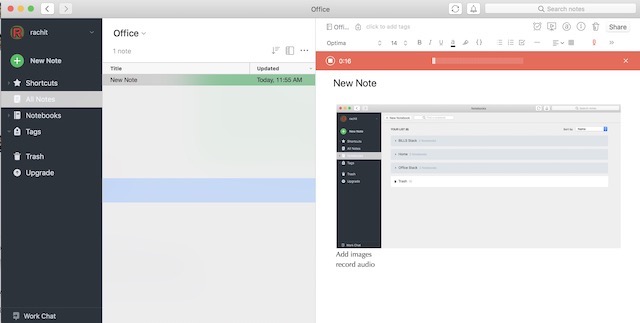 As you can see, there's a lot to like here, and I have just scratched the surface. There are tons of other features such as a web-clipper which allows you to easily save web links and articles, the ability to input your notes in text, audio, or pictures, optical character recognition which allows you to search for text inside images, password protected notes, and much more. The bottom line is if you want the best OneNote alternative, Evernote is for you.
Supported Platforms: Windows, macOS, Android, iOS, Web, watchOS, Android Wear, Chrome OS

Price: Evernote Basic (Free), Evernote Premium ($69.99/year), Evernote Business ($14.99/user/month)
2. Simplenote
Simplenote, as its name suggest, is a very simple note-taking app which just works. If you are someone who is looking for a simple note-taking app which offers an intuitive and easy-to-navigate UI, Simplenote is the one for you. I personally am a fan of Simplenote, just for the fact that how easy it is to use and how my notes are instantly synced across devices without having to do anything. Simplenote allows you to easily create notes, reminders, to-do list, and more. I love Simplenote's clean user interface which is a breath of fresh air when compared to the complex and clunky user interface of OneNote. I also love the fact that it comes with a dark mode. For me, Simplenote is a place where I can brainstorm ideas as it gives me a distraction-free environemt which allows me ideas to flow.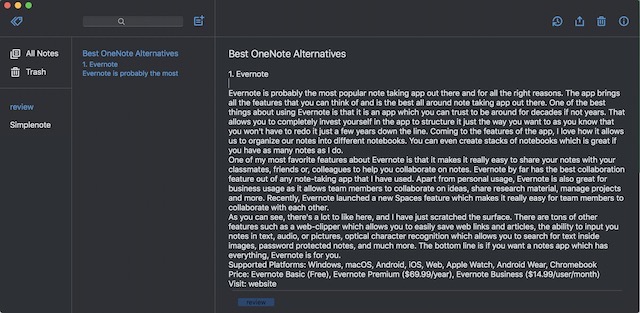 One of the biggest advantages of Simplenote is that unlike OneNote which is heavy on system resources, it is only a few MBs in size and doesn't tax your device. This allows you to easily run this app even on devices which are a few years old. When it comes to organizing notes, Simplenote brings a tagging system. Your tags act as a folder and since a note can have multiple tags, it can exist in multiple folders. I love this non-hierarchical organization as it makes it really easy to organize your notes. Finally, it's also one of the few apps which bring a native Linux app. Also, did I tell you that you get all these features for absolutely free.
Supported Platforms: Windows, macOS, Linux(.deb), Linux(.tar.gz), Android, iOS, Web
Price: Free
3. Laverna
If you are concerned about your privacy and do not trust private companies like Mircorsoft with your data, Laverna is the right note-taking app for you. Laverna is an open-source note-taking app which focuses on user privacy as it brings an end-to-end encryption and password protected vault which holds all your notes. The app is really easy to use and allows you to create simple text-based notes which are synced across devices using a Dropbox or a RemoteStorage account. I love its no frills and simple user interface which never gets in the way of your note-taking. That said, the simplicity also means that Laverna is not as feature rich as OneNote. For example, you cannot add image or voice notes here.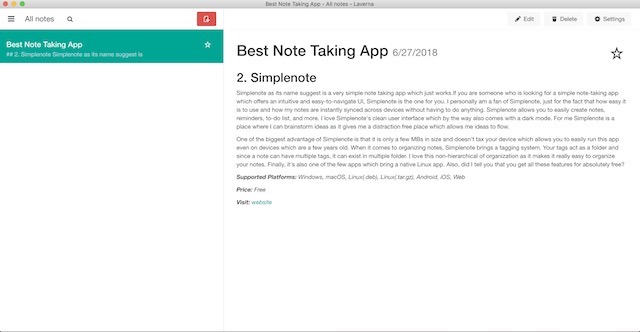 Laverna does make up for it shortcomings by bringing features which are unique to it. One of my favorite features of Laverna that is not present in OneNote is its support for markdown editing. The markdown editing feature allows me to format my text without having to lift my finger off the keyboard. If you have read my previous articles, you know that I love markdown editing and I am happy that its here. If you are just starting to learn markdown, you will be happy to know that Laverna shows a real-time preview of texts so you can easily correct any formatting error. Other features include the ability to create to-do lists, code highlighting, and more.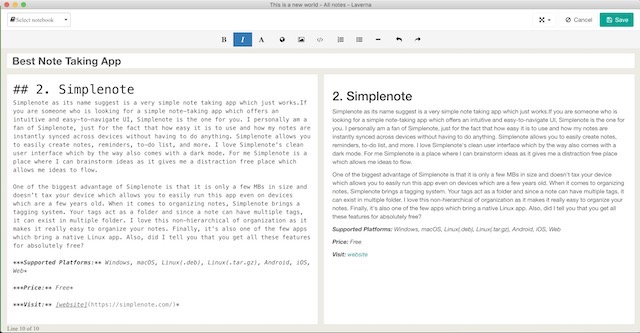 Supported Platforms: Windows x32, Windows x64, macOS, Linux x32, Linux x64, Android (coming soon)
Price: Free
4. Google Keep
Google Keep brings a unique approach to note-taking and I quite like it. The best part about using Google Keep is that it displays all your notes in an easy to view colored-card interface which not only makes the notes look beautiful, but also allows you to easily scan the content of your notes without having to open them. The ability to color code notes is a boon for me as it allows me to easily find notes that I am looking for. For example, all the red notes in my Google Keep are the ones that I need to urgently get to.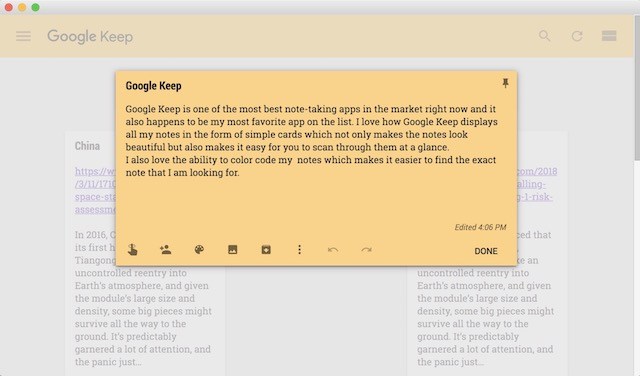 Just like OneNote is good for a Microsoft product user, Google Keep being a Google product, ties in nicely with other Google products and services. For example, the new Gmail web app has a sidebar which hosts Google Keep among other things. That allows me to transfer emails to notes or draft emails inside notes and then just copy and paste them inside emails. The app also lets you easily create to-do lists, normal lists, reminders, attach photos, and more. Finally, Google Keep also brings a web-clipper companion app just like OneNote which allows you to save articles and links from the web. I love Google Keep, and if you give it a try, I think you will love it too.
Supported Platforms: Android, iOS, Web, and Chrome OS

Price: Free
5. Zoho Notebook
Zoho Notebook is yet another feature-packed note-taking app which is available across devices and is a capable alternative to OneNote. What I love about Zoho Notebook is that despite bringing a big feature set, it remains of the best looking note-taking apps in the market. I mean, if Evernote and Google Keep had a baby, it would be Zoho Notebook. The app lets you easily create Notebooks with covers which actually look like a real notebook. Inside, you can create text-notes, voice-notes, add pictures, and more. It also has a web clipping tool which lets you save articles and links from the web.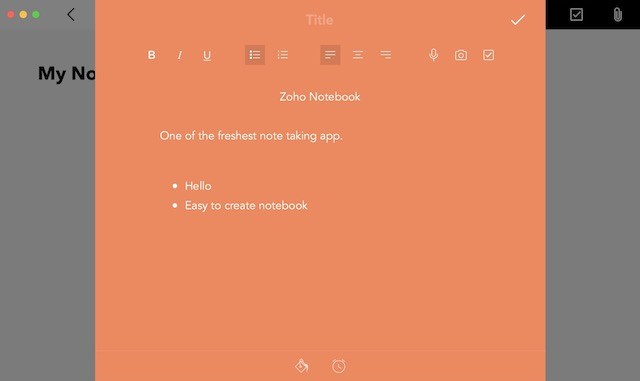 Just like Google Keep, the app allows you to color-code notes which I love. You can also stack your notes and swipe between them to access them. The ability to stack notes is pretty cool as it allows me to keep the overall user interface quite clean. I also love the fact that Zoho gives me multiple view options and I can choose the one that I love the most. One of my favorite OneNote feature that comes with Zoho Notebook is the ability to sync my notes across unlimited devices without costing me a penny. With Evernote, you can only sync your notes across two devices for free and if you want more, you will have to get the premium version, which is not the case here. You should definitely try out Zoho Notebook and see if it fits your needs or not.
Supported Platforms: Windows, macOS, Android, iOS, Web
Price: Free
6. Bear
If you are strictly using Apple devices, Bear is probably the best note-taking app that you can get. In fact, the app is so good looking that it won Apple's best-designed app award back in 2017. Its markdown editing feature combined with a clean and modern UI makes it really easy to capture your thoughts. One of my favorite features of Bear is its tagging system. Unlike OneNote where tags feel like an afterthought, tagging is the main core of Bear. Bear allows users to easily organize notes using a series of tags which act like folders. That means, just like on Simplenote, your notes can live inside multiple folders.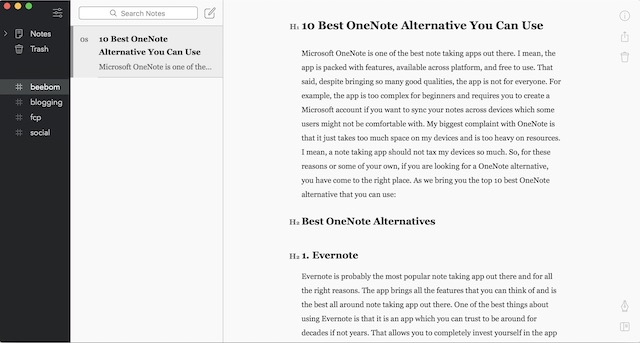 My other favorite feature of Bear is that it allows you to use markdown editing which makes it really easy to format your notes. Bear is also a polished app which means that it launches faster, never crashes, syncs instantaneously, and it just feels really good to use. Finally, Bear also allows you to easily export notes in various formats including PDF, JPG, HTML, RTF, and more. Once you use Bear, it's really hard to go back. I have fallen in love with its clean design and fluid performance and it certainly deserves a place on this list.
Supported Platforms: macOS, iOS, watchOS
Price: Free, $14.99/month
7. Elephant
Elephant is the open-source version of the popular Evernote application. The app feels exactly like Evernote and follows almost similar organizational structure as Evernote. Just like Evernote, you can create individual notes, save them inside notebooks, and create a stack of notebooks. However, unlike Evernote, your notes are saved on your device and note synced on the cloud.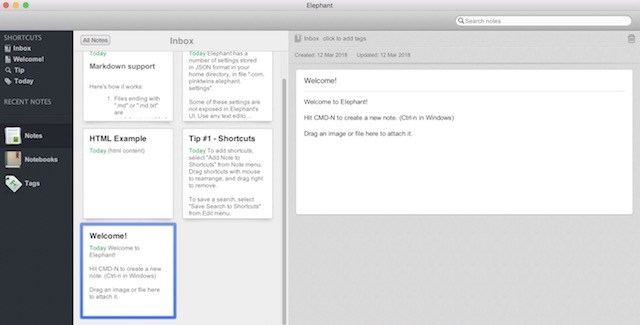 Depending on your preference, that might be a good or bad thing. People who want their notes to be available across devices will be happy to know that they can do so by using third-party services such as Dropbox, Github, and more. The sync might not be as effortless as it is in OneNote, however, it's there if you need it.  The only major drawback of using Elephant is that, unlike OneNote, it doesn't come with mobile apps which might be deal-breaker for many users.
Supported Platforms: Windows, macOS, Linux
Price: Free
8. Turtl
Just like Laverna, Turtl is a note-taking app which focuses on privacy. Turtl acts as a vault where you can keep your notes, research, passwords, bookmarks, dream logs, photos, documents, and anything else you want to be kept safe. When you create an account on Turtl, it uses your password to create a cryptographic key and uses it to encrypt all your data which can then only be accessed by using your password.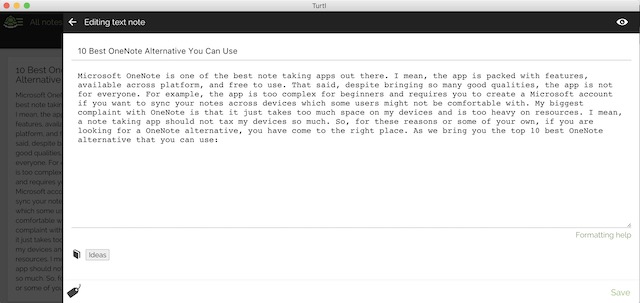 One of the best things about using Turtl is that despite being a secured vault, it allows you to easily share your notes with anyone that you want to. Finally, Turtl lets you organize your notes inside notebooks which it calls "Boards". Turtl also allows users to keep a board inside a board thereby giving them more organizational powers. I accept that Turtl is not as powerful as OneNote, however, it is not made for users looking for features, instead, it's for users who want privacy.  If you love your privacy, you should definitely give this one a try.
Supported Platforms: Windows, macOS, Linux, Android, iOS (coming soon)
Price: Free
9. Keep It
Another note-taking app which is only available for macOS and iOS devices is "Keep It" which is developed by the guys at "Reinvented Software", who also developed the now defunct "Together 3" note-taking app for Mac. Just like OneNote, Keep It is a very powerful note-taking app which allows you to easily create and organize notes. However, unlike OneNote, Keep It is very light and doesn't hog up all your device's resources.
Notes on Keep It can contain checklists, bulleted and numbered lists, images, links and other attachments. All your notes are synced across devices using iCloud and can also be shared using the same. Where the app really shines is when it comes to organizational structure. Not only you can organize notes in folders but you can also create bundles, levels, and lists, each of which bring a different organizational scheme. I really love Keep It, and urge you to give it a try if you own a Mac and iPhone.
Supported Platforms: macOS, iOS
Price: $49.99
10. CintaNotes
If note-taking for you means creating a knowledge base where you can keep everything that you want and make it easily searchable, CintaNotes is for you. The premise of using CintaNotes is that not only you are typing notes, but you are capturing notes from the web, PDFs, ebooks, and any place else by just highlighting the text that you need and using a simple keyboard combo. In that regard, CintaNotes is much more than OneNote. One of the biggest features of CinatNotes is that you can link notes with each other thereby creating your own personal wiki of notes, something, you can not do with OneNote.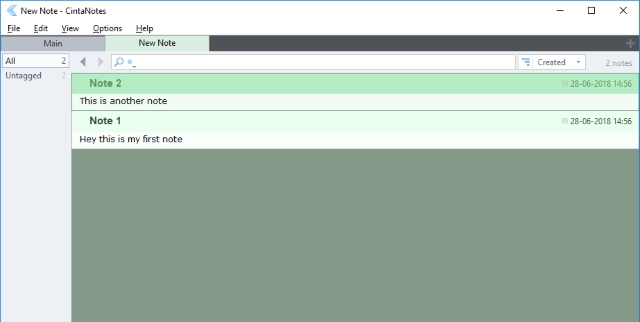 Searching notes is also pretty easy as Cintanotes supports sophisticated search query syntax which is a lot more powerful than what OneNote offers. There is a lot more that CintaNotes does which OneNote along with other note-taking apps on this list can't do including things like allowing you to configure different hotkeys, dividing notebooks into sections, hierarchical tags, auto-tagging rules, and more. CintaNotes is more than just for your notes, it's basically a repository for all your data which can be accessed anytime that you want to.
Supported Platforms: Windows, macOS, Android, iOS, Web
Price: Free, $39/year, $119 for lifetime
SEE ALSO: 8 Best Writing Apps for Android You Can Use
OneNote Alternatives: Best Note-Taking Apps You Should Use
That ends our list of the best note-taking apps that you can replace Microsoft OneNote for you. I have tried to include apps which should meet the needs of most of the readers. Whether you are looking for a feature-packed note-taking app or a simple one, you will find it here. Do check the list out and let us know which is your favorite note-taking app amongst them all. Also, if you are already using an app that you love but isn't on the list, share with us by writing in the comments section below.