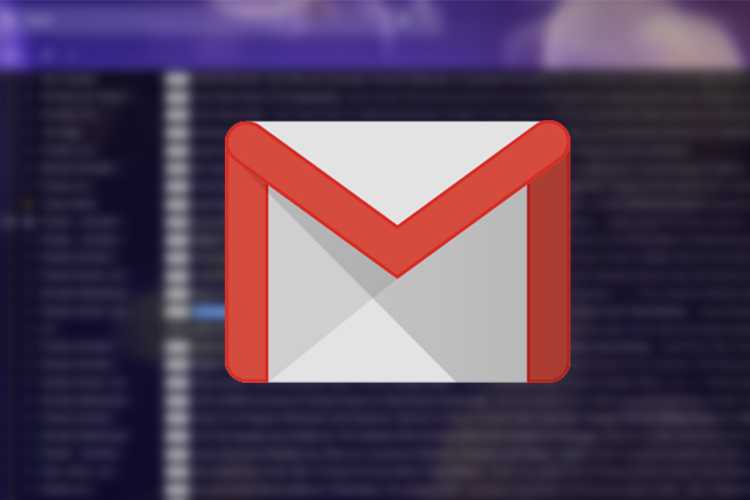 The new Gmail UI is pretty neat and seemed like a radical makeover. It does make you feel that the old interface has been catapulted out of the last decade and dressed as ready for 2018. While we did not have much to complain about the earlier design, the new Gmail refresh – which is actually a "ground-up" makeover to probably the most used Google product – adds several new drool-worthy features.
From making you more productive to securing your conversations from breaches or attacks to using Google's machine learning abilities, the new Gmail is full of features that will make the boring task of writing emails interesting. Don't blame us if you spend more time on Gmail than on Facebook. So, let's take a look at the new features that will make your emailing experience joyful.
Confidential Mode
In order to curb data breaches and leaks, Google has introduced the Confidential Mode in Gmail which lets senders set an expiry time and passcode for your email. The contents of the email cannot be copied, and the email itself cannot be forwarded.
It's like a message stored in a virtual self-destructing capsule and only meant for those who have the privilege of accessing that information. Plus you can ensure that the recipient does not have the information permanently.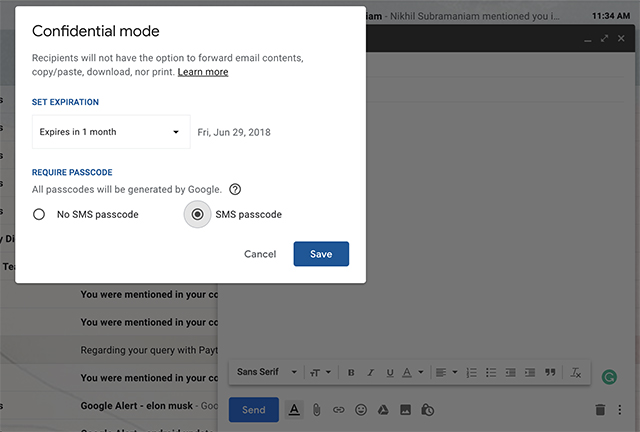 Further, recipients do not get the option to forward it, or download the attachments. To ensure the security of the content, you can also include a two-step authentication by adding the recipient's mobile number and they will receive an access code every time they want to read the email.
Smart Compose
With its overhaul, Gmail will help you compose emails faster and also prevent you from spending too much time responding to or writing new emails. The Smart Compose feature uses Google's machine learning skills to prompt you with ways to complete sentences and should help you cast a better impression on someone you're emailing for the first time.
You can check out our guide to start using the Smart Compose feature in Gmail. Just a little clarification, this is an experimental feature and might not work as nicely as Google demoed on stage at Google I/O. The feature is not available with G Suite email IDs but you can try it with your email accounts ending with @gmail.com.
Offline mode
Another brilliant feature which Google has introduced with the Gmail redesign is the ability to store and access your Gmail conversations (including attachments). You can choose to save the Gmail data for 7, 30, or 90 days on your computer which can be accessed even when you have no way to connect to the internet. Here's how to enable the feature.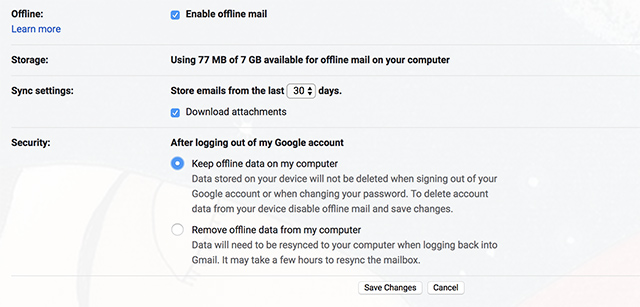 The option is perfect for those who write a lot of emails on the go. So the next time you have a long flight, you know how to kill time without feeling guilty about not working. Using this option, users will be able to look up, compose, and archive up to three months worth of mail data and even queue up replies for emails which will be sent out as soon as you get online.
Attachments
Now, the attachments received along with the emails will be visible from the inbox itself and can be opened by clicking on the bubble showing the file name. These attachments can be opened (and saved) even without opening the email, which is great if you want to find the attachment at the end of a long email chain.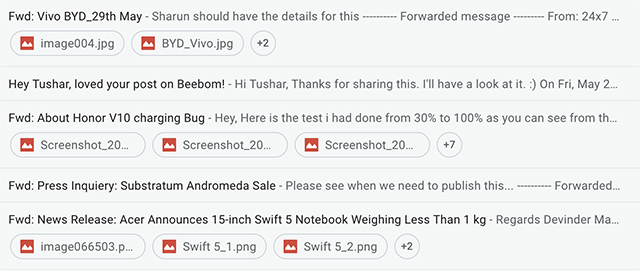 This feature removes extra steps needed from earlier when you only wanted to see the attachments. It also helps in identifying emails that might have crucial attachments that you would not want to miss. The feature is preactivated for all users.
Hover Actions
Now with the new Gmail design, every time you hover the cursor over a specific mail, you get four buttons with quick actions such as "Archive", "Delete", "Mark as read/unread", and "Snooze". While the first three actions are self-explanatory and something we are familiar with, Snooze is a new addition.
Snooze allows you to push important to a more suitable time which would be ideal for dealing with that specific mail. For instance, if you receive a work-related email in non-work hours and want to push it to the morning (or whenever you go to work next), you can use the snooze button. It also acts as a reminder for follow-up emails to ensure that you don't miss on the important stuff.
Right Sidebar
Gmail also gets a new sidebar with quick access to Google apps such as Google Keep, Calendar, and the new Google Tasks. These are accessible right from the inbox and you don't need to switch to a new tab or window add content in the three apps.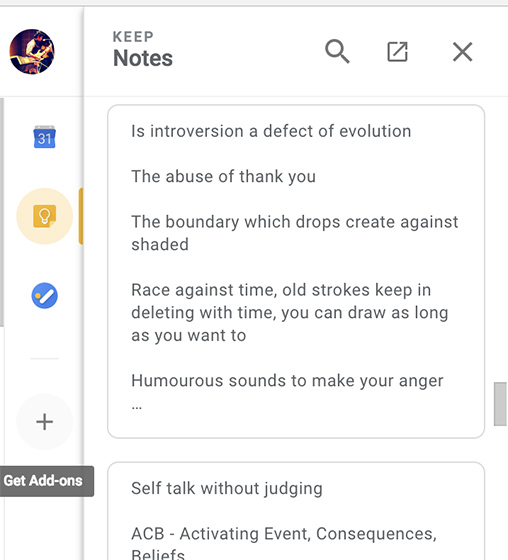 The sidebar is one of the most convenient features of the redesigned interface and you can simply drag emails to the tasks menu and easily add entries to the calendar. You can also download add-ons for third-party apps like Trello, Asana, Insightly and many more.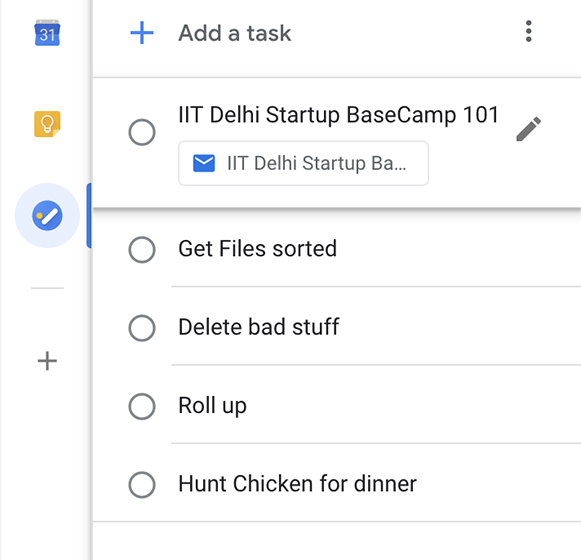 Google Tasks Apps
Google's new (more compelling) to-do list app now lets you keep a tab on all the important chores and jobs for the day.  Apart from integration with the new Gmail, Google has also released Google Tasks as Android and iOS apps.
This will let users add items to their list of tasks, create nested, or interdependent tasks, add relevant dates and details to the task. You can also set notifications (basically like reminders) and we hope to see a Google Assistant integration with the app soon.
Smart Unsubscribe
Are you tired of the swarm of promotional emails that you receive daily but end up ignoring. Well, Google has brought a solution for the problem in form of a Smart Unsubscribe option. This feature uses machine learning to prompt you to drop subscriptions for unwanted emails without having to go through the traditional process where you visit the website and give them a reason – so no break-up drama anymore.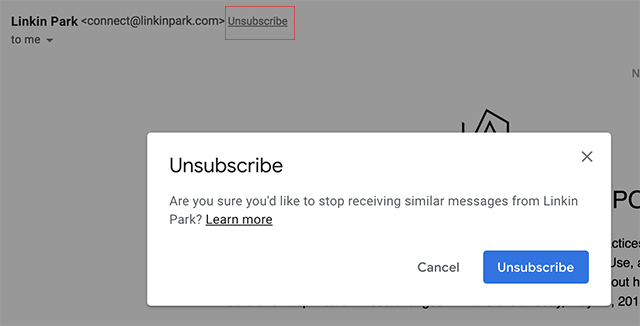 The machine learning algorithm will automatically detect emails from senders that you're not likely to open and will show you an Unsubscribe option right next to the sender's email. Click on Unsubscribe, followed by the button in the pop-up dialog box and you will not receive marketing emails from the specific sender anymore.
Smart Replies
The Gmail smartphone apps and web client have long had the option to suggest common replies. These replies are now getting smarter and Google is now using machine learning to suggest you three suitable replies which use context from the body of the email.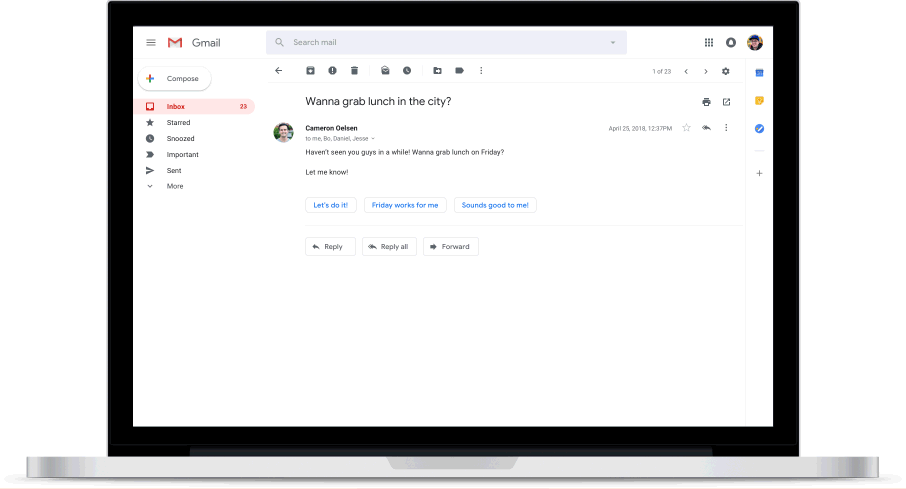 This is likely to make your emailing experience very convenient but it also means that to get that context, Google will also go through your emails, and if you don't like the intrusion, the feature can be turned off from Settings.
Of course, like most machine learning tools, it will get better over time, and hopefully we will get more options than the standard ones we see now.
Nudging
Gmail is adding another contextual feature which will notify you about important emails that you might have overlooked, or forgotten about. This is Google's AI working as your assistant and poking you to remind you about important emails.
Gmail will remind you by suggesting you reply or follow-up to crucial emails, if you have not taken any action previously.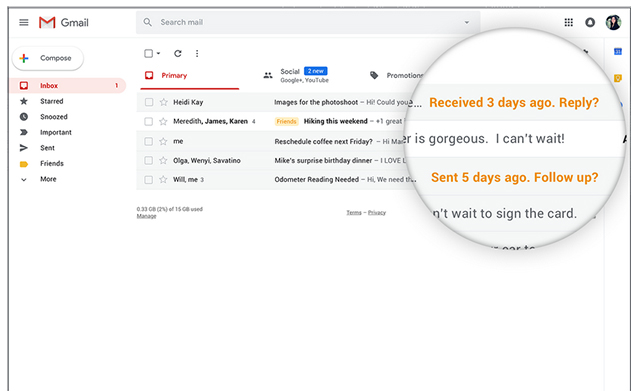 These reminders, like the Snooze alert, will be visible on the right hand side of the email preview. Like we said this feature is powered by machine learning and will read keywords like "update" or "important" to remind you to catch up. Check out this link to get the feature. The feature will roll out to users in phases over the coming months. So if you don't have it yet, you should get it soon.
Gmail Redesign: Did You Like It?
In my opinion, the new Gmail design is pretty impressive and falls in line with the new design philosophy that Google is using on Android, as well. Recently, the Google Drive web client also received a similar design and we can expect the other Google apps to follow soon.
But more appealing than the design are the new features we covered in this article. Google could also be expected to roll out more add-ons in the weeks to come, and we can't wait till the web-exclusive features like Nudging and Smart Compose come to the Gmail mobile apps.
What do you think about these new features? Share your opinions and suggestions with us. You can also take a look at how these features work in our in-depth video.
---