We recently heard all about Google's ambitious plans for making podcasts a staple among users, and giving podcasts and audio results prominence in search results. It has already baked podcasts right into its core Google app on mobile and is today rolling out the ability to download and stream episodes offline for the user's convenience.
The feature is quite intuitive since it is built into the app, and does not need any more fiddling around on the user's part. The app gets a 'download' button, along with the download size, under each episode of a particular show.
All of the downloaded episodes are denoted with a green checkmark and show up on the home screen under the 'Download Episodes' section. This means you can easily open the podcast app – we recommend pinning it to your home screen – and tap on a downloaded episode to listen to it.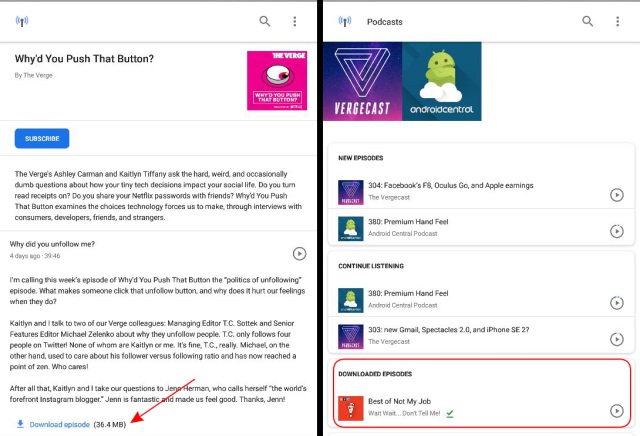 When you first try to download an episode, you will see a prompt telling you that offline episodes will be removed 30 days post download if you haven't listened to them. Otherwise, the downloaded episode will vanish 24 hours after completion. However, you can tweak the settings to either extend the timing to 90 days and 7 days respectively or turn off automatic removal.
As we can see the podcast section within the Google app is getting spruced up slowly, and the download button could be the first of many podcast-centric features. Google is currently trying to integrate podcasts into search results, making it easier for audio content creators to be discovered in everyday Google search results.
The podcast industry is blooming and with a major acquisition completed this week. NPR's acquisition of Pocket Casts reaffirms that audio is the next major growth avenue for content companies as well as those delivering the content, thanks to proliferation of voice-based smart devices.
---