The much-anticipated Nothing Phone (2) is finally here, and it created a lot of buzz in the smartphone market. While the Nothing Phone (2) looks similar to its predecessor, it is still a wake-up call for the smartphone industry. One quick glance at the Nothing Phone 2's specs & price tag, and you will realize that the device is trying to tackle an important market. Oh yeah, we know that the starting price of Rs 44,999 seems a bit on the expensive side, especially for a brand trying to find its place among other phone makers. But, it is also a phone that has something which no other brand in the market offers, the new and improved Glyph Interface. So, is Nothing Phone (2) the perfect new premium mid-ranger or flagship, whatever you wanna call it? In this Nothing Phone (2) review, we will take a closer look at all the aspects of this phone and how it fares against the competition.
Nothing Phone 2 Key Specs
| Specifications | Nothing Phone 2 |
| --- | --- |
| Dimensions | 162.1 x 76.4 x 8.6 mm |
| Weight | 201.2 grams |
| Display | 6.7-inch flexible OLED display, 120Hz |
| Chipset | SnapDragon 8+ Gen 1 |
| RAM | 8GB/12GB |
| Storage | 128GB/256GB/512GB |
| Rear Cameras | 50MP Main, 50MP Ultra Wide |
| Front Camera | 32MP |
| Operating System | Android 13 with Nothing OS 2.0 |
| Water/Dust Resistance | Yes, IP54 |
| Battery | 4,700 mAh |
| Charging | 45W Wired, up to 15W Wireless |
| Price | Starting at Rs. 44,999 |
Nothing Phone 2: What's in The Box?
Ever since the brands decided to let go of the charger from the box to reduce the carbon footprint, the box contents are limited, and the same is the case with Nothing phone (2). You have the phone, a pre-applied Screen Protector, a Nothing-designed unique SIM ejector tool, a type C to type C Charging Cable, and the Instruction Manual in the box.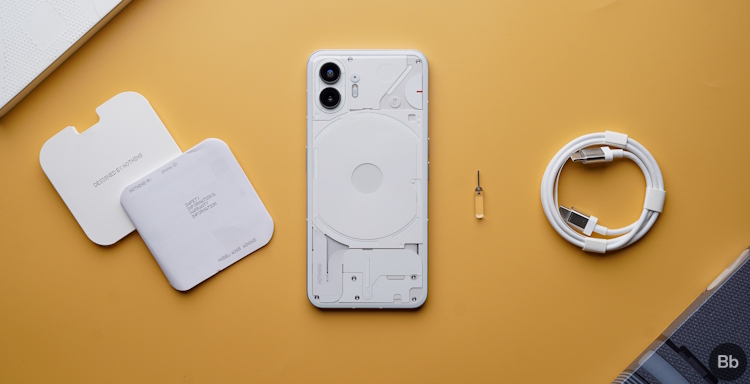 Nothing Phone 2: Design and Build
The first impression of the Nothing Phone (2) has already revealed that the brand hasn't gone far ahead and has done only a little work on the phone. Here, you get the same flat edges and camera bump with vertically placed dual cameras (with an LED flash and microphone). Moreover, the Nothing Phone (2) still got the Nothing Phone 1's highlight, the Glyph Interface. But this time, you get 11 different Glyph LEDs in the Glyph Interface instead of 5 on Nothing Phone 1. Also, you get a curved 2.5D glass at the back, enhancing the grip and holding experience. You get a 6.7-inch OLED display on the front with a punch-hole camera in the top center, and a optical finger print sensor.
And while Nothing hasn't done much in terms of design, there is no compromise when it comes to the build. The Nothing Phone (2) boasts an aluminum frame and a curved glass back, both of which add a touch of "premiumness" one look for in a 40k plus smartphone. Also, the device is a little on the heavier side, weighing in at 201.2g, but this is to be expected given its larger 6.7-inch size and build materials. The phone also has dual stereo speakers, with one speaker at the bottom and the earpiece as the second speaker. The speakers are loud enough with no issue, even at full volume.
The phone comes in two colorways, White and black, but this time the black colored model looks a little greyish. I got my hands on both units, and the White colorway is bound to turn heads.
Nothing Phone 2: Display
The display on the Nothing Phone (2) is noteworthy even though it is not a QHD one. The 6.7-inch Flexible OLED panel with FHD+ resolution (2142 x 1080) and 120 Hz refresh rate is impressive and enhances your binge-watching experience. And on top of that, With LTPO technology, Nothing Phone ( 2 ) can adapt refresh rate at an optimal battery consumption level and go down to 1Hz refresh rate – preserving power when you're not on your phone, which is missing in its competitor, the OnePlus 11R. You can also lock the refresh rate to 120 Hz, as I did to make the best out of this amazing display.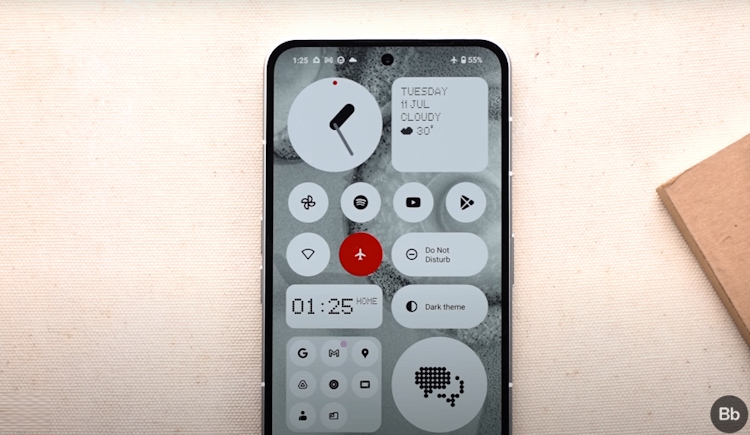 The phone boasts HDR10+ support, and its peak 1600 nits pixel brightness never fell short in real-world usage, as the display remains very much visible even in direct sunlight. And one thing I like the most about the Phone (2) display is that it has even narrower bezels than the Phone (1) and are symmetrical overall. The display also comes with a pre-applied screen protector, which is decent enough to prevent the display from accidental scratches.
On the streaming side, the Nothing Phone (2) support HDR and Dolby Vision on Netflix, and the display colors look pleasing to the eyes. I consumed a lot of HDR content on this phone; trust me, it never disappoints.
I tested the quality of this display by watching Blade Runner 2049 and playing Genshin Impact. Both feature rich color palettes, revealing how capable the phone's display is. With the former, the OnePlus 11R did an excellent job with the bright neon and grim orange tones. I felt pulled into the futuristic Los Angeles cityscape in a way that few handsets can do.
At the same time, Genshin Impact's saturated anime-esque aesthetic found a good home on the Nothing Phone (2)'s display. While the refresh rate did take a hit and got locked to 60Hz, the gameplay still looked good.
Nothing Phone 2: Performance
Nothing Phone (2) boasts an impressive performance with the Qualcomm Snapdragon 8+ Gen 1 chipset, a significant improvement over the Snapdragon 778G Plus found on its predecessor, the Nothing Phone 1. The phone also offers up to 12GB of LPDDR5X RAM and up to 512GB of UFS3.1 storage, making it a formidable device for any task you throw at it. Even though the 8 Plus Gen 1 is a 2022 model, it still offers impressive performance for an affordable price, making it a great option for consumers who are budget conscious.
Day-to-Day Usage
Not only are these hardware credentials impressive on paper, the phone delivers a fast and smooth performance consistently without any perceptible throttling or overheating. I played the games like Genshin Impact and Asphalt 9 at max possible graphic settings and experienced only minor frame drops when the phone got a little warm. I used the Nothing Phone (2) as my daily driver for over a week, and the phone delivered seamless performance without any signs of thermal throttling.
Gaming
I threw the most demanding things I could think of at the Nothing Phone (2), Genshin Impact, and BGMI at max settings proved to be no problem with smooth, consistent frame rates the whole time to my eye. While the phone gets a little warm during extended gameplay, it does not affect the gaming experience. The Wild Life benchmark results corroborate my experience, with the Nothing Phone (2) proving to be a stronger gaming phone than Pixel 7a.
Benchmarks
The Nothing Phone (2) showed commendable resilience during our usual extreme stress test, with little to no complications, and the phone's ability to withstand my demanding usage was also reflected in the benchmark scores. Here's what I found when I tested the Nothing Phone (2):
| | Nothing Phone (2) | OnePlus 11R | Pixel 7a |
| --- | --- | --- | --- |
| Processor | Snapdragon 8+ Gen 1 | Snapdragon 8+ Gen 1 | Google Tensor G2 |
| Geekbench 6 (single-core / multicore) | 1608/4579 | 1417/3925 | 1403/3321 |
| AnTuTu | 1,138,461 | 1,059,104 | 713,757 |
| 3D Mark WildLife Extreme Stress Test | 2467/1686 | 2796/1694 | 1799/1266 |
Nothing Phone 2: Software
The Nothing Phone (2) runs on the latest Nothing OS 2.0 based on Android 13, providing a smooth and enjoyable user experience. You are the leader of the ship right off the bat here. While setting up the device, Nothing lets you choose between a stock Android UI or its own minimalist monochrome UI. This is the right thing to do from a user's perspective; not forcing your own customization on users.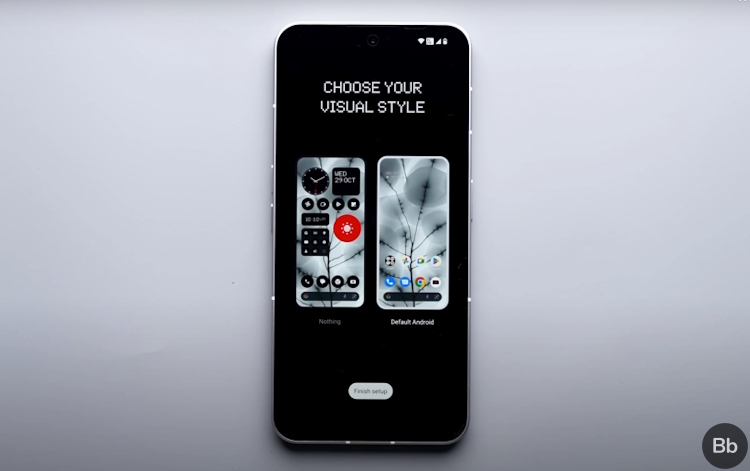 Moreover, setting up an in-house software team has paid off for the company. Nothing OS 2.0 incorporates several new features, such as monochromatic app icons, lock screen widgets (yeah, bringing it a step to becoming the Apple of the Android world), home screen layout customization, built-in app locker, the ability to clone apps, and much more.
All the new features highlighted above and the Stock UI experience add to the increasingly convenient usage. Like the Phone (1), Nothing continues to expand its dot-matrix design and flair across the whole UI – be it the settings, lockscreen widgets, or the vast variety of home screen widgets.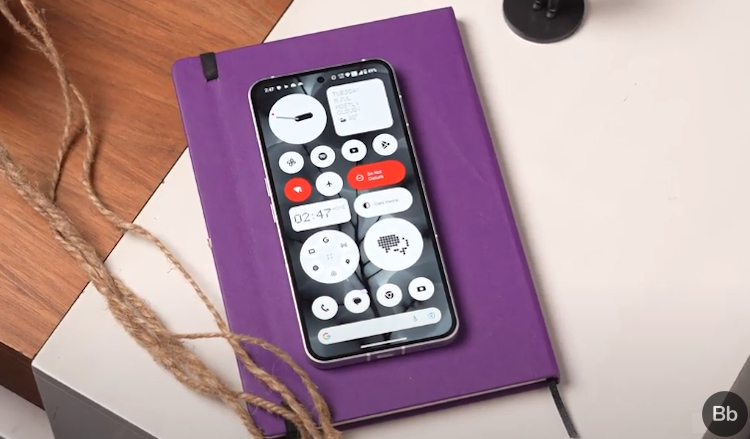 Though the software experience is top-notch, you may encounter a few bugs here and there. For example, the Camera app on our Black unit kept freezing and crashing, and there were times when it simply refused even to open. The same camera app on our White unit was working fine, though. Also, the monochrome app icons, even though they make the UI look cohesive, can sometimes make it challenging for users to recognize some apps. For example, in my testing, I did not recognize the Genhsin Impact and BGMI app logos at all.
Your software experience may vary depending on whether you are a fan of custom UIs or a stock UI experience like me. As for the phone's longevity, Nothing claims the Phone (2) will receive three years of Android updates and four years of security patches every two months.
Nothing Phone 2: Glyph Interface
Like the Nothing Phone (1), the Nothing Phone (2) also has a transparent rear panel along with the Glyph Interface – the main attraction of the company's phones. With the second-gen iteration, Nothing has notched up its lighting game by revamping the Glyph interface. The rear panel now comes with multiple smaller glyphs and 11 different LED strips, divided into 33 zones, instead of a single glyph engulfing the wireless charging coil.
The glyph LED strips add to the visual improvements in the Nothing Phone (2), but that's not all. Having an in-house software team does have its benefits. Nothing has added several new functionalities to the Glyph Interface, and you can read about them in detail through the linked article.
The Glyph interface now acts as a countdown timer, an emergency torch, a volume level indicator, and supports third-party integrations like Uber and Zomato. It also supports a custom ringtone composer and essential Glyph notifications are a few of the new features that come with Nothing Phone (2).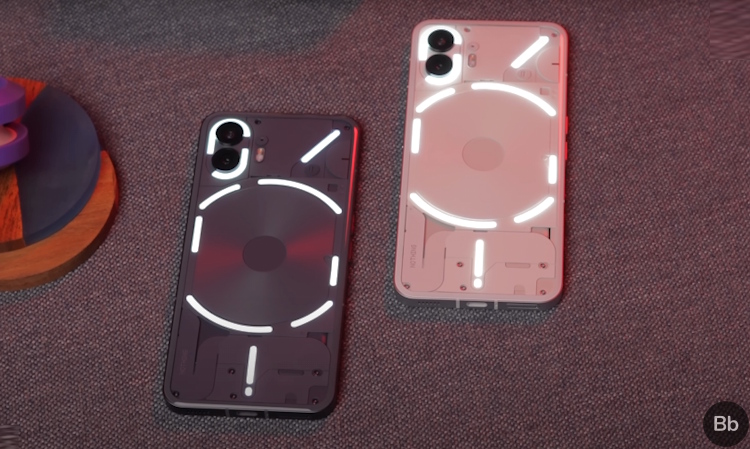 I often take an Uber to work and used the third-party integration to track my driver's arrival. I did not need to unlock my phone repeatedly to check how long my ride will take to arrive, and it was definitely helpful. But it's just one app that makes use of the Glyph right now. The company needs to work out more partnerships to make the Glyph viable in the long run, or else it will continue to be regarded as a fashion choice and a gimmick.
Nothing has built upon the original Glyph big-time with all the new additions, and they are definitely great. But are they enough to attract a buyer? Are buyers flocking to Nothing phones for the Glyph functionalities? Well, not yet, the Glyph lights are useful in some specific cases, but they still feel like a gimmick and are easily forgettable in the long run.
Nothing Phone 2: Camera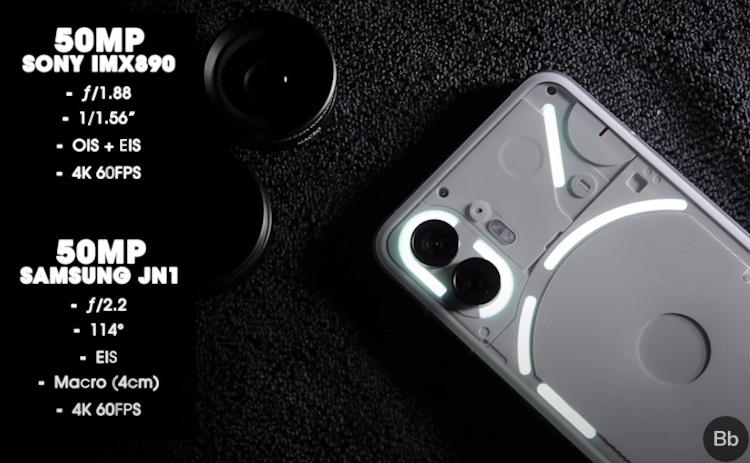 The Nothing Phone (2) boasts a dual rear camera setup featuring a 50MP IMX890 sensor with optical and electrical image stabilization (OIS & EIS) as the primary camera. Accompanying it is a 50MP Samsung JN1 sensor with EIS as the ultra-wide camera with a 114-degree field of view which also act as a macro camera. On the front is a 32MP IMX615 sensor for capturing beautiful selfie shots.
The captured photos from the primary camera look very good in well-lit conditions. Photos tend to look bright and vibrant, particularly in green, red and blue tones, with a certain pop to them. The punchy images look pleasing, and the saturation boost is subtle enough not to appear overwhelming. Images are contrasty with deep blacks, and overall I like this look.
Sadly, the ultrawide camera is where the image quality dips a little. While Nothing has largely fixed the color variance when switching cameras, the ultrawide sensor couldn't resolve much detail. Pixel peeping and cropping-in are an absolute no-go on the ultrawide camera.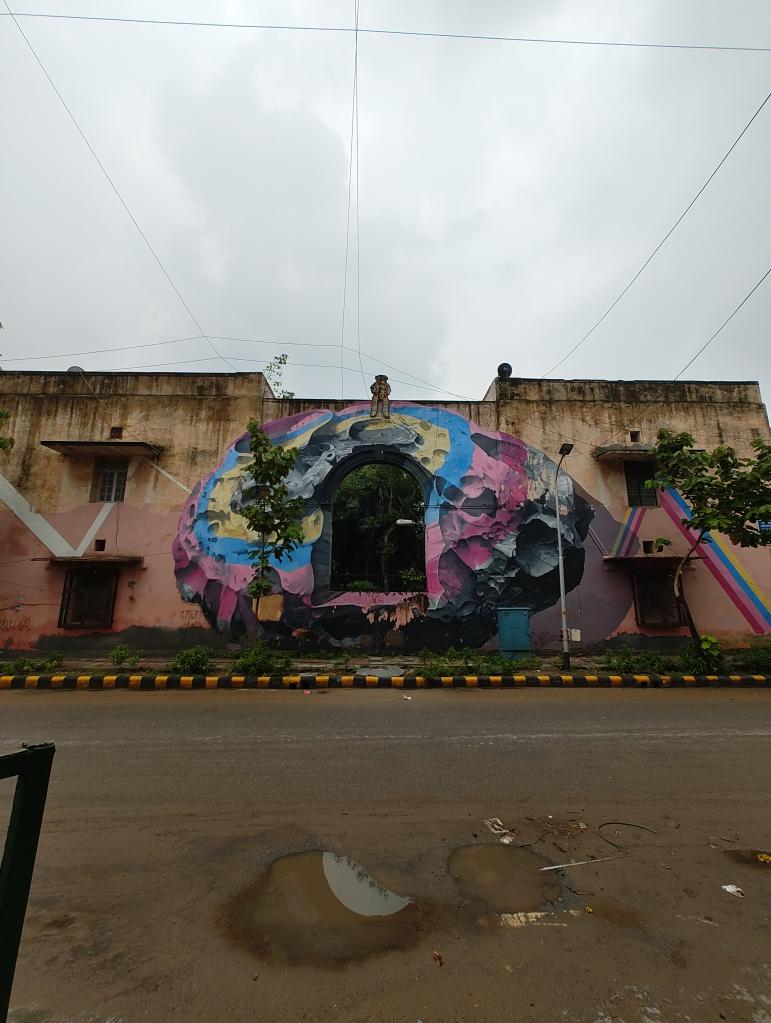 Nothing seriously amped up its portrait detection algorithms on the Nothing Phone (2) 11. The phone delivered consistently great bokeh fall-off and managed near-perfect boundary detection, but it can mess up 2 or 2 hair strands, which is acceptable.
Similarly, Nothing has done great with the front camera on the Nothing Phone (2) as well. Out of the box, the 32MP camera captures punchy shots without any telltale signs of smearing or overwhelming beauty mode enhancements. There's ample detail to be found here. Portrait mode does a good job, too, though I found it to err on occasion when surrounded by more complex backgrounds.
Whether you are shooting in Photo mode or Night mode, the Nothing Phone (2)'s camera knows exactly what it needs to do. I didn't find much difference in the resulting shots with the Photo or Night modes. Regardless, you'll get incredible low-light photos from the Nothing Phone (2) with great dynamic range, excellent exposures, a little average detail, sharpness, and low noise.
Video recording on the Nothing Phone (2) tops off at 4K/60fps and balances colors and taming highlights well. The camera tuning has a propensity to saturate footage, which I wasn't a big fan of. Additionally, while the OIS can smoothen out the footage to a large degree, not even micro jitters while walking show up in the final results. The ultrawide camera, on the other hand, maxes out at soft looking 1080p footage. Similarly, the front camera tops off at 1080p recording and performs well. You can check out the full-res pictures via the link here!
Nothing Phone 2: Network & Connectivity
When it comes to network and connectivity, the Nothing Phone (2) does not disappoint. I used this phone with my Airtel SIM and faced no issues at all. The network reception was even better than my regular iPhone 12. The Nothing Phone 2 has a whopping 19 5G bands, which ensures excellent 5G connectivity at most locations, and I was easily getting ~1Gbps download speed on Airtel at the Beebom office.
The Nothing Phone (2) comes with Wi-Fi 6 support and works well on 2.4G and 5G bands. On the Bluetooth front as well, the device does not disappoint, as it has the latest Bluetooth 5.3 support. I used the phone with many Bluetooth earphones such as AirPods Pro (my daily driver), Oppo Enco M32, and Nothing Ear (2), and I didn't face any connection drops or glitches when listening to music or taking calls.
But the one issue that I continuously faced was that whenever the phone connected to my car's Bluetooth stereo system, and I initiated or picked up a call, the phone was connected but failed to pick up any audio. Maybe it is just a software bug that can be sorted with a future update.
Nothing Phone 2: Battery and Charging
Nothing Phone (2) packs a 4,700 mAh battery, slightly bigger than the 4,500 mAh battery aboard its predecessor. During my testing, I achieved around 6 hours of screen-on time with moderate usage, including social media doomscrolling, streaming videos on Youtube and Netflix, and some photography. Based on my observation, Nothing Phone (2) can easily last a whole day, even with heavy usage.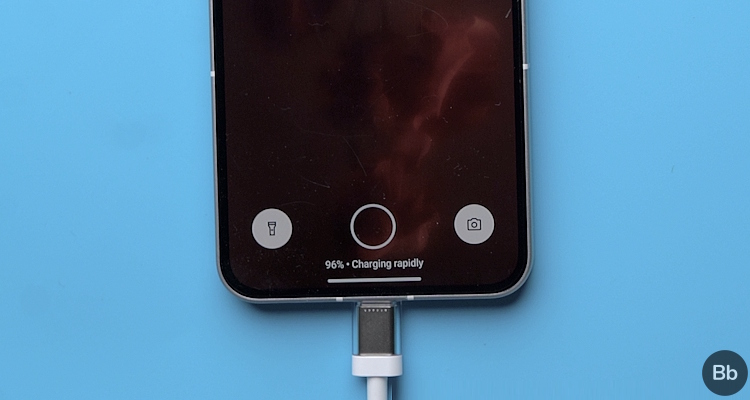 Moving to the charging aspect, Nothing Phone (2) supports 45W fast charging support, which is still slower if I compare it with other Android phones in this price bracket. For example, the OnePlus 11R supports 100W SuperVOOC charging. But it's still an upgrade from the 33W fast charging available on Nothing Phone (1).
The phone also retains 15W wireless and 5W reverse charging support, the same as its predecessor. Nothing claims that the phone should take around 55 mins to charge fully, however, in a real scenario, it takes around 1 hour and 5 mins to fully charge the battery from 0% to 100%.
Also, as you can notice, the transparent design has seeped into the charging cable as well. The jacket of the USB-C port is transparent, and it looks cool. The lack of a charging brick in the box hurts the bank, though. Most popular phones in the sub-Rs 50,000 price bracket, be it from OnePlus, Xiaomi, or others, come with a proprietary fast charger in the box.
Nothing Phone 2: Pros and Cons
| Pros | Cons |
| --- | --- |
| Stunning large display | Slightly pricey |
| Fast Performance | Slow charging compared to competitors |
| Clean, Feature-rich software | |
| Good camera performance | |
| Wireless Charging support | |
Nothing Phone 2 Review: Should You Buy It?
The Nothing Phone (2) presents a compelling option in the upper mid-range segment. It manages to hit almost all the right tones, except for the price in India. Though it brings compelling additions like wireless charging, a unique design, and Glyphs, other phones such as the OnePlus 11R (starts at Rs 39,999) and iQOO Neo 7 Pro (starts at Rs 34,999) deliver similar performance at a lower price than Nothing Phone (2).
Also, it is important to note that Nothing is a relatively new brand with merely two phones under its belt. Also, for those curious about the after-sales service, there are only eight official Nothing service centers in India. So yeah, currently, the after-sales service could be an issue.
With everything said and done, Nothing wants to build an identity for itself in the Android market, and the Nothing Phone (2) fulfills that task. It is a successful evolution of the Nothing Phone (1) in terms of design, Glyph lights, and software, but their hype machine, well, sort of, goes silent when it comes to the price. Instead of an aggressive OnePlus-like flagship killer strategy, Nothing is focusing on uniqueness and premiumness, which have an added cost. Do you agree?
Moreover, if you truly want to experience the flagship performance along with the new Glyph interface, I would suggest you wait for 3 to 4 months. Much like its predecessor, we expect the Nothing Phone (2) to be available at a more attractive price during sale events, making it a true value proposition.
Buy Nothing Phone 2 from Flipkart (starts at Rs 44,999)
REVIEW OVERVIEW

Design & Build
Display
Performance
Cameras
Battery & Charging
Software
Network & Connectivity

SUMMARY

Nothing wants to build an identity for itself in the Android smartphone market, and the Nothing Phone (2) fulfills that task. It is a successful evolution of the Nothing Phone (1) in terms of design, Glyphs, and software, but the hype machine goes silent when you come to the price. Instead of an aggressive OnePlus-like flagship killer strategy, Nothing is focusing on premiumness and uniqueness, which have an added cost. Do you agree?