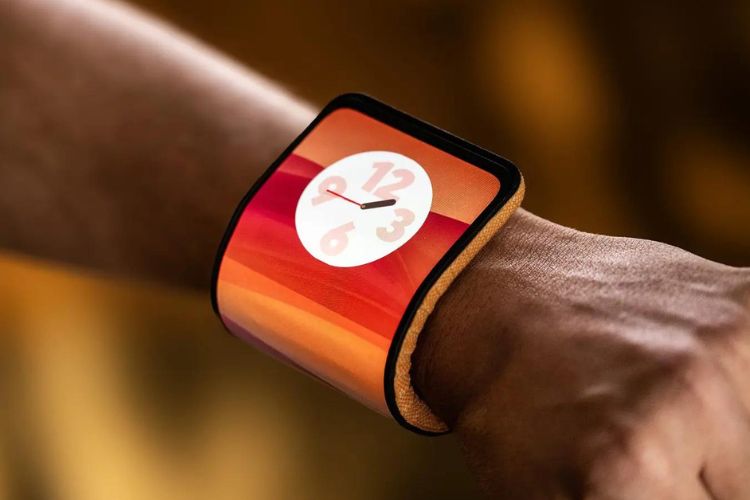 Tech and innovation go hand in hand and as a result, we often see new and attractive concepts come our way. Motorola is on the same road and has showcased its new adaptive display concept at Lenovo Tech World 2023, which calls for a flexible display that can even be wrapped around your wrist. Sounds interesting? Read on to know more.
Motorola Showcases Adaptive Display Concept
The new adaptive display concept by Motorola can be bent and have various form factors based on the use case. It can be used for a ' wrist-worn experience' when you need to get information right at your wrist. The device will be placed on another band, which can ensure it doesn't fall off! The display will also support various stand modes, which can help you position the display in multiple ways. So, you can use it as a conventional smartphone or bend it a little to make it look like a foldable phone and probably mount it on a table for a hands-free experience.
This takes ahead the company's existing rollable and foldable device concepts. The concept device supports a Full HD+ pOLED adaptive display, which can go from 6.9 inches to 4.6 inches, depending on how you are positioning it.
The concept will provide a proper Android experience but it remains to be seen how this is optimized when the device is used like a smartwatch. Since it's a concept, there's also no word on how durable and feasible this is! Plus, there's no word on whether or not this will become a commercial thing or will instead stay in the concept archives.
Motorola Also Banks on AI!
Motorola has also jumped on the AI bandwagon with some additions. This includes its Generative AI model for people to get AI-based images based on the image of an outfit to reflect a person's style. These can also be used as custom wallpapers even on the above-mentioned device to match your outfit!
There's also the MotoAI personal assistant for Motorola phones and Lenovo PCs. This will help users get answers to questions and get a lot of work done by the assistant. It focuses on user privacy and runs data locally on the device. MotoAI also adapts to the usage patterns and users' voices for better interaction.
Additionally, you get the 2.0 Mobile Doc Scan AI model for easy document scanning, AI text summarization, and more. So, which one of Motorola's innovations excites you? Let us know in the comments below.
---