Prime Minister, Narendra Modi has been making all the headlines for his "Swachata Abhiyaan" campaign. It has garnered support not only from celebrities but the common man in general.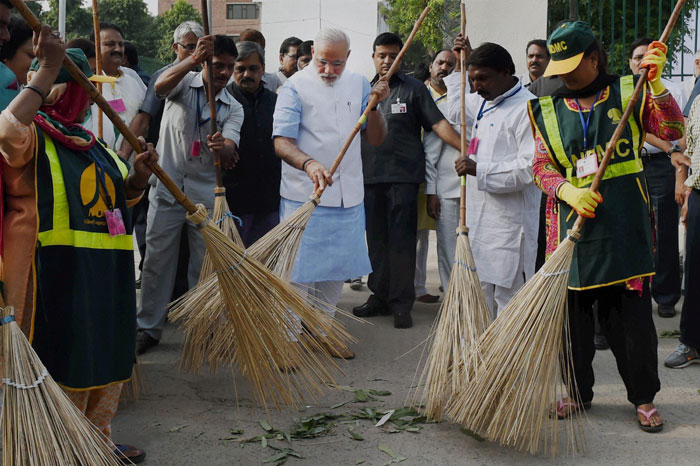 His photograph with broom in his hand was viewed much more than a mere memorable moment. It sent out a decisive message to the people of India that picking up broom in the hand to clean up the country is by no stretch of imagination a degrading task.
Even the campaign from Ministry of Information and Broadcasting, "Ekla Chalo Re" gives a befitting tribute to the Father of the Nation, Mahatma Gandhi and his dream of clean India to the youth in general.
With so much going on in the country, this campaign is nothing short of a revolution in making.
Inspired by the Prime Minister's hand in broom image, a few students of Delhi took the matters in their own hand to clean up the heart of Delhi; Connaught Place.
The 5 minute long video titled "Our Dirty Ways" personifies the need for change in Delhi; a need for people to mend their ways within the society that they're living but non-violently.
Here's the inspiring video that might motivate you to pick up the broom proudly next time:-
Prime Minister, Narendra Modi was even touched by the video and sent out a tweet regarding the same on Twitter.
I feel this video will surely inspire my young friends to join Swachh Bharat Mission #MyCleanIndia https://t.co/u7p1PAM45p

— Narendra Modi (@narendramodi) October 26, 2014
Change of mindsets is a necessary aspect for "Swachata Abhiyaan" to prosper but before that we need to take action from our side as well. Let's hope for a better India of tomorrow through the present change we're trying to bring in our society.
Recommended: After An Year Wait, Modi Gets The Youth His Passport In 5 Days