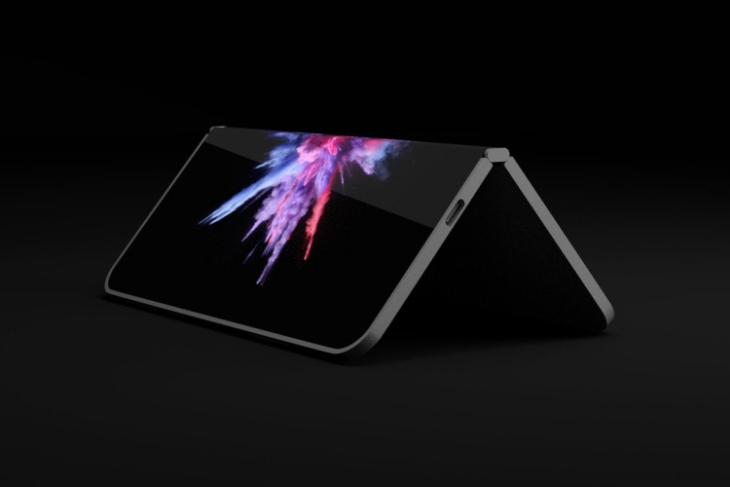 Ever since the demise of Windows 10 Mobile, the rumors of Microsoft's plan to jump back into the smartphone space are constant, with a so-called Surface phone being rumoured for years.
Those rumours may finally have some credence. A recent report in The Verge says Microsoft has been secretly working on a 'pocketable' Surface device with dual displays. The company aims to build a "new and disruptive" device category that will blur the line between PC and mobile. It will the next step towards the evolution of Microsoft's Surface lineup.
You may have also heard the Andromeda codename being thrown around for quite some time. It has made an appearance in multiple Microsoft patents, and code references to the same have also been spotted in the Windows 10 operating system core.
Now, according to Microsoft internal documents that The Verge has obtained, Andromeda is the codename for the pocketable Surface device that has a wraparound display that covers up the hinge to give you a tablet experience. It has been described as under in the documents:
It's a new pocketable Surface device form factor that brings together innovative new hardware and software experiences to create a truly personal and versatile computing experience.
And while Microsoft has denied commenting on the internal document, it is not denying that the patents and renders may actually be close to the final device. And if you look at the renders attached below, the next-gen Surface device may turn out to be an innovative masterpiece.
More colors pic.twitter.com/MHvDoPVHL1

— David Breyer (@D_Breyer) December 18, 2017
Microsoft has already made its mark on the laptop and tablet (or 2-in-1) front, thanks to touchscreen displays. It is, however, now looking to challenge the status quo with the launch of the Andromeda device.
This project is expected to be Microsoft's response to the failure of Windows Mobile. The first iteration of these Surface devices will be unveiled in 2018, with similar devices made by the company's OEM partners following Microsoft's suit.