After trying to revive its music streaming service in 2015, Microsoft has finally decided to shut down Groove Music, its music streaming and buying platform. Microsoft tried to breathe life into its music service by rebranding Xbox Music to Groove Music in 2015, but the service never really took off. Probably because it could never come out its own obscurity, and hence, it never stood a chance against other players in the same industry. Yesterday, the company announced that it will stop selling the Groove Music passes on December 31st of this year, and anyone who has paid in advance for the service will get their refunds on a pro-rata basis. Groove Music might not have been popular, but it was a really good service, and many people who were using it will be looking for its replacement. If you are one of those people, here is a list of 7 best Microsoft Groove Music alternatives you can use:
Note: Since these services are location based, the actual pricing and the availability of the service will depend on your region. The article lists the US pricing for all the services.
Best Microsoft Groove Music Alternatives You Can Use
1. Spotify
No one can deny the fact that Spotify is the most popular and probably the best music streaming service available today. It boasts a total of 140 million users across the world with 60 million of them being paid customers. It also boasts of one of the largest song catalogues in the world with a library boasting of more than 30 million songs. Couple that with its amazing service and beautiful and best in class app, and you have got a winner. Spotify's discovery algorithm is still the best in the market allowing you to discover new songs and artists better than any other platform. Maybe that's why even Microsoft is suggesting Spotify as a replacement for its Groove Music service. The company has even promised to push an update in the future which will allow users to port their playlists to Spotify for a seamless transition. If you are looking for an alternative to Groove Music, Spotify is your best bet.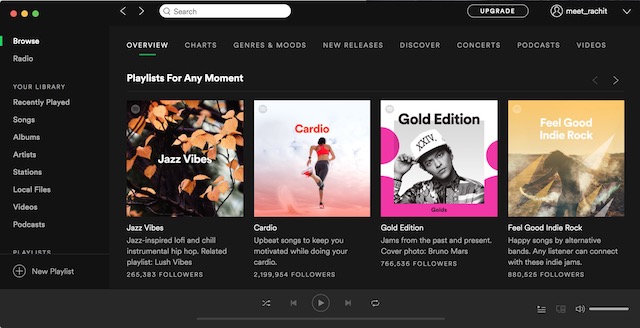 Premium Plans & Pricing: ($9.99/month-individual, $14.99/month-upto five people under family sharing)
Download: Android, iOS, Windows, Mac & Others
2. Apple Music
Probably the biggest competitor to Spotify in the music streaming industry is the Apple Music, which was launched by the Cupertino based giant back in 2015. Although Apple Music is fairly new, it has the backing of one of the most valuable companies in the world. With iPhones selling like hot cakes every year, there are a lot more Apple customers who would rather stay inside the ecosystem and use Apple's own music streaming service. With the launch of its Android app, Apple Music has extended its reach far beyond the Apple's ecosystem. Just like Spotify, the service boasts of more than 30 million songs in its library.
Its music discovery might not be as good as Spotify's but still, the service is no slouch. I really love its family sharing feature which makes the service really cheap. Apple Music is also present in more countries than Spotify which is always a big plus. However, the only thing that holds me back from recommending Apple Music over Spotify is the fact that it doesn't have a dedicated desktop app (Mac and Windows). Users will have to make use of the Apple's iTunes app for the same, which does not give an optimal experience to say the list. Still, if you are already using an iPhone and you are interested in sharing your Apple Music account with your family to enjoy monetary benefits, this might just be for you.
Premium Plans & Pricing: ($9.99/month – individual, $14.99/month – upto six people under family sharing)
Download: Android, iOS(pre-installed), Mac, Windows 
3. Google Play Music
Play Music is a music streaming service from the internet giant Google. Although it's not as popular as Spotify or Apple Music, the service itself is pretty good and reliable. Not only it allows you to stream music, it also allows you to buy music, and even upload your own local library and stream it from the cloud. Thus, you are getting a free cloud storage for all your local music library. However, that's not the best part. The best part about using Play Music is that if you subscribe to the paid version, you also get a free subscription for YouTube Red, which is just awesome. YouTube Red is phenomenal with lots of features, the biggest being the ad-free experience it provides. If you watch a lot of YouTube videos, getting a Play Music subscription might be the way to go for you. However, the fact that it doesn't offer any desktop apps (the service offers web apps for desktop), makes it a little hard to recommend to everyone.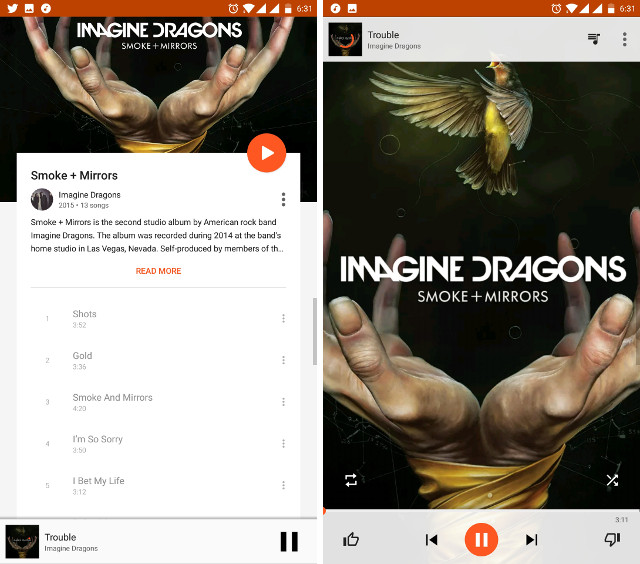 Premium Plans & Pricing: ($9.99/month – individual, $14.99/month – upto six people under family sharing)
4. Amazon Music Unlimited
It seems like Amazon is doing everything lately. The company is especially killing in the entertainment industry. It launched its Kindle platform is for book lovers, Audible for audiobook and podcast lovers, Prime Video for all the movie and television buffs, and back in 2016, it launched Amazon Music Unlimited to target the music lovers all around the world. It is one company which is a single destination for all your entertainment needs. However, coming back to the music streaming service itself, the service boasts of more than 40 million songs in its library. It also offers apps for all the major platforms including Android, iOS, Mac, and Windows.

However, the best part of using Amazon's music service is realised if you are using it with Amazon's Alexa based smart home devices like the Echo. You can just ask your Echo to play any song from the playlist or its library. You can even ask Alexa to play songs based on the lyrics of a song. For example, you can ask, "Alexa, play that song that goes, <insert one line of lyrics here>", and it will recognise the song by its lyrics and play it for you. Now, how cool is that. If you are already an Amazon Prime member, your Music unlimited subscription will cost you even less ($7.99/month instead of $9.99/month). Seeing the track record of Amazon, I am ready to bet that this service is only going to improve in the future, so you might want to consider it before deciding on anything else.
Premium Plans & Pricing: ($7.99/month for Prime Customers, $9.99/month for non-Prime customers)
Download: Android, iOS, Mac, Windows
5. SoundCloud
In an industry which is being dominated by big companies such as Spotify, Apple, Amazon, and Google, it's hard to find one which is doing something different to make a name for itself, and SoundCloud has done just that. Firstly, SoundCloud is the best place to discover new indie artists as it allows users to upload their songs which then can be discovered by other users on the service. None of the other services do that. Also, SoundCloud is a great place to discover music with Creative Commons Zero licenses, basically allowing you to use music you discovered on its platform for commercial purposes, that too without the fear of being attacked by copyright claims. However, there's just one problem. The service has not been able to attract paid users to sustain itself. If the situation remains the same, SoundCloud might not exist a few years down the line which will be pretty sad.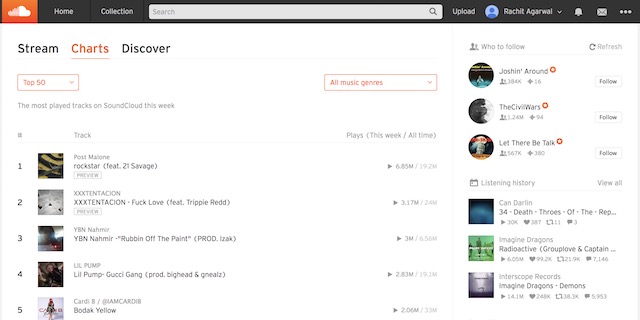 Premium Plans & Pricing: ($4.99 to $9.99 / month)
6. Pandora
Pandora is yet another great music streaming service which allows you to stream music. It also boasts of a very big library with 40 million songs and counting. The service offers two different type of subscription models, Pandora Premium and Pandora Plus. The Plus subscription is cheaper and comes at half the price of its Premium subscription. This makes it one of the cheapest services on the list. However, it also comes with a lot of restrictions. For example, the offline listening is restricted to only three streaming stations. If you want to enjoy the full service, you will have to go for the Premium subscription which will cost you the same as other services on this list. That makes it a little hard to recommend. However, if you can deal with some restrictions, and want a cheaper alternative, this might just be the one for you.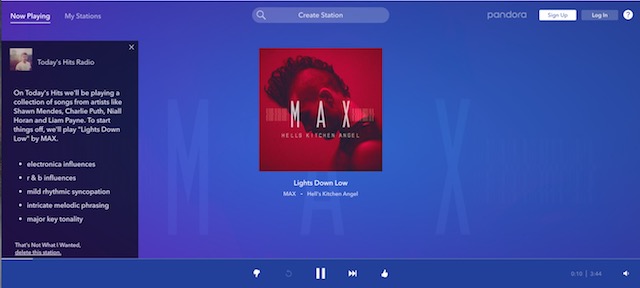 Premium Plans & Pricing: ($4.99 to $9.99 / month)
7. iHeartRadio
IHeartRadio launched as an internet radio service for all your music needs. It features more than 1000 US-based radio stations allowing you to choose the type of music that you want to listen, that too for absolutely no cost. That's right, you can stream any radio station, right on your phone without paying a dime. However, you also don't get the ability to play songs on demands and take them offline, something which you can do with other services on the list. To bring those features to its users, iHeartRadio launched its own premium subscription services a couple of months back. Just like Pandora, it has two tiers of subscription with the cheaper one coming with some restrictions. However, in its current state, I cannot recommend users to go for the premium subscription as services like Spotify offer far better value for your money. However, if you are looking for a free music streaming service, iHeartRadio can be a really great choice for you, especially if you love to discover new music through Radio.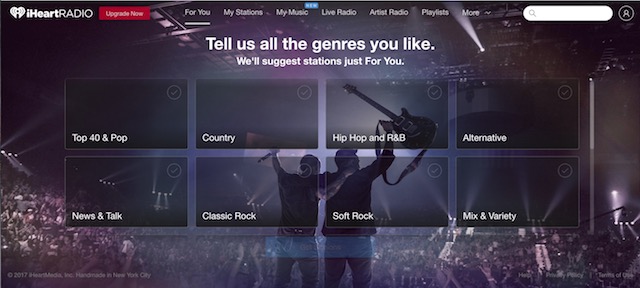 Premium Plans & Pricing: ($9.99/month (Web and Google Play Store) and $12.99/month for iOS App Store)
SEE ALSO: Top 8 SoundCloud Alternatives to Discover Indie Music
Best Microsoft Groove Music Alternatives You Can Use
It's sad to see the end of the Microsoft Groove Music service as it provided a really good experience. However, the service never really took off and was expected to die sooner or later. Spotify might seem like an obvious choice to people looking for its replacement, especially when Microsoft itself is promoting it. However, depending on your needs, some of the other services mentioned in this article might make more sense. For example, if you are already an Amazon Prime customer, why not take advantage of the lower price of Amazon Music Unlimited. So, take a look at the list and decide which one best suits your needs and let us know your picks in the comments section below.
---
Load More