Amazon surprised everyone when it recently held a press conference to announce the new lineup of Echo smart speakers and devices. The original Amazon Echo launched back in 2015 was long overdue for an upgrade. Amongst other noticeable new launches, Amazon announced the successor to Echo (2015); the Amazon Echo Plus. So if you're wondering what all new is there in the Echo Plus, and how it fares up against its predecessor, read on, as we bring to you our quick comparison of the Amazon Echo Plus vs the Amazon Echo (2015):
Amazon Echo Plus vs. Amazon Echo (2015)
Before we go into the details of the new Echo Plus device and see what more it offers over its predecessor, let us take a moment to get the specifications out of the way. The table below compares the different specification of the new Echo Plus against the Echo (2015).
| | | |
| --- | --- | --- |
| Features | Amazon Echo Plus (2017) | Amazon Echo (2015) |
| Price | $149.99 | $179.99 |
| Speaker Size | 2.5" Woofer and 0.8" Tweeter | 2.5" Woofer and 2.0" Tweeter |
| Device Size | 9.3" x 3.3" x 3.3" | 9.3" x 3.3" x 3.3" |
| Weight | 33.6 oz | 37.5 oz |
| Dual Speakers powered by Dolby | Yes | No |
| Built-in hub for easy setup | Yes | No |
| Streaming Wi-Fi Music | Yes | Yes |
| Line-out with 3.5mm or Bluetooth | Yes | Yes |
| Free audio calls to US, Mexico, and Canada | Yes | Yes |
| Control Smart Home devices | Yes | Yes |
What is Amazon Echo Plus and What Can It Do?
The Amazon Echo Plus is a smart voice-enabled wireless speaker developed by Amazon. The device comes preloaded with Amazon's own voice assistant "Alexa". The smart speaker by default responds to the name "Alexa", and can be remapped to respond to "Amazon", "Echo", or "Computer". Amazon Echo Plus is capable of voice interaction, music playback, making to-do lists, setting alarms, streaming podcasts, playing audiobooks, and providing weather, traffic, and other real-time information.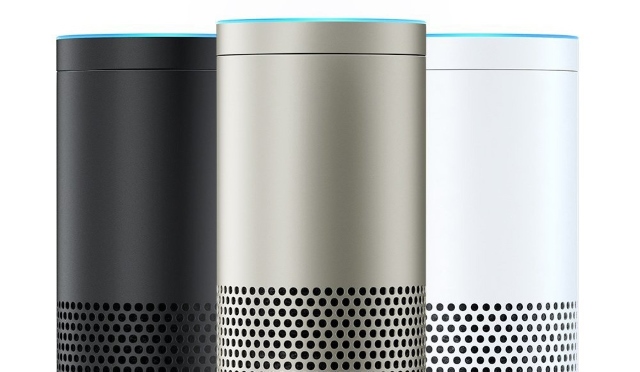 Additionally, the Echo Plus can be paired up with other smart appliances in order to control them with voice commands, for example, the Philips Hue Lighting. The Amazon Echo Plus requires a Wi-Fi connection at all times in order to connect to the internet and function properly. Furthermore, it requires being plugged in for power.
What's new with Echo Plus
Considering the original Amazon Echo was launched back in 2015, an upgrade was certainly needed to stay alive with the competition. As such, the Amazon Echo Plus, despite looking identical to its predecessor, does come along with a few improvements.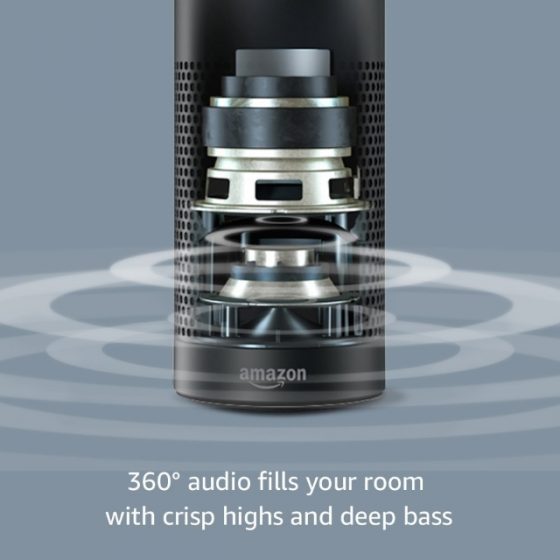 The Amazon Echo Plus improves vastly on the sound quality experience. The original Amazon Echo was highly criticized for its sound quality, deeming it to be a great voice assistant but a sub-par speaker. Enter 2017, and Amazon has brought out the Echo Plus with Dolby sound processing. Dubbed "enhanced sound" by Amazon, the new sound system aims to give the users a pleasing and enriching 360-degree surround sound experience, allowing the Echo Plus to hold its ground as a capable sound system. Furthermore, the Amazon Echo Plus also comes with second-generation far-field voice recognition, that allows the user to operate the device easily from a distance.
Better Smart Home Capabilities
The Amazon Echo had previously proved itself to be a great voice assistant, thanks to its huge compatibility with the number of voice controllable devices. This year, the Amazon Echo Plus improves upon it by making the entire setup and controlling process almost seamless. The Echo Plus has a built-in smart home hub so that it can natively control other devices using apps and skills.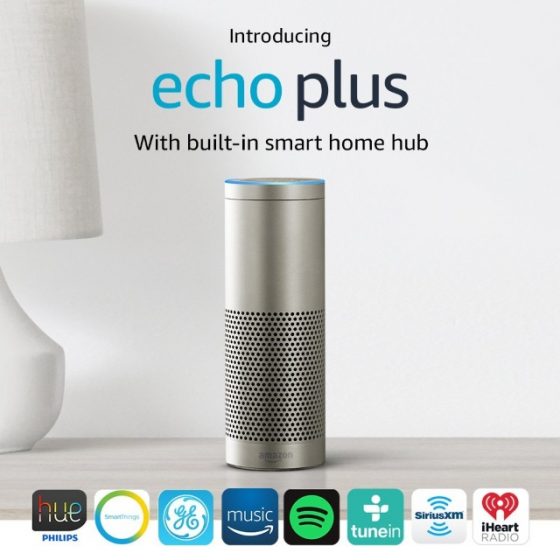 Furthermore, the smart speaker now comes with the ability to pair up commands. So now, you could simply say "Alexa, good morning", and the smart speaker can open up the smart window shade, turn on the lights, get the weather, and more, all simultaneously.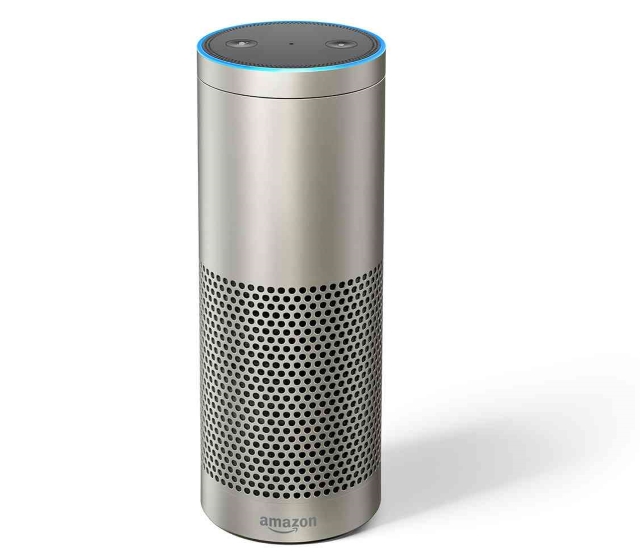 Along with the previously mentioned upgrades, the Amazon Echo Plus comes with a few more changes. This year, the Echo Plus is not only smarter but even more powerful, thanks to the use of the Zigbee. Zigbee allows the Echo Plus to control all the smart devices in your house while using low-power signals, thus extending its wireless range. Also, while the Amazon Echo and the Echo Plus might look like the similar large tower speaker, the latter one also comes available in an all-new Silver color variant.
Other Amazon Echo Products Available
Although the Amazon Echo Plus is a great product, it was not the only product launched at the new press event. Amazon also announced the new Amazon Echo Spot, Amazon Echo (2017), Amazon Echo Buttons, and the new Fire TV. The Echo Spot ($130) is essentially a smart alarm clock which can make video calls thanks to the tiny 2.5-inch screen. It can also be connected to external speakers via cable or Bluetooth. Next up, we have the Echo 2nd Generation ($100) that comes as a great value sound system. It works similar to the original Amazon Echo, but is almost half in size, and comes in a plethora of color options. You can also get the new Echo wrapped in fabric skin. Also announced are the Amazon Echo Buttons that are small Bluetooth-connected, multi-colored devices that can connect to Alexa for trivial gaming. These little dots are not yet available for pre-order but will go for sale in packs of two for $20 in late 2017. Lastly, we have the new Amazon Fire TV ($70), which comes with support for 4K HDR video with 2160p resolution at 60 frames per second. The Fire TV also comes with Dolby Atmos integration and an Alexa voice remote.
Pricing and Availability
The Amazon Echo Plus is currently available for pre-order from Amazon for a price of $149.99. This is impressive pricing, considering that despite the upgrades, the newer Echo Plus costs cheaper than its predecessor that was launched for a price of $179. Furthermore, to make the entire smart home setup easier, Amazon is offering a Philips Hue Bulb at no additional cost. The product is scheduled for release on 31st October 2017 and should be delivered a few days thereafter.
Pre-order the Amazon Echo Plus: ($149.99)
SEE ALSO: 50 Best Alexa Commands to Get the Most out of Your Amazon Echo
Upgrade to the Amazon Echo Plus
All in all, the Amazon Echo Plus is great if you want to have a powerful speaker that doubles up as a voice assistant. While the 2015 model suffered from low sound quality, the Echo Plus comes with Dolby sound integrated, as well as a few other smart tricks up its sleeve. For its price, it offers great competition to the Apple HomePod and the Google Home. Having already owned the Amazon Echo (2015), I for one will certainly be upgrading to the new Echo Plus. But what about you? Will you be upgrading to the Amazon Echo Plus, or buying some of the other new gadgets launched alongside in the Echo lineup? Let us know in the comments section below.