Microsoft Excel is one of the most popular program with over a billion users. It is being used for creating charts, tables, reports, identifying trends, and arranging data, etc. Though, it comes with some brilliant functions that enhances productivity and after learning some useful tricks anyone can master Microsoft Excel, it has its own drawbacks as well. It is quite expensive and not available on all the platforms. Furthermore, it doesn't have reliable collaboration and sync features, and it also lacks many customization options. Fortunately, Microsoft Excel is not the only worksheet creation tool available in the market. There are many other Office suites with Excel alternatives available both free and paid that can be a good replacement to Microsoft Excel in certain situations. You will find both online and offline tools, with unique features.
To help you with your search for the best alternative to Microsoft Excel, we have created this list of best Office suites that come with Excel alternatives. Just make your pick according to your requirement.
Best Excel Alternatives
1. Google Sheets
Google Sheets can be a great free online alternative to Excel due to its similar features with added functionalities. Google Sheets is a browser based spreadsheet tool with almost all the features equivalent to Excel. Apart from what Excel can offer, Google Sheets offers great collaboration tools, Cloud Storage and saving data in real-time.
Multiple people can edit a sheet at the same time and all the data will be saved and synced in real-time. All your data will be saved in Google Drive, which can be accessed from any device anywhere. Furthermore, you can also use Google scripts to increase Sheets functionality. They work similar to plugins that will let you add extra sidebars, customize the menu, add dialogs and other such functionalities. You can even create your own scripts according to your need. Moreover, Google Sheets lets you open, edit and save Excel files with the help of a chrome extension.
Although, it should be kept in mind that Google Sheets is still a web application, so it will require more resources to work properly. So if you have loads of data, then you should better stick with Excel or any other desktop based spreadsheet to ensure smooth working.
Key Features: Collaboration tools, Auto save and sync and Completely free to use.
Pricing: Free.
Type: Online spreadsheet with offline access through Google Chrome.
Compatibility: Web based, offline version for Windows, Mac OS X and Dedicated apps for Android & iOS platform.
2. Numbers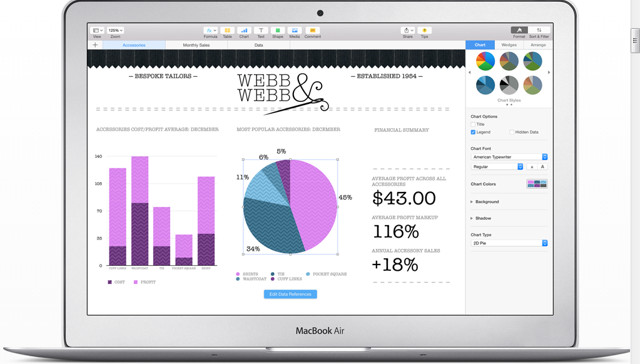 If you are a iOS or Mac OS X user, then you should opt for Numbers instead of Microsoft Excel. Number is a built-in spreadsheet creating tool in Apple devices that is completely free now. Unlike Google Sheets which will make you feel a bit home if you are already an Excel user, Numbers has a completely different approach and interface.
There are no rows and columns when you start a sheet, instead you are given different templates to choose from (created by Apple itself). You can create amazing charts and tables catered for every need.
It also has collaboration tools which will let up to 20 people edit a document at the same time. Due to its built-in templates and ability to do whatever you like, this tool is perfect for both beginners and power users.
Key Features: Collaboration tools, great customization ability and free to use.
Type: Offline spreadsheets tool with some features that require internet connection.
Compatibility: iOS and Mac OS X.
3. Microsoft Office Online (Excel)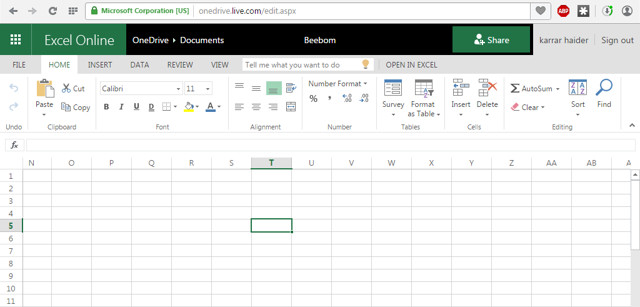 If you are really looking for a copy of Microsoft Excel for free, then Microsoft Office online could be a great alternative. It is a Microsoft Office suite (Including Excel online) that is just online with minor addition of features, and lacks some power user features of the desktop app such as, macros, mail merge, Format Painter, shading, borders and the ribbon, etc.
It offers really good collaboration tools (may be not as good as Google Sheets), and saves all the documents to OneDrive or Dropbox. The saving and syncing is in real-time and you get some added search tools as well.
The main drawback is that it doesn't have any kind of offline version. If you don't have access to the internet, the app is pretty much useless. Apart from that, the programs works great and gives you similar feeling of Excel 2013. As it is web based, loading huge data can lead to lags and frustration.
Key Features: Give you similar feeling of the Desktop Microsoft Excel, real-time save and sync to OneDrive, Free and reliable collaboration tools.
Pricing: Free.
Type: Online Spreadsheets program.
Compatibility: Windows, Mac OS X, Linux and Android.
4. Zoho Sheets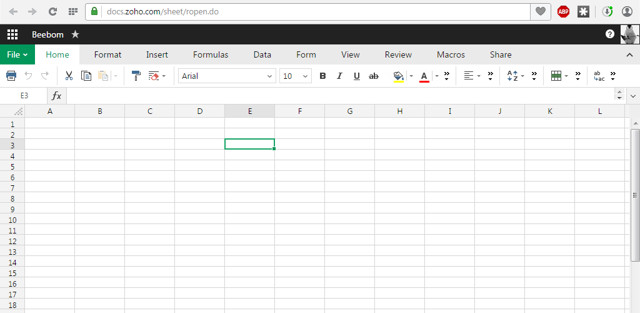 Zoho Docs is another office suite that offers an alternative to Excel in the form of Zoho Sheet. Zoho Docs has both offline and online clients in the form of Desktop client and a web based client. The suite is not that much feature rich when compared head-to-head to Microsoft Excel, but it has some unique features as well.
It has some robust set of collaboration tools; it saves and syncs sheets to Zoho's cloud storage. Although, it has a free version, but it is limited. The free version will get all the required features along with 1 GB of storage. If you want more space and some other security and collaboration freedom, you will have to pay.
Key Features: Simple interface, reliable collaboration tools and both web and desktop clients.
Pricing: Free with limitation, and $5/month with 50 GB storage and $8/month with 100 GB storage and all features unlocked.
Type: Offline and Online spreadsheet tool.
Compatibility: Windows, Mac OS X, Linux and Android.
5. Smartsheet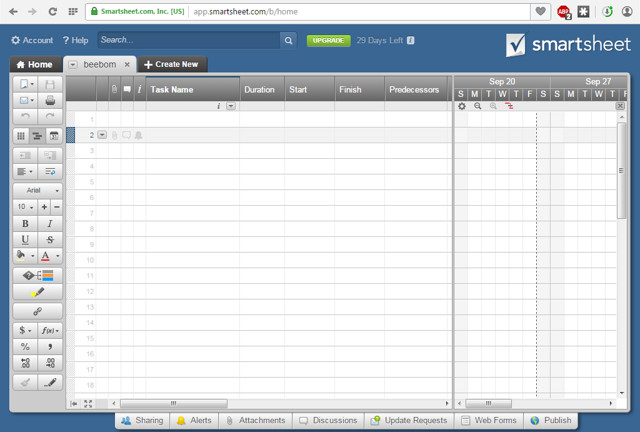 Smartsheet is an amazing online alternative to Excel with features for power users and companies specifically. However, just like Excel this is not a free tool. You will just get a 30 days trial and after that, you will have to pay on monthly or yearly basis. Smartsheet can do almost anything Excel can do, but it adds some extra control and customization options.
Just like Apple's Numbers, you will start with a blank document and you can use a template to start your work. The tool can be a bit complicated for some novice users, but there are tips and video instructions provided with each step. You can easily customize rows and columns with complete control over their visuals.
Some of its unique features that Excel lacks, include Gantt and Calendar view, discussion and file attachment on tasks, scheduling and custom reports.
Key Features: Online access to sheets, Tons of customization options and great collaboration tools.
Pricing: Basic $16/month with 3 GB storage, Team plan $50/month for 3 users with 45 GB storage and Customized plan with up to 25 users and 375 GB space for a price of $270.
Type: Online spreadsheet tool.
Compatibility: Windows, Mac OS X, Linux and Android.
6. Apache OpenOffice Calc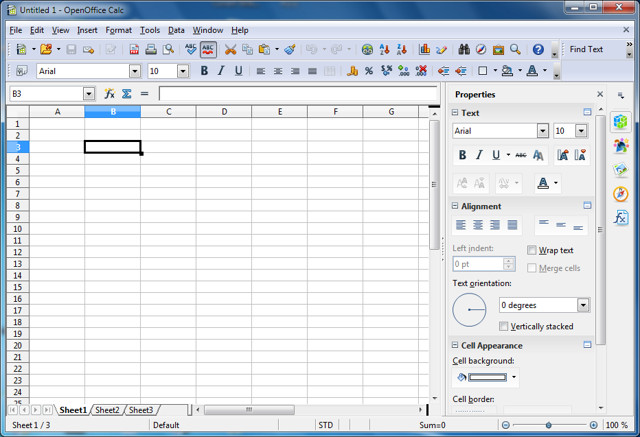 If you are a fan of Open-source software and looking for a free alternative, then Apache OpenOffice is a good choice. It is a full office suite that also comes with spreadsheets creating program OpenOffice Calc. It is completely free and doesn't limits any kind of features.
However, it is not a head-to-head competitor to Microsoft Office or Excel due to its limited features and a bit complex instructions. The interface is not that bad and shows easy to gulp information, but the options are explained quite poorly. It does offer many features like templates, mail merge, style manager, headers and footers, frames and many others.
Key Features: Free and Open-source, Desktop client just like Excel and comes with a clean interface.
Pricing: Free.
Type: Offline Desktop spreadsheet tool.
Compatibility: Windows, Mac OS X and Linux.
7. LibreOffice Calc
LibreOffice is another free and Open-source tool and it is actually based on same source code as OpenOffice. However, it has been much modified; offers different features and comes with amazing compatibility with documents. Just like OpenOffice, it also comes with an Excel alternative named Calc.
The interface is quite similar to old version of Microsoft Office like Office 2003, but the features are powerful enough to fight against the latest versions. It has some amazing import and export features and is said to import almost any document format. It is also known for opening obsolete versions of Microsoft office documents that people don't even use now.
Some of its unique features include, Portable version, different macros language, multi-platform support, extensions and import graphics formats.
Key Features: Open-source and free, powerful features for a free software, Desktop client for easier offline working.
Pricing: Free.
Type: Offline desktop based spreadsheet tool.
Compatibility: Windows, Mac OS X, Linux and a viewing app for Android.
8. Gnumeric
Gnumeric is another addition of free to use Open-source tool in this list. As the name suggests, Gnumeric works best for handling numeric data and doing all the calculations. If you use Excel for managing accounts and other similar things, then Gnumeric might be a better and faster choice.
Gnumeric is a very simple desktop program and extremely light on PC resources. This will let you process thousands of entries without any kind of lag that you may see in Excel. Due to its basic design and functionality, it might not be very good at importing other documents with graphic intensive content.
Its calculations are tested by the professionals and they are as accurate as Excel with much faster results and processing. If you are looking for a free and fast alternative to Excel calculations, Gnumeric should be a happy replacement.
Key Features: Light and Accurate, Simple interface and Open-source.
Pricing: Free.
Type: Offline Desktop based spreadsheet tool.
Compatibility: Unix.
Get Gnumeric
9. PlanMaker
PlanMaker is actually designed to be a cheaper alternative to Excel, so if you need something similar to Excel but at a cheaper rate, PlanMaker is all open. Although, it is still not better than Microsoft Excel, but it is very close and interacts quite well with Excel documents.
Moving documents from Excel to PlanMaker will never lead to change in data structure. It supports even older versions of Microsoft Excel docs, like .xls sheets. The interface is also quite similar to Excel, so you will not get stuck with learning new things.
Furthermore, formatting can be easily styled; color can be used for both highlighting and writing, to make your sheets attractive. It comes with a 30 day trial with full functionality to checkout the tool and after that you will have to opt for paid packages.
Key Features: Interacts well with Excel Sheets, a cheaper alternative to Excel and makes Excel users feel like home.
Pricing: Free 30 trial, and Standard version for €69.99 and Professional version for €89.95.
Type: Offline Desktop and tablet based spreadsheet tool.
Compatibility: Windows, Mac OS X, Linux and Android.
10. WPS Office Suite
If you are big on editing sheets on your smartphone, then you might like to try out WPS Office Suite. It is an Excel alternative for your Smartphone that makes editing a zippy. Of course, it can't really compete directly against the desktop app, but it makes it very simple to make minor to average edits from your phone for free.
The app has a really clean design with all information provided in front of you. Although, it is a full Office suite, but when you will load a Sheet, it will automatically load editing options for a spreadsheet.
It integrates with Dropbox to save all your documents and sync them over all your devices. Best of all, it doesn't require any kind of account, unlike Microsoft Excel or Google Sheets for smartphone.
Key Features: Intuitive interface, Free and doesn't require any account and makes editing very fast and simple.
Pricing: Free.
Type: Online Smartphone based spreadsheet app.
Compatibility: Android, iOS and Linux.
SEE ALSO: 5 Best Google Docs Alternatives
All the above alternatives to Excel are not as good as Excel itself, but many are quite close or offer some unique features that Excel lacks. Most of these alternatives are also free, which is a big concern when it comes to Excel. Try out any of the alternative, and let us know how it went for you in the comments below.