Electric cars are gradually making its way throughout India, but we're not talking about Elon Musk's Teslas this time. Mahindra Electric, India's only electric vehicle manufacturer, has teamed up with the hugely successful self-drive car rental platform Zoomcar to bring electric cars to mysore. As a result of the agreement, the startup based out of Bengaluru will be deploying twenty Mahindra e2oPlus electric smart cars in addition to two charging units in Mysore.
This was made possible due to a deal between the two companies that's worth over 2 crores, which will see Zoomcar obtain customized Electric Vehicle financing. This initiative from both the companies promoting the use of electric vehicles is a major step towards fulfilling Indian government's vision to sell only electric vehicles by the year 2030. These new electric cars are available to all the visitors and residents who're looking to rent a car in the city. Both the companies also plan to extend the initiative to other cities in the country, including Delhi, Hyderabad and Chandigarh.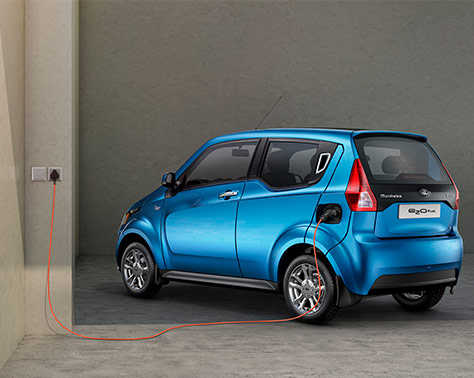 "Mahindra Electric has been at the forefront of making electric mobility a reality in India not just through electric vehicles but also technology and mobility solution development." said Mahesh Baby, CEO of Mahindra Electric during the announcement of the partnership. "We are happy to be partnering with Zoomcar to promote electric vehicle adoption in India. This initiative is aligned with the Mysore government's vision of being a clean and green city. We are looking forward to the state developing electric vehicle infrastructure as per the policy to further promote shared electric mobility in the region," he added.
With total support from the Indian government, Mahindra has a great chance to stir the rise of electric vehicles in India before Tesla enters the market and changes the whole game. So, what do you guys think about the initiative from Mahindra Electric and Zoomcar? Does it give a glimpse into the future of road transport in India? Do let us know your thoughts in the comments section down below.
---