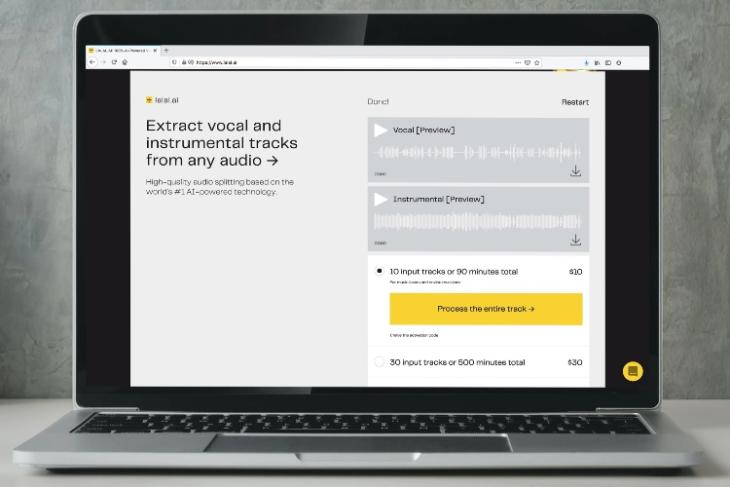 Whether you are an audio enthusiast or a karaoke fan, having separate vocals and instrumental parts for a song is a must. Not only it helps you practice your skills with ease, but it also gives you a deeper appreciation of the piece. However, finding separate vocals and backtracks is difficult, especially if the music is not so mainstream. In such cases, you need a tool that can help you split vocals and instrumental stems. Here, we are featuring a service that accomplishes the same. It is Lalal.ai, and it can separate vocals and instrumentals from any song, podcast, movie, or audio file.
What is Lalal.ai?
Lalal.ai is an online service that uses a machine-learning algorithm to precisely identify and carefully separate vocal and instrumental tracks. It was trained on 20TB of data with 45 million neural network parameters and advanced digital signal processing. In this article, we will look at its features and see how it can help you get the vocals and backtracks of any audio file you want.
1. Support for All Audio Files
One of the best features of Lalal.ai is that you don't have to use songs, as it also works with movie scores, podcasts, and any other file, as long as you get it in the audio format. For example, if you are dream is to practice the background score of a movie, you can upload its audio file to Lalal.ai, and it will extract and remove all the dialogues for you.
2. High Data Volume Processing
Lalal.ai does not disappoint when it comes to processing data. The company has been handling thousands of daily uploads with hundreds of thousands of tracks processed every month. They are confident in their engine to handle any volume, so there is no track duration limit, with the maximum upload size being 5GB.
3. AI-powered technology
As it's clear from the name, Lalal.ai uses artificial intelligence (AI) and machine learning (ML) algorithm to identify and split vocals and instrumentals. One of the biggest benefits of using AI is that the system keeps getting better as more people use it.
4. API Integrations
If you are a business that works in the music industry, you can integrate Lalal.ai with your service using its API. After integration with the Lalal.ai REST API, you can allow users to use your app or software to split audio tracks into vocal and instrumental stems. Thus you can add extra features to your software without adding high development costs.
User Interface and Ease of Use
Lalal.ai offers a web-based app that is extremely easy to use. First, open Lalal.ai's website using the link below and choose between the three processing levels – Mild, Normal, and Aggressive.
Once you have selected the mode, upload your track and wait for it to get processed. Now, listen to the separated stems and download them if you are happy with the result.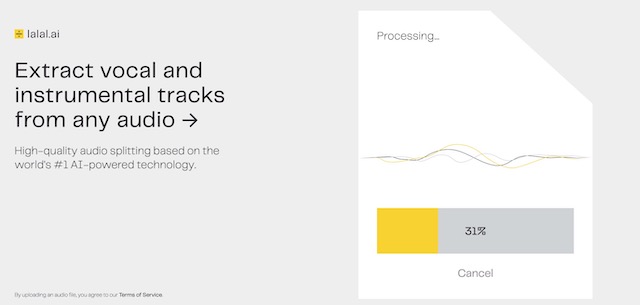 How to Choose Processing Level
According to Lalal.ai, here is what all the three processing levels do.
Mild: It is the minimum processing level. You can hear both the errors of the original track and the interpenetration of the separated tracks.
‌Normal: It is the default processing level, with moderate filtration applied. Most of the errors are corrected, but some tracks may contain artificial elements and high frequencies blurring.
Aggressive: It is the maximum processing level. The filtering algorithms react to possible errors in the most sensitive way. It may result in some tracks' natural mixing peculiarities being perceived as errors and thus removed. This level of processing can lead to even more noticeable artifacts.
If you did not understand any of that, don't worry. Just remember that Moving from Mild to Aggressive will increase the amount of processing on tracks. Sometimes, higher processing will result in better splitting, but it might also introduce some artifacts you can hear. The rule of thumb is that you start with the Normal mode and listen to the result. If you are happy with it, which will happen more often than not, you don't need to do anything extra.
But if you don't like the results, choose either Mild or Aggressive mode depending on the outcome. If you hear too many artifacts in the audio, select Mild and try again. On the other hand, if you feel that the split is not accurate enough, choose the Aggressive mode.
Pricing and Availability
Lalal.ai is available for anyone to use. You can click on the link below and access the uber-cool tool. I love the pricing structure as it only charges you for the service you use. There is no subscription service or up-front pricing. You only pay for what you use. You can upload a track and check the results for free. It even offers a free tier which allows you to process 3 tracks (up to 10 minutes in total).

If you like the service and are ready to pay, you will be happy to know that Lalal.ai has a reasonable pricing. It charges $10 for processing up to 10 tracks or 90 minutes total. Paying $30 will increase that to 30 input tracks or 500 minutes in total. And if you want more, you can contact them directly to get a custom quote.