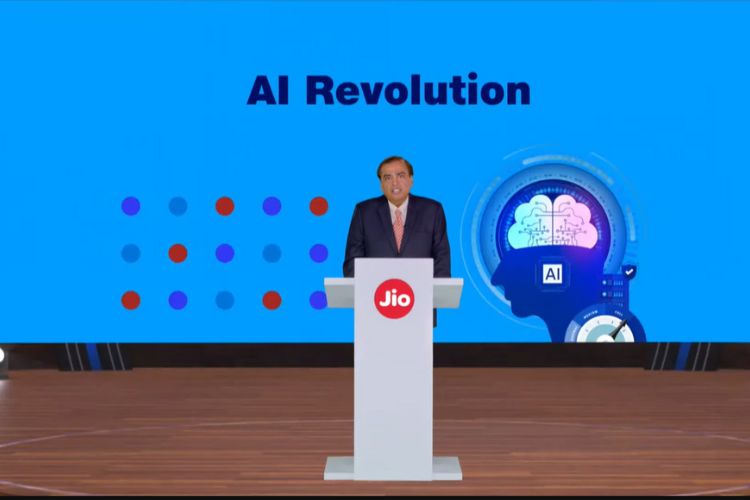 Reliance Industries conducted its highly anticipated 46th Annual General Meeting (AGM) today. Alongside the launch date for Jio AirFiber and the 5G Developer Platform, Reliance Chairman Mukesh Ambani highlighted AI as the 'most exciting frontier' for Jio's growth. Ambani, during the presentation, discussed how Reliance Jio plans to bring about an AI revolution in India and build India-specific AI models and a variety of AI apps for use cases in the country. Let's learn more about Jio's AI plans for India.
Jio Promises AI to Everyone, Everywhere: Ambani
In its 46th AGM, Ambani announced that Jio Platforms will lead the efforts in developing India-specific AI models and AI-powered solutions. With the AI revolution taking center stage globally, the company believes it's essential for India to harness the potential of AI, possibly building a ChatGPT-like AI bot that caters to the needs of Indians.
During the meeting, Ambani further promised that within the next few years, Jio will deliver "AI to everyone and everywhere" in the country. What is the company to bring about this shift? As pointed out in the AGM, Reliance is swiftly augmenting its talent pool to infuse them with AI-ready skills and capabilities, so that they can get acquainted with the latest innovations in AI.
With this initiative, Reliance Jio aims to make artificial intelligence accessible to the citizens of India, as well as industries and the Govt alike. To achieve this feat, the company is looking to create "AI-ready digital infrastructure" in the form of up to 2,o00 MW AI-ready computing capacity across both cloud and edge locations.
Right now, most details about Jio's AI efforts are under wraps. But we will bring you more information as and when it is revealed. But the company's commitment to delivering AI services to every citizen, like it has done with its connectivity services over the past 7 years, is just great. We can't wait to see what Jio Platforms has in store for us.
That's not all, though. Over the next five years, Reliance also plans to shift to renewable sources of energy for its connectivity and digital services, thereby, further strengthening its commitment to a greener future for the country.
---