iPhone XS Max is the biggest iPhone that Apple has ever produced. So, if you are looking to buy a big size iPhone and have the cash to spare, you can go right ahead. Personally, I would go for the big size as I consume a lot of media on my smartphone and the bigger 6.5-inch Super Retina OLED display combined with better and louder speakers will surely enhance my experience. So, if you are also thinking of buying the new iPhone XS Max, we have got some cool accessory recommendations for you which will enhance your iPhone XS Max experience. From cases and covers to screen protectors to battery packs, here are the 15 best iPhone XS Max accessories that you can buy right now:
Best iPhone XS Max Accessories You Can Buy
Best iPhone XS Max Cases, Skins and Screen Protectors
1. Spigen Ultra Hybrid Case for Apple iPhone XS Max
The iPhone XS Max is already quite bulky thanks to its size so when I was looking for a case for the phone I didn't want to suggest a case which ads too much heft. At the same time, I didn't want to go so slim that the case will be basically useless. Keeping those two points in mind the case that I am suggesting is the Ultra Hybrid case from Spigen which features a thick bumper along with a slim and hardback. While the bumper wraps around the smartphone to provide an all-around drop protection, the slim back keeps the overall weight down and makes it really easy to handle.
The Spigen Ultra Hybrid case for iPhone XS Max strikes the best balance between protection and heft which makes it a great case for iPhone XS Max. If you are looking for more cases for the iPhone XS Max, you can check out our list of the best iPhone XS Max cases and covers.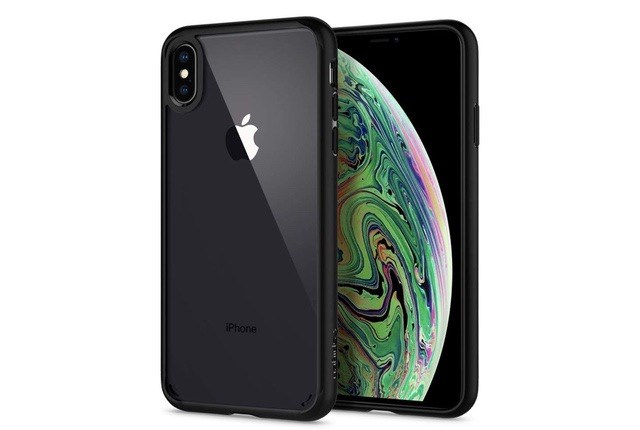 Buy From Amazon: $12.99
2. RhinoShield Screen Protector for iPhone XS Max
RhinoShield is a company which is famous for manufacturing tough cases and screen protectors which bring extreme protection for your device. This screen protector for the iPhone XS Max is made with a specially-designed shock-damping material which is able to take at least 5 times the impact energy of Gorilla Glass 3, while also remaining as thin as a printed sheet of paper. This screen protector can easily save your iPhone XS Max's screen from scratches and scuffs and can even handle some accidental drops and falls. If you are looking to buy a screen protector for your iPhone XS Max, this is the one you should get. However, for more screen protectors, you can check out our list of the best iPhone XS max screen protectors.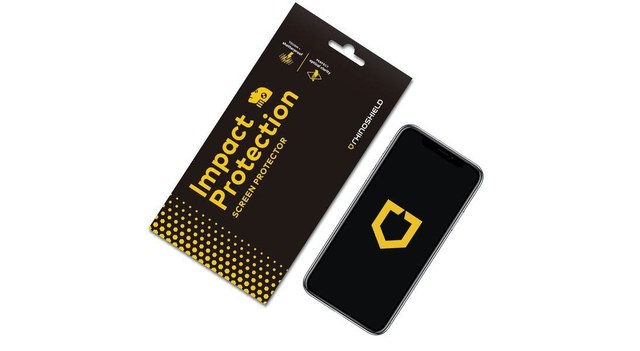 Buy From RhinoShield: $24.99
3. Dbrand Black Matrix Skin for iPhone XS Max
As I said, the iPhone XS Max is a bulky device and if you don't want to use any case but still want to provide some form of protection, you should invest in a skin. And when it comes to skins, there's no company that does it better than Dbrand. While there are a couple dozens of skins you can choose from, my favorite right now is their latest offering; the Black Matrix. The skin looks beautiful and is nothing like any other skin I have seen before. When applied correctly, the skin can not only protect your phone against scratches and scuffs but also greatly enhances the grip of the phone thereby making it less prone to accidental slip from your hands. If you hate cases, try a skin this time.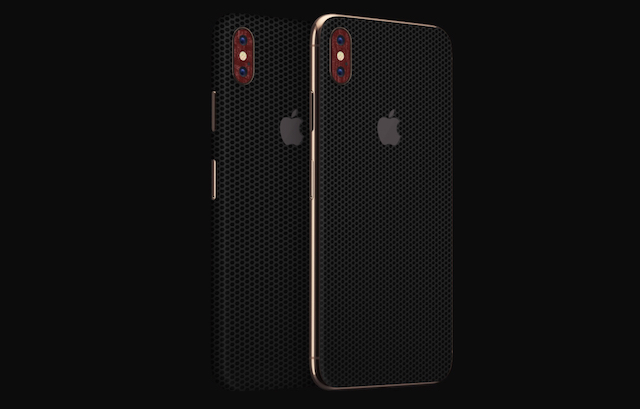 Buy From Dbrand: $11.99
Best Charging Docks and Battery Accessories for iPhone XS Max
1. Mophie Charge Stream Pad+
Apple finally introduced wireless charging with its 2017 line up of iPhones and that trend continues with the iPhone XS Max. Just like its predecessors, the iPhone XS Max supports both wireless charging and fast wireless charging. I love the convenience that comes with using wireless charging as it allows me to charge my smartphone whenever it's not in my pocket. Wireless charging also makes it easy to charge your phone in the night as you don't have to shuffle to find the cable and then plug it in the dark. Well, if you also want to enjoy the convenience of wireless charging, check out the Mophie Charge Stream Pad+ wireless charger as not only it looks stealthy, it is also capable of conducting fast wireless charging. Believe me, once you start using wireless charging you will not be able to go back.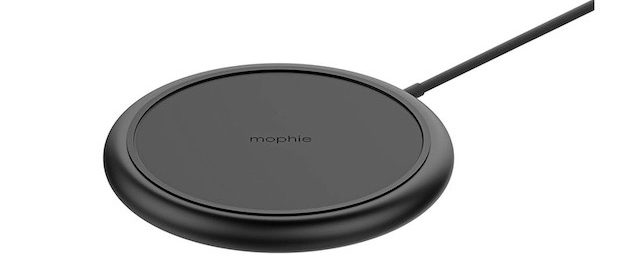 Buy From Amazon: $59.95
2. Anker PowerCore 26800 mAh
While the iPhone XS Max packs in a big 3,174 mAh battery which can easily last you a whole day. However, despite its long battery life, it's not a two-day phone and hence you should always carry a power bank unless you want to waste time finding a wall plug. Since the iPhone XS Max has a big battery, you also need a big power bank to charge this up. The one we are suggesting here has a 26,800 mAh capacity which can easily charge your iPhone XS Max seven times over. Despite packing such a capacity, the power bank itself is quite portable and you can easily carry it in your backpack. I also love the fact that the power bank can deliver fast charging with its PowerIQ and VoltageBoost technology. If you travel a lot, this is a must-have accessory for you.

Buy From Amazon: $65.99
3. Olebr Charging Stand for iPhone XS Max
Charging stands are quite useful products as they allow you to easily charge your smartphone without fiddling with cables. I especially love to use charging stands on my desk as they allow me to keep my phone upright. This convenience is even more important for iPhone XS Max as it comes with FaceID which requires you to quickly look at the smartphone if you want to unlock it. The Olebr charging stand lets you do that and hence I really love this product. The best part is that you can even charge your AirPods and Apple Watch along with your iPhone XS Max if you want to. Having a single accessory which can charge all your devices makes it very easy and hence we recommend that you try it out.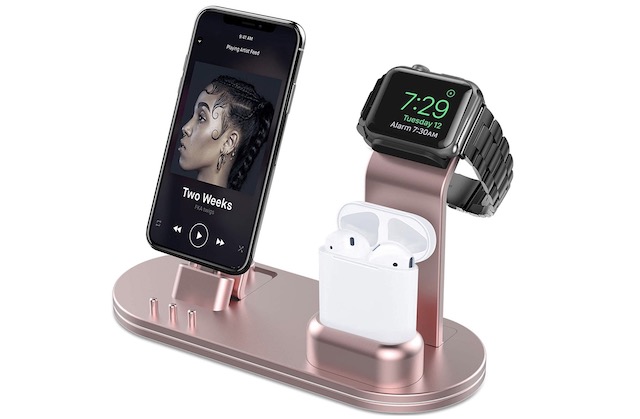 Buy From Amazon: $35.97
4. Apple USB-C to Lightning Cable
I hate the fact that while Apple has gone fully USB-C on its MacBooks, we still have to deal with USB-A and lighting on the iPhone XS Max. While I understand that it's not an easy decision to kill the lightning port as there's a big accessory market supporting it, the least Apple could do is make the charging adapter USB-C and ship a USB-C to lighting cable in the box. But Apple doesn't do that and hence we are stuck with dongle life if we want to connect our iPhones to our Macs. Well, if you don't want to deal with dangles, you can buy a USB-C to lighting cable yourself which will not only allow you to easily connect your iPhone XS Max to your MacBook Pro but also unlocks the potential for unlocking fast charging on your iPhone XS Max.
Buy From Amazon: $15
5. Anker PowerPort II for Fast Charging
As you might know, the new iPhone XS Max supports fast charging, however, even after charging $1099 for this phone, Apple still doesn't include a fast charger inside the box. If you want to enable fast charging on your iPhone XS Max, you will need to buy two things; a USB-C to lighting cable (mentioned above) and a fast charging capable wall adapter with USB-C power delivery. While Apple is happy to sell you its own power adapter, the one we recommend is the Anker PowerPort II. Not only the adapter comes with a USB-C port which you can use to fast charge your iPhone XS Max, but it also has a USB-A port which you can use to charge other devices. I also love the overall look of this power adapter which certainly looks more appealing than the stock Apple ones.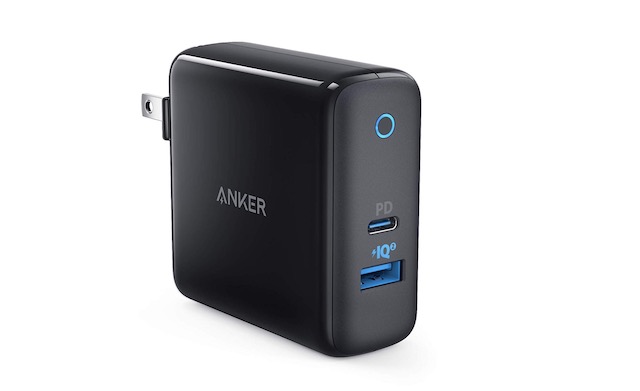 Buy From Amazon: $29.99
Best Wireless Earphones and Headphones for iPhone XS Max
1. Apple AirPods
Apple AirPods are by far my favorite iPhone accessory. I hated Apple when it killed the beloved headphone jack as the wireless headphones were just not good enough to replace the wired headphones. However, when I used AirPods, for the first time in years, Apple's consistent stance on "wireless is the future" statement started making sense. With its W1 chip, the AirPods can instantly connect to your iPhone XS Max. You just need to open the box near your phone and you are done. You never have to deal with terrible Bluetooth pairing procedure which comes with using wireless headphones. AirPods also sound surprisingly nice. While they are not made for audiophiles, the average iPhone XS Max user will be quite happy with their audio quality. Add features like Siri integrations, smart ear detection, and more, and Apple made a fantastic product. If you have never used AirPods before, just go and buy it. I bet you will not be disappointed.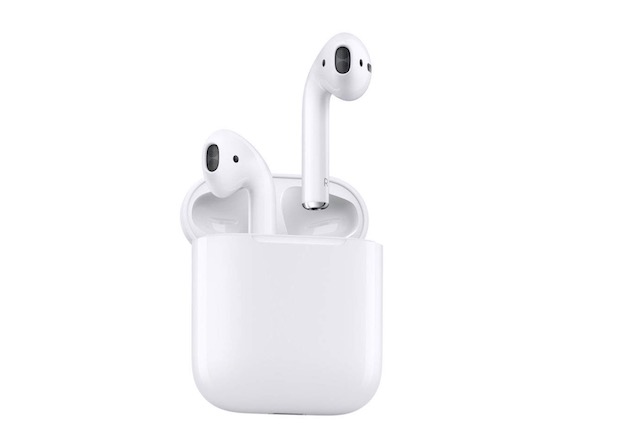 Buy From Amazon: $144
2. Mpow 059 Bluetooth Headphones
While AirPods are great, not everyone can afford to spend ~$150 on a pair of headphones and if you are looking for something cheaper, check out the Mpow 059 Bluetooth headphones. While the headphone is pretty cheap, it doesn't feel cheap when you actually hold it in your hands. The headphone uses a combination of steel, plastic, and comfortable cushioning to give you a product which not only feels premium but is also very comfortable to use. The sound quality here is not bad either. While it won't blow your brains out, you won't find it terrible either. It also has a great battery life with almost 20 hours of audio playback and talk time. Overall, these headphones are a steal for their asking price and if you are in the market for cheap headphones definitely check this one.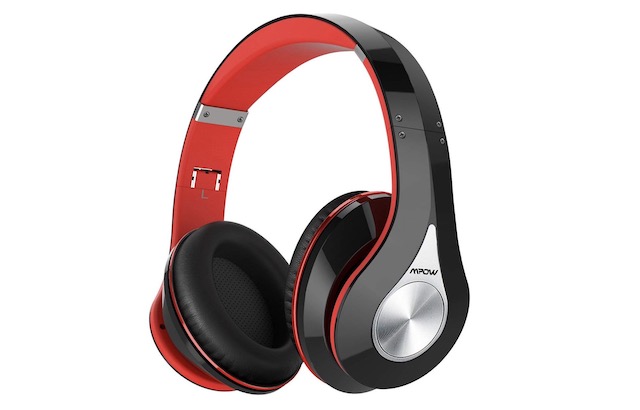 Buy From Amazon: $34.99
3. Palovue Earflow in-Ear Lightning Headphone
If you don't like wireless earphones and hate dongles, check out the Palovue Earflow in-ear lightning headphone which comes with a lightning connector instead of the headphone jack. The Palovue lighting earphone features a built-in DAC along with 9.2 dynamic drivers which deliver an elevated listening experience. The wire used here is quite good and it also has an inline mic which means you can take calls on them. They sound way better than the free pair of earphones which Apple packs inside the box and are also more comfortable to wear. The earphone also comes with a silicone carrying case allowing you to easily carry them without tangling the wires. For its price, you won't find any better lighting earphones on the market.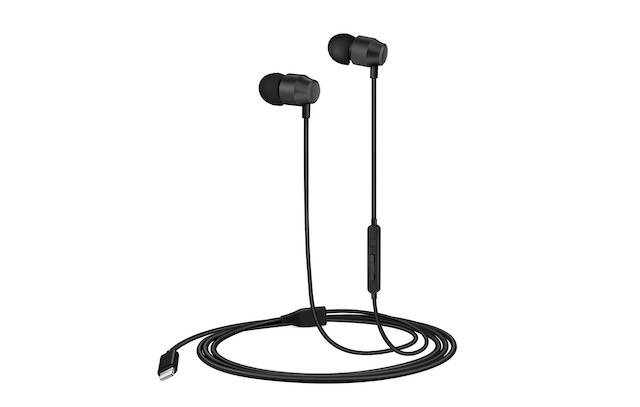 Buy From Amazon: $25
4. Apple Lightning to 3.5 mm Headphone Jack Adapter
When you unbox your iPhone XS Max for the first time, you will notice that a simple yet important content is missing from the box. Since the launch of iPhone 7, when Apple killed the headphone jack, it used to include a lighting to headphone jack adapter in the box, but that tradition ends with the launch of iPhone XS Max. Now, you won't find the adapter inside the box, which is just sad. I mean, Apple is charging $1099 and it neither has included the fast charger nor the headphone adapter. They really do make it difficult to defend them for us Apple users, don't they? Well, frustrations aside, if you want to be able to sue your previously owned wired earphones, just click on the link below to buy your adapter.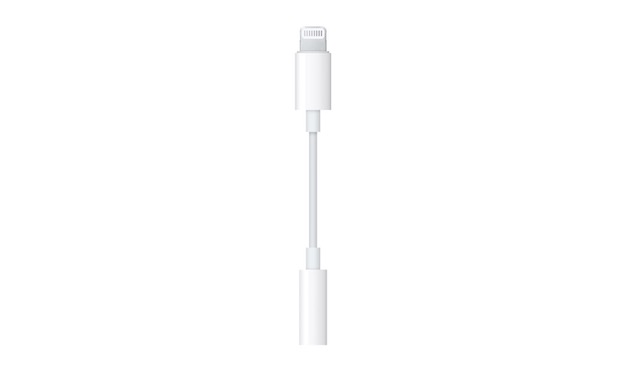 Buy From Apple: $9
Other iPhone XS Max Accessories
1. SanDisk 256 GB iXpand Base
The base model of iPhone XS Max starts at 64 GB and if you want to expand the memory you will have to shell out an additional $150 for the 256 GB model. Well, if you don't want to pay Apple the premium, you can check out the expand SanDisk 256 GB iXpand Base which costs just around a hundred dollars. The benefit of buying this base is that it can automatically take a backup of your photos and videos when you connect it to your iPhone XS Max. Also, since this supports pass-through charging, you can just connect your iPhone XS Max in the night and forget about it. The base will automatically charge your iPhone XS Max and create back up of your camera folder which you can then clear to release storage on your iPhone XS Max.
Buy From Amazon: $109.99
2. iOttie One Touch Car Mount for iPhone XS Max
If your car doesn't support CarPlay, chances are that you are using your smartphone to use as a navigation tool. However, to do that in the right way, you need a car mount which not only allows you to mount your iPhone XS Max to the car but also keeps it steady without causing any scratches. The iOttie One Touch car mount which we are suggesting here brings a one finger push to mount and unmount feature. Basically, you just need to push a button and the moaner will automatically clasp or release your iPhone XS Max. The mounter itself is pretty small and doesn't stand out like an eyesore. If you are in the market for a car mount, this is the one you should get.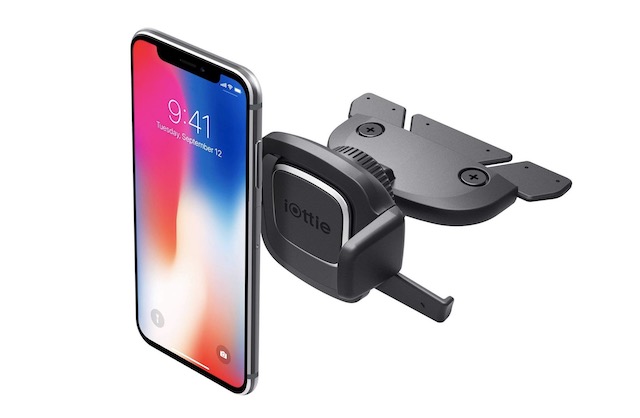 Buy From Amazon: $19.95
3. Nomad Ultra Rugged Battery Cable for iPhone XS Max
The last accessory on our list is pretty unique and it can come in really handy in some tough situations. Basically, the Nomad battery cable, as its name suggests is a charging cable for your iPhone XS Max which has a built-in 2350 mAh battery. When used normally with a wall adapter, the wire works like any another lightning wire allowing you to charge your iPhone XS Max. However, even when you are not near a wall adapter, you can use it to charge your iPhone XS Max. While the battery itself is not huge and can only provide ~50% charge to your iPhone XS Max, it can come in handy in certain situations.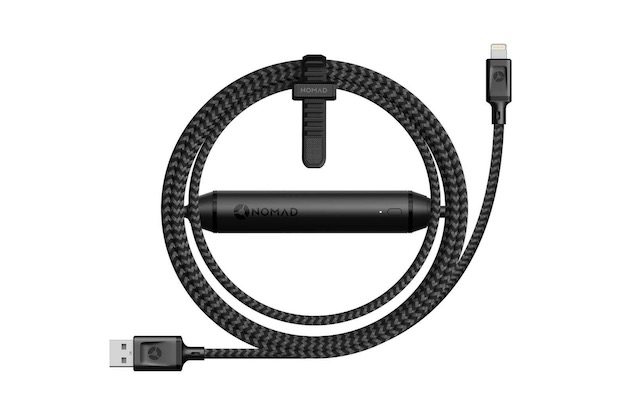 Buy From Amazon: $49.95
SEE ALSO: How to Set Screen Time Limits on Individual Apps in iOS 12
Best iPhone XS Max Accessories You Should Buy
That ends our list of the 15 best iPhone XS Max accessories that you can buy right now. Whether you want to protect your iPhone XS Max, have extra power when you are traveling, or want to enable fast and fast wireless charging, you will find an accessory for that here. Do check the list out and let us know which is your favorite iPhone XS Max accessory by writing in the comments section below.
---
Load More