We do, indeed, believe that Apple iPhone 6s is one of the best sturdy-built Smartphones you can have from market, given that you are ready to pay for the extra protection. With use of a new, Series 7000 Aluminium, Apple has made sure that the 4.7-incher isn't vulnerable to common issues such as dust and dirt. Likewise, the Silicon Valley giant has been cautious enough to use a new form of glass, which is claimed to be quite stronger, despite giving you the same, superb, Retina HD display. Having said all these, we would like to mention that the in-built protection of iPhone 6s is not enough, when you're a rough Smartphone user. If you are a kind of a person who leaves your iPhone in a variety of non-recommended situations, such as dropping it, you do really need a bumper case. Bumper cases come with an extra layer protection on backside and it's good-enough. In this post, we've a list of top ten iPhone 6s bumper cases.
Choose the best bumper case for your iPhone 6s
1. Ghostek iPhone 6s Aluminium Bumper Case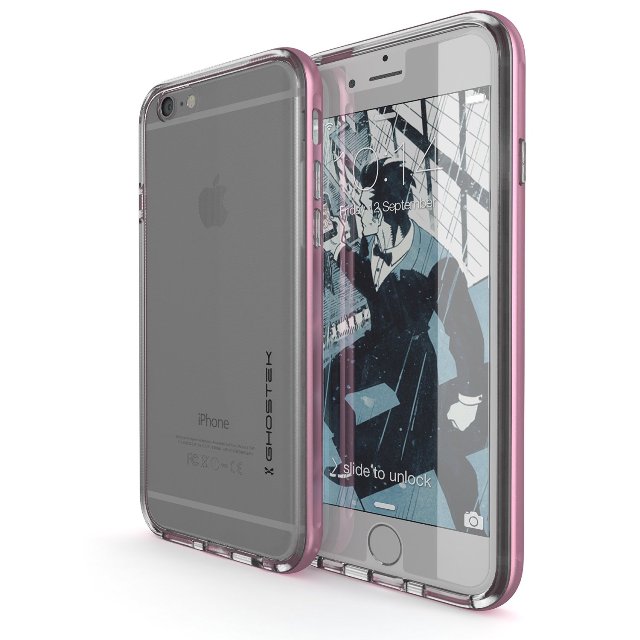 This covering-all-the-sides protective case from Ghostek is accompanied by an Aluminium-made bumper and a TPU-made body that covers rest of the device. To bring protection to the front section, Ghostek has included a Tempered Glass protection with a thickness of 0.33 mm and hardness of 9H. This bumper case is following a different method to absorb shocks. Impact of the shock will be absorbed, both by the TPU layer and the Aluminium bumper. It has to be noted that the aesthetic beauty of your iPhone 6s will not be affected when you have Ghostek iPhone 6s Aluminium Bumper Case over the body; nor it would add much bulk. In addition, the case leaves enough space for connecting all the required accessories. Considering these features, the case is available at an affordable rate.
2. JETech iPhone 6s Bumper Case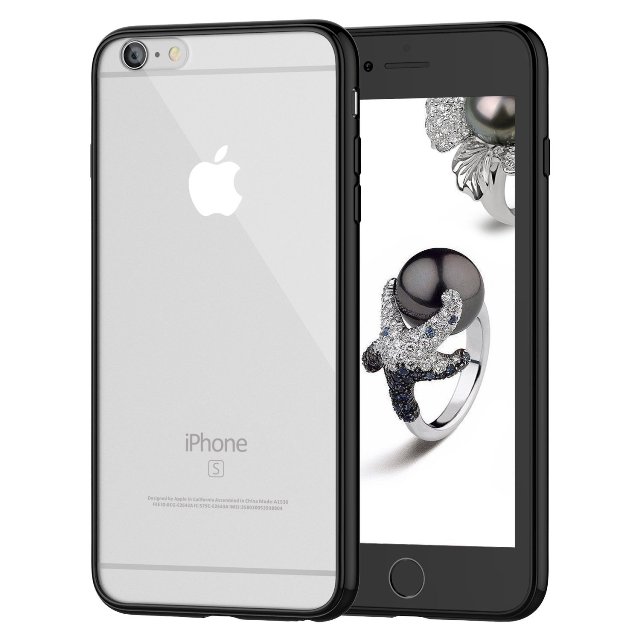 JETech iPhone 6s Bumper Case is one of the most affordable bumper cases you can have for your Apple iPhone 6s, if you want the real aesthetic beauty of the device to be preserved. Talking of the material used, it's been made using a clear blend of TPU and Polycarbonate. While the back bumper reduces impact of drops and hits, the corners have been thickened in order to give you a better result in the long run. Despite all these, JETech iPhone 6s Bumper Case has a truly slim design, making it easier for you to handle your device along with the additional protection layer. And, it comes with all the necessary cut-outs you'll ever need. By the way, you may use Customization section of JETech in order to get a case that suits your style.
3. Maxboost iPhone 6s Bumper Case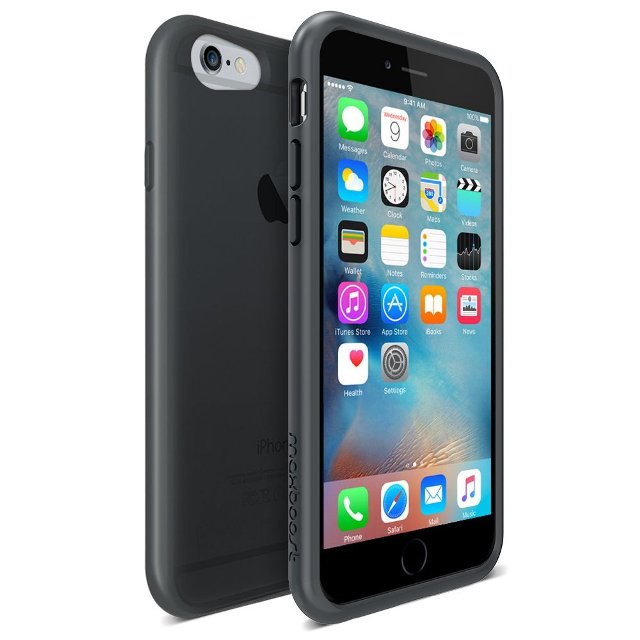 You can use this durable bumper case when you want your Apple iPhone 6s to have an enhanced handling as well as a cool look, for that matter. While the rubberized grips outside the frame lets you hold the device safely, cut-outs of the case are just awesome from the productivity point of view. Talking of the protective bumper, it's been made of Thermoplastic Polyurethane and the layer is strong enough to go on. Apart from the excellent shock-absorption capabilities the TPU-made layer has, it's resistant towards scratches, drops, falls, marks etc. Maxboost iPhone 6s Bumper Case is having some other features as well: there's an anti-dust finish, button covers for easier access, lifetime warranty that gives you the freedom of trust and after all these, the iPhone 6s bumper case is affordable.
4. Spigen Air Cushion iPhone 6s Bumper Case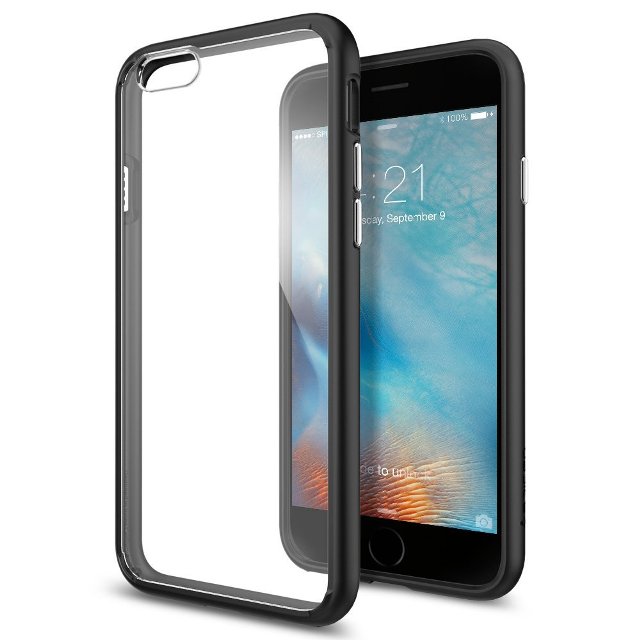 A product from Spigen, you can trust this bumper case when you would like to have a protection that isn't limited to the bumper but also every other aspect of the device. The case comes with a transparent back section so that what is on your iPhone 6s back will be shown, as such. While the back of the case is made using Polycarbonate, bumpers of the case have TPU in them, giving both strength and flexibility, in equal prominence. These TPU bumpers also got a feature called Air Cushion Technology, which is resistant towards drops and shocks, especially in the corner areas. Some of the other noticeable features of Spigen Air Cushion iPhone 6s Bumper Case are the enhanced transparency, raised bezels for display protection, protruded buttons for easier access, large-than-common cut-outs etc.
5. SUPCASE Hybrid Bumper iPhone 6s Case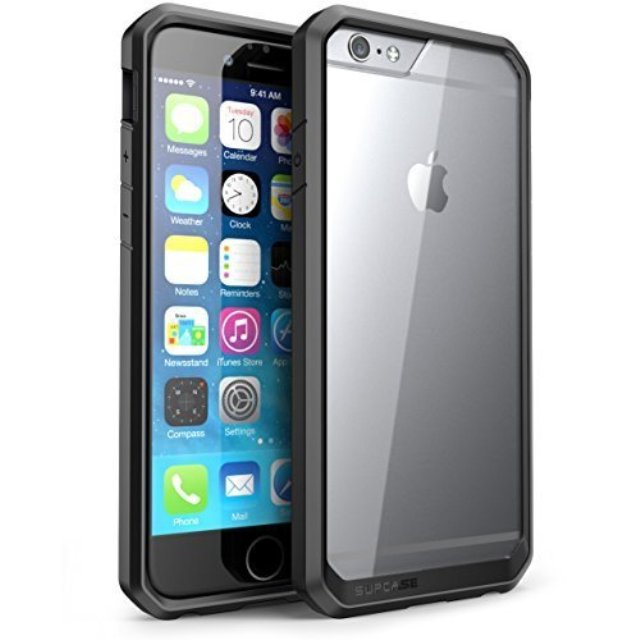 Here comes our hero from SUPCASE — yet another prominent manufacturer of Smartphone accessories that you can use with trust. Included in the Unicorn Beetle Series, this bumper case is meant to give you hybrid protection — due to the flexible TPU layer and the tougher Polycarbonate layer; and, these layers have been blended in a special way that you get best results. The bumper not only absorbs shocks but also shows resistance towards dust, dirt, scratches etc and yet is flexible, as it's made of high-grade Polyurethane. Despite the toughness of build, the Polycarbonate-made shell is completely transparent as to keep the looks of your iPhone 6s intact. Customers have a superb level of impression about this case and the installation is so easier that you just do it, quite simply. SUPCASE Hybrid Bumper iPhone 6s Case can be trusted in terms of quality, at the least.
6. ESR Hybrid iPhone 6s Bumper Case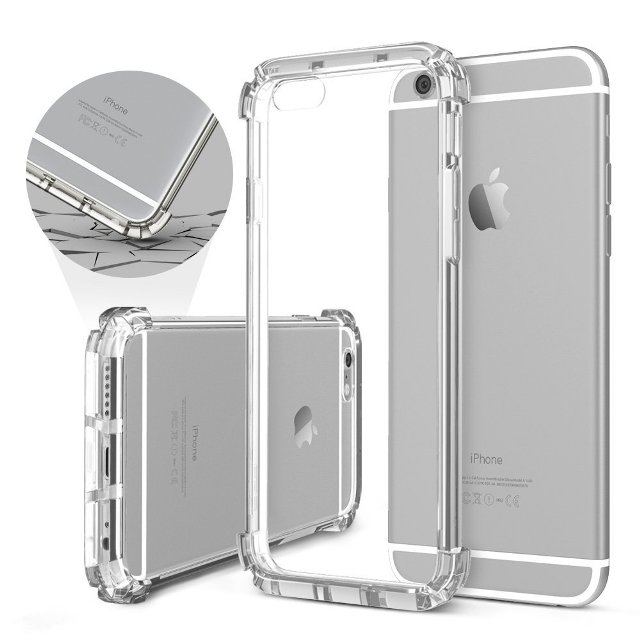 This one-piece bumper protection case from ESR is in the Gloria series and the protection is all-the-round, we would say, when we check out its various features such as raised lips and bezels. As in case of bumper, ESR Hybrid iPhone 6s Bumper Case makes use of Thermoplastic Polyurethane that's flexible at the same time protective from another aspect. In addition to that, corners of the case have been rubberized to withstand shocks on an extensive basis. From its looks, you can understand the grips that you get from the case and it needs to be mentioned that the case is coming with all the necessary cut-outs for connecting your headset, data cable etc. furthermore, ESR Hybrid iPhone 6s Bumper Case comes with 180-days of replacement or money-back warranty, that too from a renowned manufacturer.
7. Z-Roya TPU Bumper iPhone 6s Case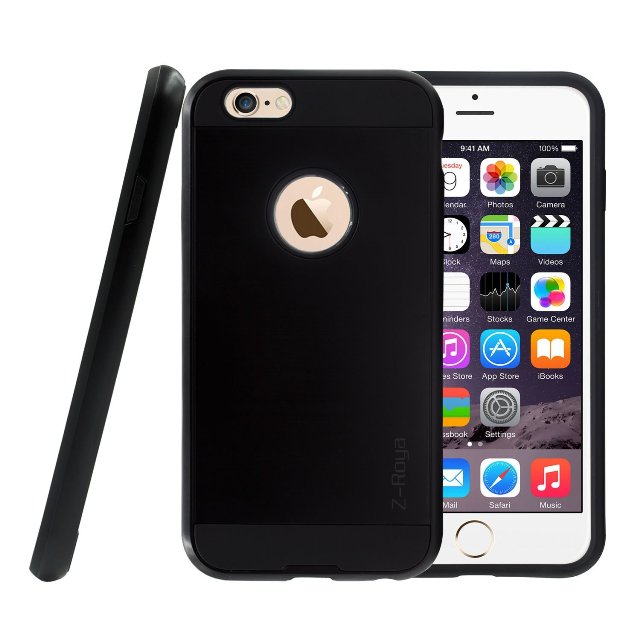 Available at a relatively affordable price, Z-Roya TPU Bumper iPhone 6s Case is mixture of sturdy build and design. Its protection is meant to cover all the sides of the device and the additional features such as raised lips protect iPhone 6s from scratches, dust etc. As you can guess, this case is made using two different layers —of Thermoplastic Polyurethane & another one of hard Polycarbonate. Out of these, the former is offering protection from shocks, through absorption of shocks at the earlier, leaving least impact on the device. On the other hand, the PC-made layer would be strong-enough to resist dust, water, oils, dirt and whatnot. When compared to other cases listed here, Z-Roya TPU Bumper iPhone 6s Case is having a stylish design, thanks to the Brushed-Metal look.
8. ENGIVE Crashproof iPhone 6s Bumper Case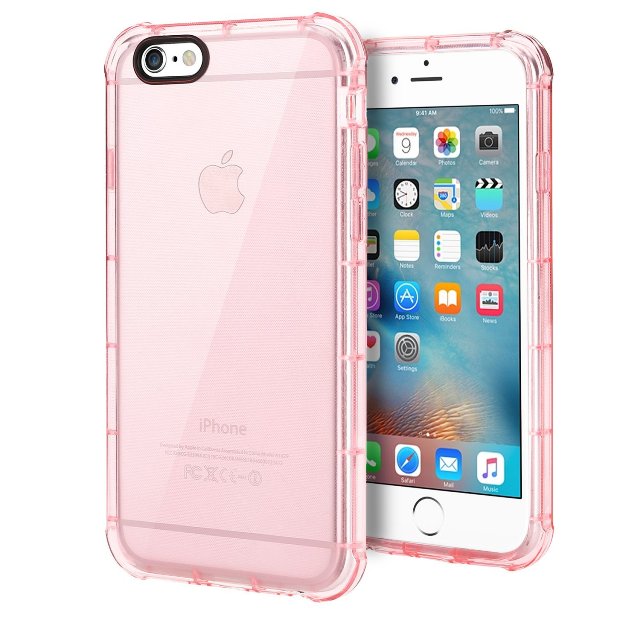 Design and style of ENGIVE Crashproof iPhone 6s Bumper Case may seem to be fashion oriented but it's just superb from the protection point of view. The whole case has been made using a version of Thermoplastic Polyurethane and it gives you a better touch-feeling, accompanied by comfort. It needs to be noted that ENGIVE Crashproof iPhone 6s Bumper Case is having almost everything you would expect from such a case, such as the protective elements for all the ports as well as buttons, an optimized design that's strictly against shocks and drops etc. Other noted features of ENGIVE Crashproof iPhone 6s Bumper Case include the raised bezels for screen and camera protection, flexible TPU use, 95% high transmittance etc.
9. AILUN Soft TPU iPhone 6s Bumper Case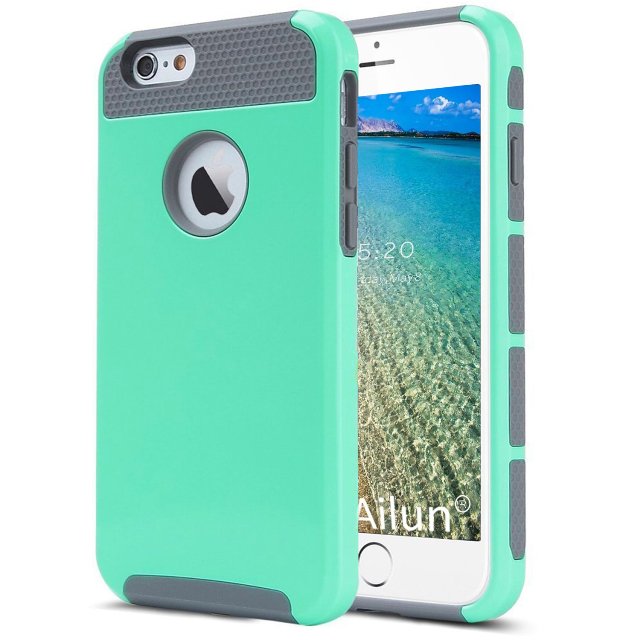 If you want to stick onto a really lower budget, AILUN Soft TPU iPhone 6s Bumper Case would probably be the best bumper case you are going to have. As you can see in the image, the case is covering 360 Degrees of your iPhone 6s (as it comes with 2 free screen protectors for your iPhone 6s), and you can be sure that the protection is extended to Camera and Screen of the device. The case makes use of a patterned Thermoplastic Polyurethane layer for creating bumper while the back cover is made using Polycarbonate that's strong as hell. This Dual-Layer concept would be just awesome from the protection point of view, and we must consider the price you got to pay. As the inner layer is made using a single layer of TPU, the case would feel a lot more flexible for the common user. Altogether, given the price, it CAN be the best.
10. TORU iPhone 6s Aluminium Bumper Case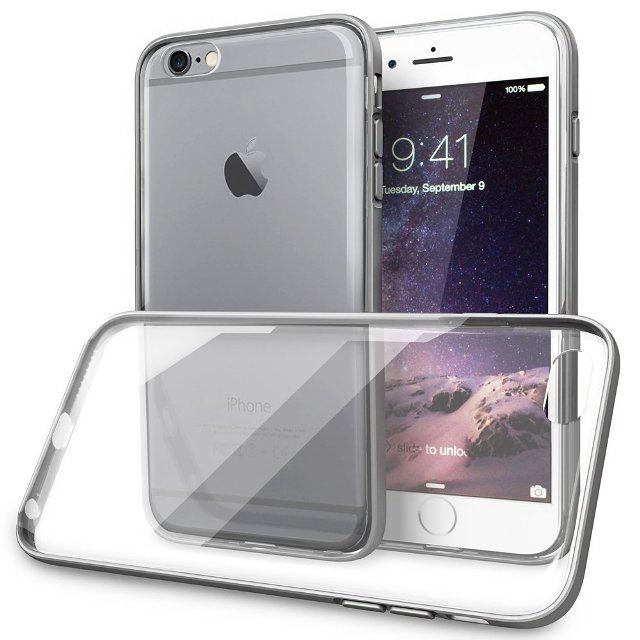 TORU iPhone 6s Aluminium Bumper Case is yet another dual-layer protective case you can trust for protection of the iPhone 6s. The metal bumper — made of Aluminium — is stunning from protection-conscious users' point of view, which is a reason to go for this mid-budget iPhone 6s bumper case. Other stunning features of TORU iPhone 6s Aluminium Bumper Case include the metalized buttons that enable easier access, precisely-made cut-outs that can help you connect almost every accessory you need, lip protection with a size of 0.9 mm on top of all these, this slim-fit case gives your iPhone 6s a sexy look, which so many customers found as the reason why they love the case.
SEE ALSO: 10 Best Waterproof iPhone 6s Cases
Well, it's your choice to select the best bumper case for your iPhone 6s out of this list, but make sure you let us know your choice, in the long run.