Its been a few months since the iPhone 14 series launched, and it has been well established that it is the year of the Pro models. But if you intend to go for the frilly Pros, the amount to shell out is too much of an asking. This is where the iPhone 14 Plus steps in, which brings so much more to the table than meets the eye; the nostalgia and the relief of getting a large-screen experience without spending more than a lakh. Yes, starting at Rs 89,900, this is still an expensive iPhone, especially if you have to name the Android counterparts. But, this is also the iPhone that is more likely to do a better job than the standard model for many. iPhone 14 Plus is the less-noticed big guy of the lot and here's why it deserves more attention. Read my in-depth review of the iPhone 14 Plus to find out.
iPhone 14 Plus Review (2023)
In this review, I have talked about the display, cameras, performance, and more aspects to give you an idea of my experience with the new iPhone. In case you want to know about a specific category, you can jump to one by using the table below.
iPhone 14 Plus: Specifications
| Specifications | iPhone 14 Plus |
| --- | --- |
| Dimensions | 160.8 x 78.1 x 7.8 mm |
| Weight | 203 grams |
| Display | 6.7-inch Super Retina XDR OLED display |
| Chipset | A15 Bionic |
| RAM | 6GB |
| Storage | up to 512GB |
| Rear Cameras | 12MP main, 12MP ultra-wide |
| Selfie Camera | 12MP |
| Operating System | iOS 16.2 |
| Water/ Dust Resistance | Yes, IP68 rating |
| Battery | 4,323mAh |
| Charging | 20W wired, up to 15W MagSafe wireless |
| Price | starts at Rs 89,900 |
iPhone 14 Plus: What's in the Box?
Ever since Apple let go of the in-box charger to reduce its carbon footprint, the box contents are limited. You have the phone, a SIM ejector tool, the instruction manual, the signature Apple logo stickers, and a USB-C to Lightning cable in the box. If you are a new Apple user, you will need to buy the 20W or 30W adapter, which retails at Rs 1,900.
iPhone 14 Plus: Design and Build
It's a given that the iPhone 14 and iPhone 14 Plus don't put forward an extraordinary design, and Apple has done little to no work for this. If you are seeking the new Dynamic Island experience, that is currently reserved for the Pro models.
Here, you have the same flat edges (which attract polarizing thoughts) and the square-shaped camera hump with diagonally-placed dual cameras (with an LED flash and a microphone). Moreover, Apple hasn't yet said goodbye to the notch. If you are fine with its presence, just like I am, you might not envy the Dynamic Island. The visible change is the massive screen size, which reminds me of the iPhone 7 Plus or 8 Plus days. It takes some adjusting, though, especially when you are switching from a 6.1-inch screen size.
And while there's no innovation in terms of design, there's no comprise either. The iPhone 14 Plus boasts an aluminum build with a tinge of gloss, a glass back, and a layer of Ceramic Shield – all of them contributing to the 'premiumness' one looks for in an iPhone. Plus, the colors you get make up for a nice-looking iPhone. The classic Black, the new Purple, Blue, and Starlight colorways, along with the (Product) RED — just choose any, and you would love it. I got myself the red colorway (my first time with a red-hued iPhone), and it is bound to turn heads. Although, it's a little too bright and shiny for my liking.
And if you think a big screen would mean an uncomfortable experience, that won't be the case with the iPhone 14 Plus. It's lightweight and comfortable to carry around (even in the pockets or while hitting the gym). It doesn't scratch easily, but I still recommend using a case and tempered glass upfront to keep things safe, for we all know iPhones are fragile entities!
iPhone 14 Plus: Display
This is one of the main reasons why someone would be attracted to the iPhone 14 Plus. Apple has finally let its non-Pro phones borrow the Pro Max's big screen size, making things rather affordable for people who are suckers for a big screen.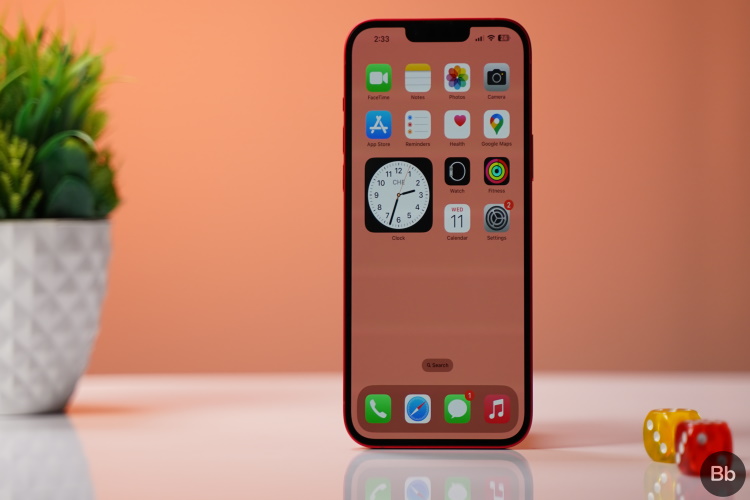 A 6.7-inch OLED display is more than sufficient for watching videos, playing games, and otherwise just scrolling Instagram Reels all day. It was after years that I used a big-screen iPhone, and it took me a while to get used to it. And now that I have, I don't think switching back to a 6.1-inch iPhone 13 Pro would be easy. There's a fingerprint-resistant oleophobic coating but the display is prone to attracting fingerprints, and I would highly recommend applying a tempered glass.
The display is sufficiently bright and reproduces vivid colors, so watching YouTube videos for hours on end or binge-watching your favorite Friends episodes will always be a delight. But what might not be likable is Apple still sticking to a 60Hz panel, especially for those switching over from Android. Coming from a 120Hz display on my iPhone 13 Pro, the transition seemed difficult, but I will have to give it to Apple for a smooth OS experience.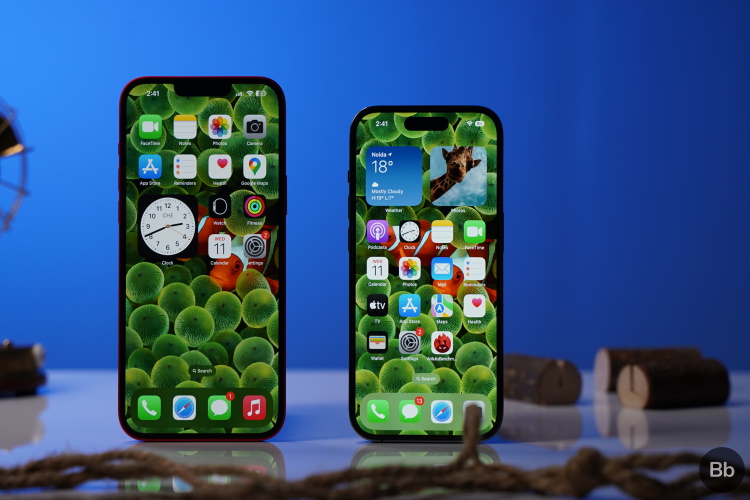 Once I got used to the iPhone 14 Plus, the 60Hz panel wasn't too bothersome. Scrolling was mostly smooth and jitter-free. Of course, the rule book requires Apple to put a 120Hz refresh rate panel in a phone that is priced at around a lakh rupees. That said, it still isn't a thing you would miss majorly. As is the iPhone 14 Pro's AOD! But Apple holding back on features that are available even on Rs 20,000 Android phones may not sit well with some users.
iPhone 14 Plus: Performance
One area that might be a letdown for many is how Apple used a year-old chipset for the new iPhone 14 Plus, making little to no difference between the iPhone 13 Pro and the iPhone 14 Plus.
While on paper this feels like a downside when we compare it to the A16-powered iPhone 14 Pro models, the day-to-day usage won't feel different at all. The iPhone 14 Plus ensures fast and smooth performance. So, keeping up with my social media accounts, watching newly released YouTube videos, and how can I forget the shopping (I need to stop, though!), got done without any stutters.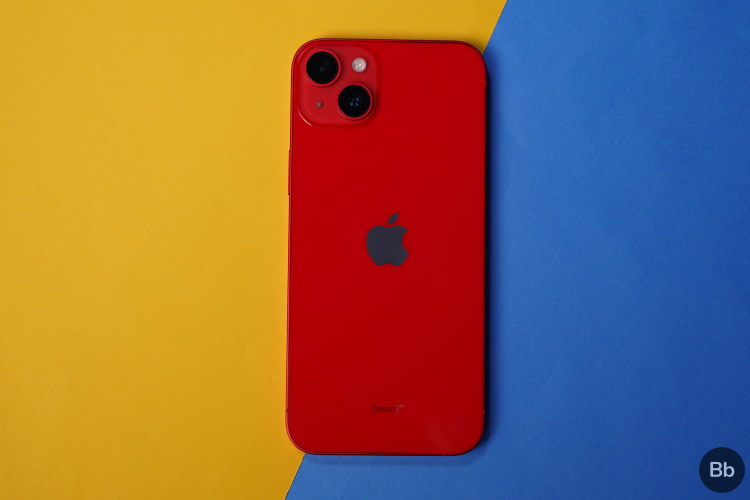 And with some word games and light photo editing in the mix, I couldn't find any fault in the smartphone's performance. So, if you have the inhibitions of using an iPhone with an old chipset, there's really nothing you should worry about. Clubbed with 6GB of RAM and the optimizations that come with iOS 16, this phone will deliver a seamless experience. As for the storage, my unit had a whopping 512GB of storage, and trust me, it would take years to fill up the tank. You can choose the 128GB or the 256GB models too.
I also ran the AnTuTu benchmark test and the iPhone 14 Plus had a decent score of 6,47,676. Although, my friend's iPhone 14 Plus with 128GB of storage had a score of 8,31,861. I am not sure of the reason for the discrepancy but real-world usage doesn't feel altered.
As for the audio performance, the stereo speakers on board are pretty good and much better than the ones on the iPhone 13 Pro. They are loud and the audio doesn't feel lacking. Other aspects like the call quality and connectivity, or connection with the AirPods, and even the Face ID performance have been majorly good. There weren't any issues that I encountered.
iPhone 14 Plus: Software
My iPhone 14 Plus unit came with iOS 16.2 out of the box, which is the latest iteration of Apple's mobile OS. And as one would expect, it is a smooth runner. The latest iOS 16 features like the lock screen customizations, the new notification appearances (although, the stacked view is quite clumsy), and more add to the increasingly convenient usage. You may encounter a few bugs here and there, though. Like, the most prominent for me was the fact that text messages showed up late in the messages app despite the notification.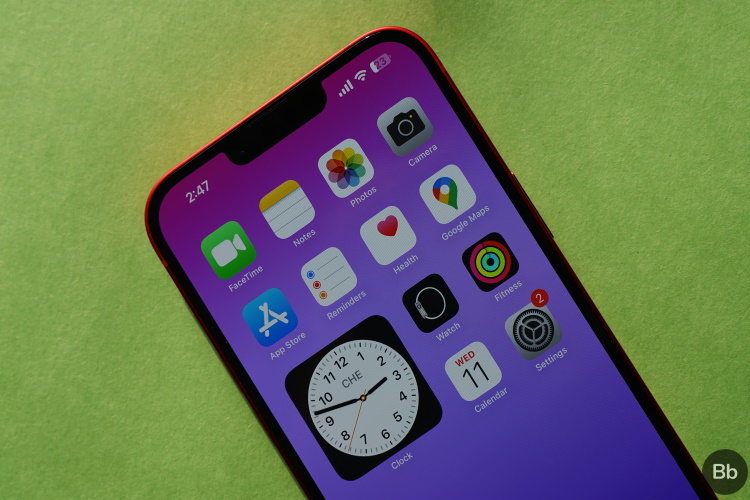 Moreover, iOS 16.2 now supports Airtel and Jio 5G, and you can enjoy faster speeds if you are in an eligible city. Although, 5G speeds will vary based on the area. It will also take a toll on your battery life, so beware of that.
The software experience would feel more or less similar if you are coming from an older iPhone. But if you just recently switched between OSes, iOS 16 (or any iOS iteration for that matter) can have divided opinions.
iPhone 14 Plus: Cameras
When it comes to photography, iPhone cameras have arguably performed well in the past, and the iPhone 14 Plus embodies just that. You have a 12MP dual-camera setup, much like the iPhone 13 and the 13 mini, but its Photonic engine is expected to deliver brighter and more detailed images as compared to the predecessor.
In most scenarios, the iPhone 14 Plus maintains its image as a good camera phone. Well-lit settings provide almost natural colors and an output that will be liked by most of us. There are good details in daylight shots, but it goes on to decrease as the light goes away. Although, you can get some good images when the Night mode automatically makes its entry in low-light conditions.
Even with up to a 3x zoom in dark scenarios, you will get a photo worthy of making it to your gram. At 5x, you will get sufficient details but this is mainly in good lighting and images appear grainy in low light. There's the classic warm tint to the images, but this has lessened with the iPhone 14 Plus.
As for the selfies, they too are detailed and reproduce natural colors. The now-added autofocus helps in clearer selfies and then there's the ultra-wide mode too, which is always a nice addition for group-fies. The only recurrent problem is how the front camera performance takes a toll in low-light conditions.
See high-res iPhone 14 Plus camera samples on Google Drive
The iPhone 13 Pro exhibited poor ultra-wide performance but that is not the case with the iPhone 14 Plus. The images are on par with that of the main camera. As for the portrait photos, the subject is detailed and sharp while the blurry background blends right in.
The iPhone 14 Plus can shoot in 4K and has support for the Cinematic mode and the Action mode for steadier videos. Both modes provide decent stabilization and a good amount of detail.
iPhone 14 Plus: Battery
The last time I used an iPhone with a long-running battery was the iPhone XR, and the iPhone 14 Plus gave me the same experience, only better. I would have to say that the iPhone 14 Plus has an impressive battery life. With the usual routine of calls, Instagram, messaging, video streaming, and taking selfies, the phone easily lasted me a day and a half, and even close to two days in some cases. This was the case with an average screen time of about 3-4 hours!
This is my second-most favorite thing about the 14 Plus and why I feel it should be on more people's wishlists. It gets you the battery life of the iPhone 14 Pro Max, which by the way, starts at Rs 1,39,900. With a 20W charger, the charge time was somewhere between an hour and a half. This is fine by me but might prove to be a disappointment for impatient users who like to get the charging done in less than an hour, or even under 30 minutes on Android. Well, why won't they?! The current fast-charging tech standards are crazy enough to lure anyone. In case you are okay with up to 1.5 hours of charging time and a 'pretty darn' good battery life, the iPhone 14 Plus will suit your needs.
iPhone 14 Plus: Pros and Cons
| Pros | Cons |
| --- | --- |
| Stunning large display | Lacks a high refresh rate |
| Long-lasting battery life | Design isn't too dynamic |
| A fast performer | Still pricey |
iPhone 14 Plus Review: Is It a Good Buy?
The iPhone 14 Plus is the first device from Apple that offers a big screen and battery life at a non-Pro price point. Well, if you are seeking both these things, this is a much better choice than the regular iPhone 14, which appears just as an incremental upgrade to the iPhone 13.
I would agree big time that the choice of an older chipset isn't the best but using the phone won't even make you realize this fact. And even though the iPhone 14 Plus doesn't have all the attractions like a high refresh rate, a 48MP camera, or the AOD mode, it still is a solid phone, which sadly, hasn't gotten the attention it needs.
So if you are moving from an older iPhone or an Android phone, choosing the iPhone 14 Plus might be the right choice if the budget is also a big concern. The Pro experience can be found on the iPhone 13 Pro too, but it still goes south of a lakh. For under Rs 1 lakh, the iPhone 14 Plus would be my strong recommendation for all kinds of users. Do let us know if you end up buying the new iPhone!
Buy iPhone 14 Plus from Amazon (starts at Rs 89,990)
REVIEW OVERVIEW

SUMMARY

The iPhone 14 Plus offers an amazing battery life and a big display experience for under a lakh rupees, which by Apple standards is an excellent proposition. If you are looking to try out the iOS experience and get good performance, this one is a much better option. You do miss out on a newer chip, a high refresh rate display, and better cameras, but you do get your money's worth in experience and software support.