Intel's Arc A380 is their entry-level graphics card and its owners are getting a free performance boost, thanks to a new driver update. The A380 is the most affordable modern GPU with 6GB of GDDR6 and 75W TDP. Let's look at what the new driver update brought to the table!
New Driver Update Upgrades Intel Arc A380 Graphics
Our story on Intel's new driver update focused on DX10 & DX 11 enhancements for the Arc A750 & A770 GPUs. Turns out, Intel also quietly updated its Arc A380 graphics card with a minor bump in the clock speeds. This was spotted by a Neowin.net forum user, who says the driver version 31.0.101.4644 also includes a firmware update that increases the specification of one particular Intel Arc graphics card – the Arc A380.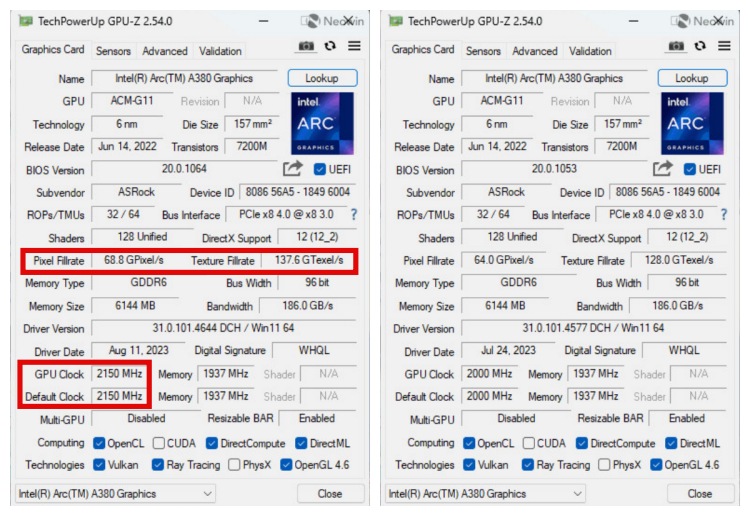 The clock speed has been increased by 150MHz on the A380, which also increases the texture & pixel fill rate specs as reflected in the GPU-Z application. Here is a comparison of the Intel Arc A380 specifications in the GPU-Z monitoring utility, before and after the recent driver update:
| Intel Arc A380 Specs | 20.0.1053 (old vBIOS) | 20.0.105364 (new vBIOS) |
| --- | --- | --- |
| Texture Fill rate | 128.0 GTexel/s | 137.6 GTexel/s |
| Pixel Fill rate | 64.0 GPixel/s | 68.8 GPixel/s |
| GPU Clock | 2000MHz | 2150MHz |
(Source: Neowin.net Forum Post)
This is a much-welcome upgrade for the Arc A380 customers and will benefit future buyers too. The new driver update should bring slightly higher in-game performance not just because of these slightly upgraded clock speeds, but also from the recent optimizations Intel made to the Arc series graphics cards.
Raja Koduri, former head of Intel's graphics division and creator of Intel Arc Graphics, told us in an interview that the Intel Arc journey is all about getting high-performance graphics to everyone. Even after his departure from the company, Intel's Arc division seems to be upholding its intrinsic values and providing meaningful graphics driver updates to its customers. What do you think about the spec upgrade on the entry-level Intel Arc A380? Let us know in the comments below.
---
Load More