Instagram appears to be secretly testing a myriad of new features, ranging from music stickers to slow-mo Stories, but it is now building a "usage insight" feature that will let users know how much time they usually spend on the photo-sharing platform.
First reported by TechCrunch, the code for the usage insights feature has been discovered by app investigator Jane Machun Wong inside Instagram's Android APK. It is accompanied with a slightly revamped profile page UI that Instagram seems to be testing.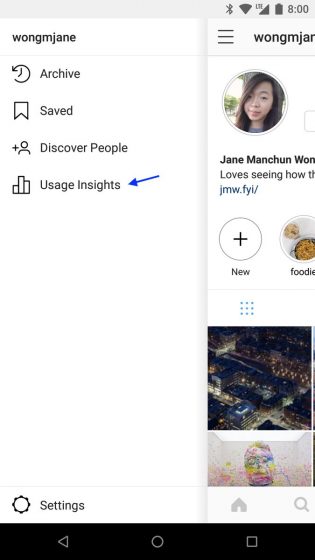 Just moments after the feature was spotted, Instagram CEO Kevin Systrom has taken to Twitter to confirm that the usage insight feature is currently under development. He adds that it is the responsibility of tech giants to let the users how much time they're spending on a platform, which is the simplest way to point out problems with overuse and social media addiction.
It's true. RT @TechCrunch: Code buried in Instagram's Android app reveals a "Usage Insights" feature that will show users their "time spent" https://t.co/1Lt3DgIFEj

— Kevin Systrom (@kevin) May 16, 2018
We're building tools that will help the IG community know more about the time they spend on Instagram – any time should be positive and intentional.

— Kevin Systrom (@kevin) May 16, 2018
Understanding how time online impacts people is important, and it's the responsibility of all companies to be honest about this. We want to be part of the solution. I take that responsibility seriously.

— Kevin Systrom (@kevin) May 16, 2018
This confirms that Instagram is paying heed to the ongoing debate around mental health and digital wellbeing. The feature would let you track the hours you spend on Instagram, refreshing the feed and Stories.
In addition, Instagram' will be adding an emoji bar and '@' button that appear atop the comments bar, making it simpler for people to react and interact with your followers.

You will also soon be able to like and respond to any comment on Instagram posts directly from the notification shade. This would save you from opening the app to respond to comments.
---