Instagram's Threads app seems to be on a good start and has already gained more than 10 million downloads, making its case for a better version of Twitter. And to drive more people to the Threads app or your Threads profile, the social media app has a new strategy in place. Check out the details right below.
Instagram Wants More People to Follow You on Threads!
Instagram has now introduced a temporary badge on your profile, which will help more people get directed to your profile on the Threads app. You will be seeing this badge (on your profile and others too) if and when you are on Threads.
The badge tells the number you are on while joining Threads. Mine is 16247012 (yea, I didn't jump to the first opportunity) and we also know who's first and second. Mark Zuckerberg is unsurprisingly No. 1, followed by Adam Mosseri at No. 2. Interestingly, there's someone on position zero, Threads' official Instagram account. Do let us know what's your number in the comments section below.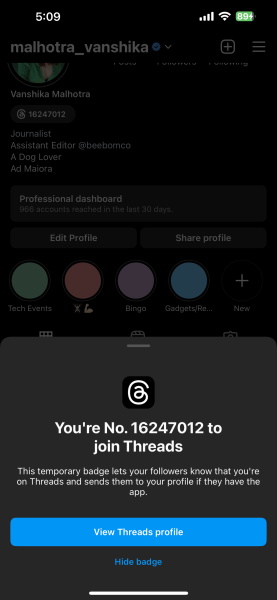 This is one way for people to get more attracted to a person's profile on Threads and even to the idea of joining the app. There's no word on how long the badge remains, though. There's another way Instagram has to ensure people remain on Threads. If you already plan on deleting the Threads account because it wasn't your cup of tea, you should know that you will also have to let go of your Instagram account. So, basically, if you are on Threads, you will have to stay. That said, there's a temporary solution of deactivating!
The Threads app, Twitter rival has the same UI as that of Instagram, so, adapting won't be a problem and given Twitter's issues, it could become a hit. But, we will have to wait to see how this pans out.
What do you think of the Threads app? Do you think it will be able to replace Twitter? Don't forget to share your thoughts in the comments section.