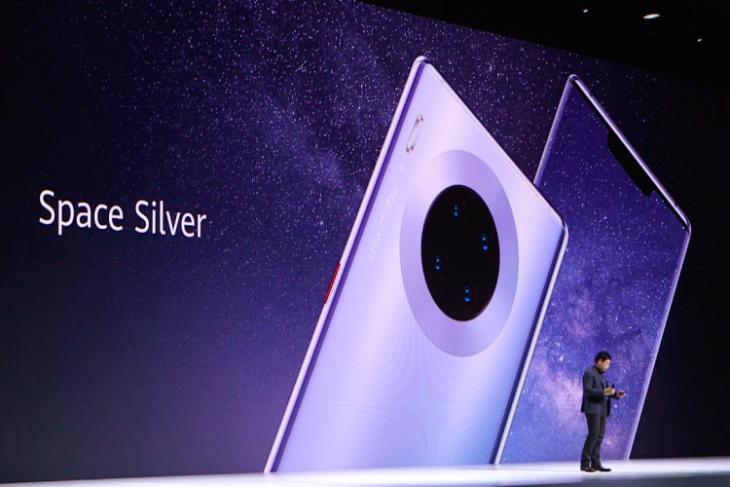 Huawei may be enduring a tough time due to the U.S-China trade war, but the Chinese giant isn't taking a back seat just because the U.S is pressuring it. Instead, it has gone ahead and added a new flagship smartphone to its world-famous Mate lineup. Yeah, the company has launched the much-anticipated Mate 30 Pro at its launch event in Munich.
And well, this smartphone is every bit a flagship, right from the design to the powerful internals. Mate 30 Pro comes backed by Huawei's flagship chipset, quad rear-cameras which could take on high-end DSLRs in terms of photography, a waterfall display, huge battery with super-fast charging, and much more. So, here's everything you'll need to know about Huawei Mate 30 Pro:
Mate 30 Pro: Specs and Features
Starting off with the design, like always, Huawei revealed that it has derived inspiration from cameras for the construction of the Mate 30 Pro. Yeah, Mate 30 Pro boasts a Halo Ring design, which refers to the circular camera ring on the rear panel, which looks like your camera lens. It's IP68 water and dust resistant, which we obviously expect from a flagship smartphone.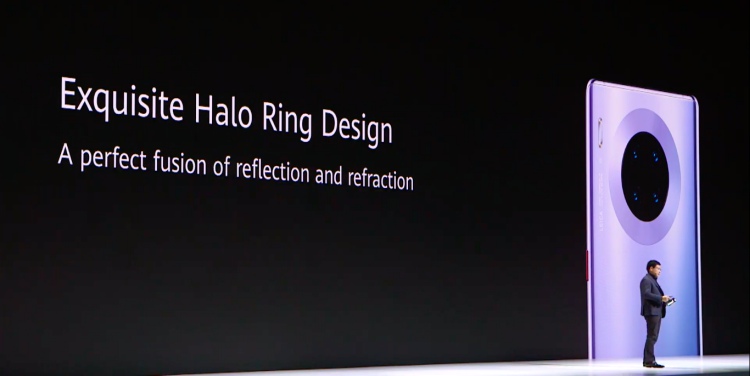 Mate 30 Pro features a waterfall screen on the front, same as the recently launched Vivo NEX 3 and you can read all about it down below. It includes a physical power button, which will have to be the power button on the right side. You can utilize the invisible virtual keys on both sides as the volume rocker, as well as a camera shutter button (that you can move around based on your comfort). And I have to say I love this feature, but we'll have to see how accidental touches are handled.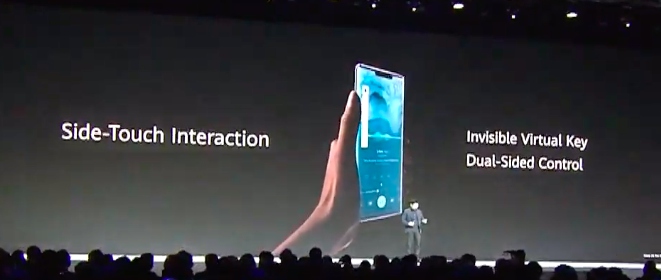 Mate 30 Pro features a 6.53-inch Flex OLED Horizon Display, as Huawei likes to calls its new waterfall screen. It's a beautiful panel that curves at an 88-degree angle, which is higher than the curvature of Samsung's Galaxy Note 10 lineup. The display here touts an 18.4:9 aspect ratio, 2400×1176 pixels resolution (just a tad higher than Full-HD+), along with support for HDR 10 and DCI-P3 wide color gamut.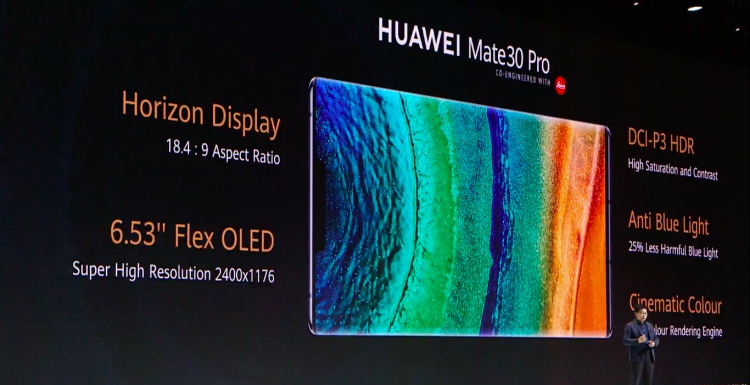 Huawei further boasts that its new flagship doesn't feature any size bezels (compared to other flagship competitors) but there's a notch up-top. It may not look smaller than the Mate 20 Pro's notch, but it definitely is. There's a bottom bezel onboard as well, but it's really tiny.
Huawei on stage called the Mate 30 Pro's notch the "most sophisticated notch" on a smartphone, which I never thought I would hear in this lifetime. But, yeah we did and it does include 2 cameras, as the rumors had suggested. The notch, as you can see in the screenshot below, includes a 32MP selfie camera, 3D depth camera (used for Face ID), and a gesture sensor that allows hands-free control. The speaker unit sits under Mate 30 Pro's display similar to the P30 Pro launched earlier this year.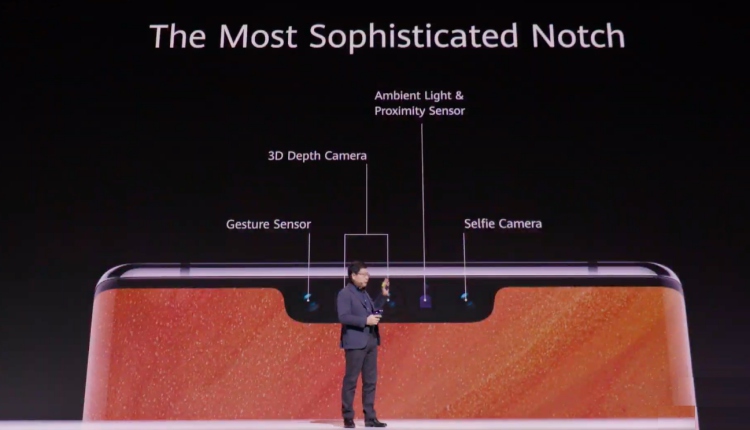 The gesture controls, as per the demo on stage, looked similar to what we expect to the Motion Sense feature that Pixel 4 lineup may come equipped with. You can flick before a Mate 30 Pro to scroll up/down and pinch to capture a screenshot, which is gimmicky but cool.
This smartphone offers two biometric unlocking options – 3D Face Unlock and in-display fingerprint sensor. All of this data is protected by the highest security standard, i.e. TEE with proprietary microkernel OS, which is great to hear from the Chinese giant.
Powering the Mate 30 Pro is the newly launched Kirin 990 chipset that Huawei unveiled during its IFA 2019 presentation. This chipset is built using the 7nm EUV process node, featuring two Cortex-A76 (clocked at 2.86 GHz), two Cortex-A76 (clocked at 2.36 GHz), and four Cortex-A55 (clocked at 1.95GHz) architecture. It's an octa-core chipset that's coupled with a 16-core Mali G76 GPU, dual-NPUs, Balong 5000 5G modem, 8GB of RAM, and 256GB of internal storage.
As we have already seen in the slew of leaks, Huawei Mate 30 Pro has a circular camera setup with a primary 40MP (f/1.8) Sony IMX600 RYYB sensor (Super Sensing wide camera) with OIS, a new 40MP ultra-wide-angle sensor (termed the Super Sensing Cine camera), an 8MP telephoto camera with 3x optical zoom and OIS, and a time-of-flight (TOF) sensor to round up the kitty. It even houses a Xenon flash and other sensors on the left of this circular module, which I quite like, to be honest.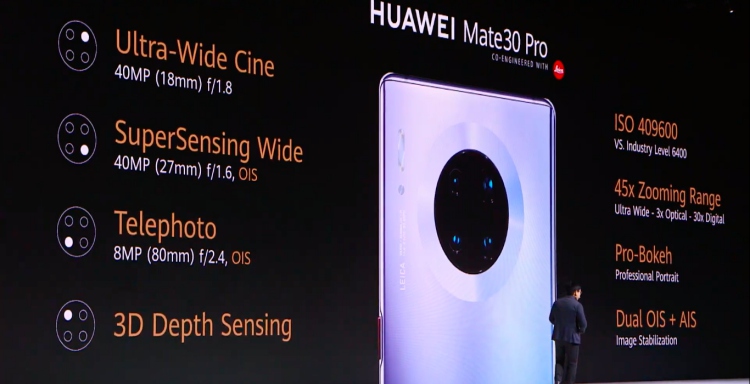 The primary 40MP RYYB sensor captures 40% more light as compared to other sensors, thanks to the biggest 1/1.7-inch size – which is one of the biggest on a smartphone. It's also been revealed that it has 137% more light intake than the iPhone 11 Pro Max. This means you'll still be able to capture some stunning Night photos without switching to a dedicated camera mode.
Well, thanks to Huawei's SuperSensing technology being carried forward with the ultra-wide-angle lens, you will be able to capture crisp night shots with this sensor as well. It isn't an RYYB sensor like their primary sensor though. This is a 40MP RGGB sensor (with 3:2 aspect ratio to make it possible to capture sharp dual-1080p videos) and it's super-sensitive to light as well.
The host of cameras onboard can reach maximum ISO 409600 as compared to the 6400 industry standard and offer a 45x zooming range, which is lower than the P30 Pro, which provided 50x digital zoom. Mate 30 Pro supports 3x optical zoom, 5x hybrid zoom, and up to 30x digital zoom.
Thanks to the multitude of video features, Huawei is calling Mate 30 Pro the world's first smartphone with a dedicated 40MP Cine Camera. It sounds exciting and Mate 30 Pro now boasts the highest video light sensitivity on a smartphone, i.e ISO 51200, which is certainly remarkable. It supports up to 4K/60fps video recording, which is something we have seen on many flagship phones in the past but it's a first for Huawei.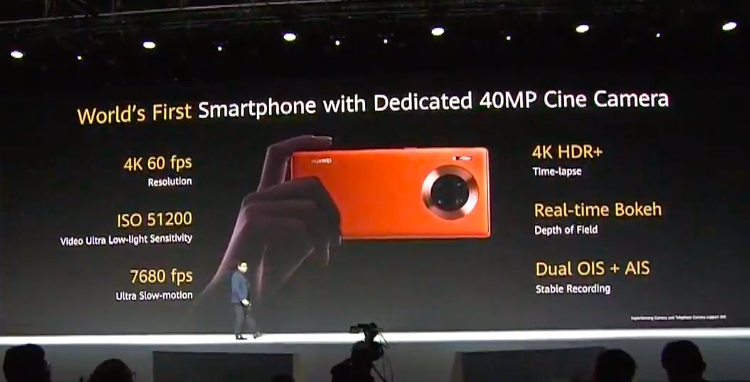 Huawei boasts that its newest flagship has the highest frame rate on a smartphone, i.e. 7680 fps, making it possible for the Mate 30 Pro to shoot ultra slow-mo videos. Huawei showed off a demo video, where it captured a slow-mo video of a bursting balloon and compared it with a professional DSLR — but it was captured at 1920 fps, so we are not confident whether the device supports 7680fps ultra slow-mo mode or not.
Apart from the amazing ultra slow-mo video mode, Mate 30 Pro also packs support for capturing real-time Cinematic bokeh video, 4K cinematic time-lapses (the demo video shown was fantastic), ultra-stable recording with Huawei AIS (thanks to OIS+EIS+AI), ultra low-light ultra-wide timelapse (sounds so much fun), and a lot more.
Huawei Mate 30 Pro is one of the first smartphones to run Android 10 out-of-the-box. It doesn't run a licensed version of Android though instead, it's an AOSP fork which comes pre-installed with the HMS core instead of GMS (Google Mobile Services) core. Well, we already this as Huawei itself had confirmed that Mate 30 Pro won't come with Google's apps and services onboard.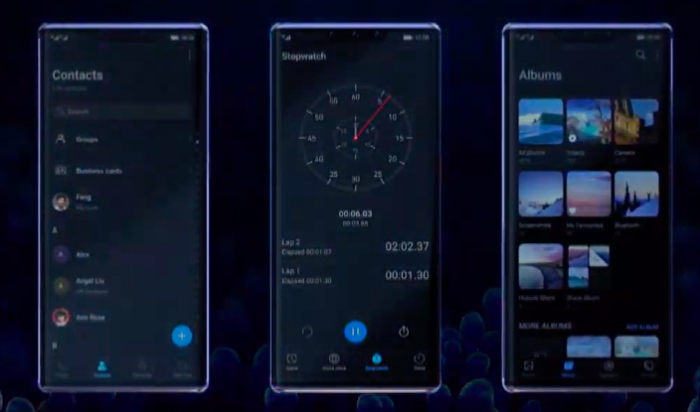 It features a new always-on display, where you can pick from a number of styles and the color of the text changes – based on the time of the day. One of the most significant additions to EMUI 10 has to be the dark mode (what can I say? I'm a dark mode fiend), which is coupled with a Dark Mode Engine that will allow you to force dark mode in apps that don't support the darker theme.
The Mate 30 Pro also supports multi-screen collaboration with Huawei laptops and brings along a much-needed feature called AI Auto-rotate, which Huawei says will follow where you're looking and rotate the screen accordingly or not when you go from sitting on the couch to laying down. It solves one of the biggest nuisances which we encounter on the daily.
Talking about the battery, Mate 30 Pro comes equipped with a massive 4,500mAh battery pack but the smartphone shouldn't feel bulky as it weighs just 198 grams. The company has comfortability and use in mind while building the device, along with much superior battery life. Huawei claims that its flagship could last up to 8.2 hours on heavy usage, which is great.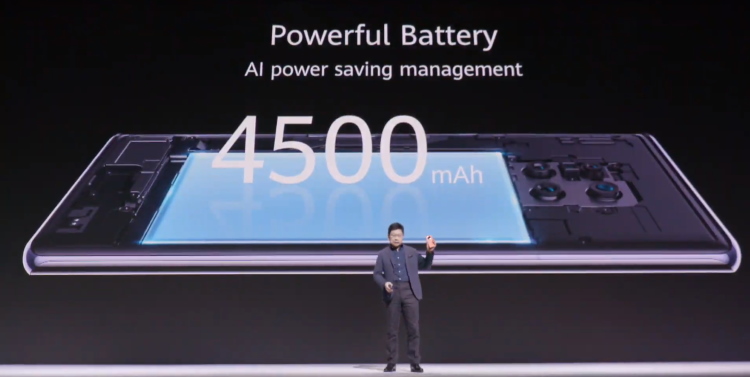 Even if the Mate 30 Pro dies on you while gaming, you have got a super-fast wired and wireless charging technology onboard. It supports 40W wired SuperCharge and 27W wireless fast-charging support, which is just outstanding. Huawei has baked inside a "Graphene Film Cooling Technology" to keep the temperature in check, keeping the device up to 3.9-degrees cooler as compared to other flagships.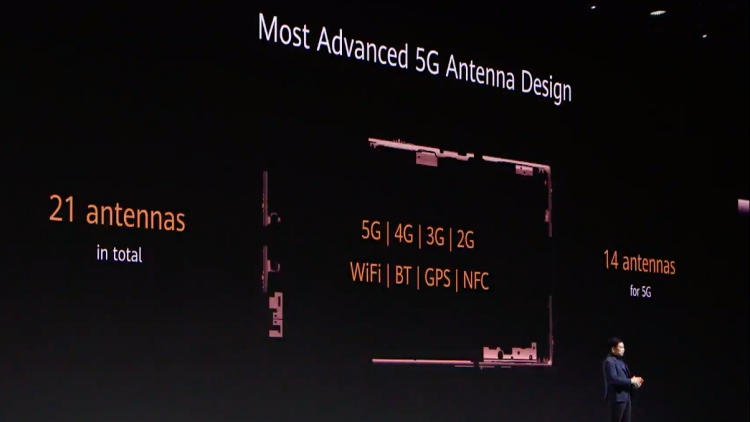 In terms of connectivity, Mate 30 Pro boasts that it has the "most advanced antenna" design and houses 21 antennas in total. Out of these, 14 antennas will be employed for enhanced 5G connectivity. It also supports the most number of 5G bands to provide the most reliable connectivity around the globe, with seamless dual-SIM 5G-enabled calling experience. It includes the same dual nano-SIM tray that we saw on Huawei's P30 Pro.
Mate 30 RS Porsche Design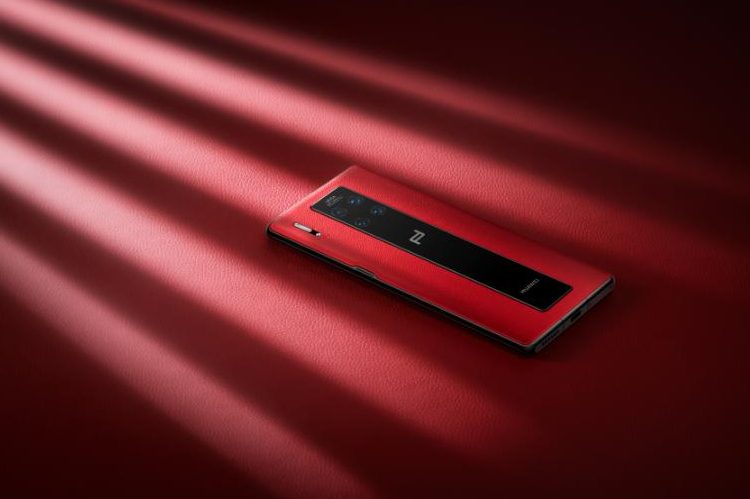 Just like the previous year, Huawei also unveiled a new Porsche Design flagship at its Munich event. Mate 30 RS Porsche Design features premium hand-crafted leather on the rear, which encases the glass panel at the center (inspired by race car tracks), housing a quad-camera setup we just saw on the Mate 30 Pro.
The Mate 30 RS Porsche Design is a premium incarnation of the flagship Mate 30 Pro, so we don't really need to talk about the specifications. You get the same internals as your Mate 30 Pro flagship, including the powerful chipset, quad-camera, and all the goodness we've already talked about.
The beautiful Mate 30 RS Porsche Design will come in two colors, Red and Black, with an exorbitant 2,095 euros (around Rs. 1,65,250) price tag.
Mate 30 Pro: Price and Availability
Huawei Mate 30 Pro has been priced starting at 1,099 euros (around Rs 86,500) for the 8GB+256GB base variant without 5G connectivity. You will have to shell out 1,199 euros (around Rs 94,500) for the 5G-enabled variant, which is quite similar to the Galaxy Note 10+ 5G variant.
It comes in four new shiny color variants namely Space Silver, Cosmic Purple, Emerald Green (this variant has a dual-tone finish with a matte finish at the bottom that blends seamlessly into the glossy upper half), and Black. Huawei introduced 2 'Vegan Leather Edition' Mate 30 Pro variants as well and they come in Orange and Forest Green colors.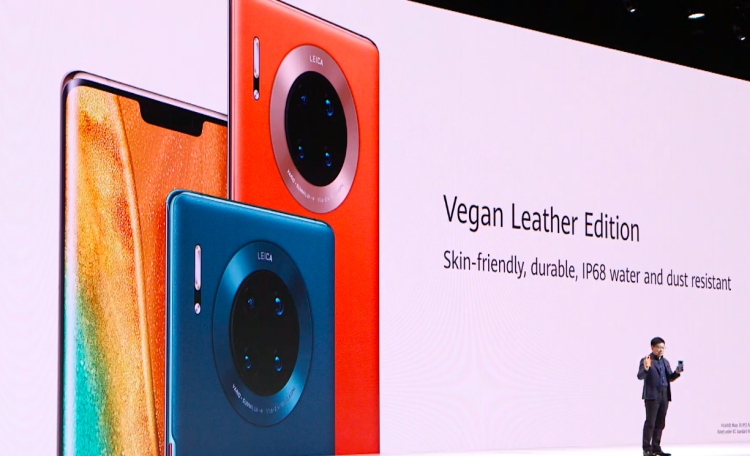 Huawei has already confirmed that Kirin 990-powered smartphones would soon land in India, so there's a possibility that Mate 30 Pro, without any Google apps or services, is going to land in India in the next couple of months. Would you be interested in buying Huawei's latest flagship? or would you skip it for, let's say, OnePlus 7T? Do share your opinions with us in the comments below.