Huawei is hell-bent on revolutionizing smartphone photography, making it simpler for the average consumer to capture DSLR-like images. The Pixel 3 was the best camera device to date for this purpose, however, Huawei's latest flagship smartphone – the Huawei P30 Pro has debuted with some impressive camera hardware and capabilities that would blow your socks off.
The Huawei P30 Pro is expected to make its Indian debut next week, on April 9th, with the company's most powerful processor, quad-cameras that can zoom up to 50x to enable you to capture even the moon closely, an exciting gradient design, and snappy user experience all bundled in a single smartphone.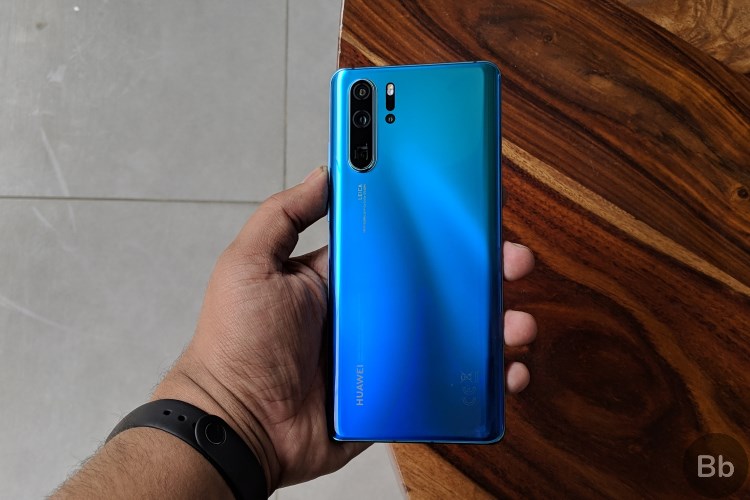 Huawei was kind enough to send us the P30 Pro and we have the stunning Aurora variant with us, which reflects light to show off this dual-blue gradient shade. I've been using the Huawei P30 Pro for exactly 24 hours and here's my initial impression of the device:
Huawei P30 Pro: Specifications
Before we talk about my initial impressions of the Huawei P30 Pro, here's a quick look at the key specifications of the device:
| | |
| --- | --- |
| Dimensions | 158 x 73.4 x 8.41 mm |
| Weight | 192 grams |
| Display | 6.47-inch Full-HD+ OLED |
| Processor | Kirin 980 |
| RAM | 8GB |
| Internal Storage | up to 256GB |
| Rear Cameras | 40MP (f/1.6) SuperSpectrum + 20MP (f/2.2) ultra-wide + 8MP (f/3.4) telephoto |
| Front Camera | 32MP (f/2.0) |
| Operating System | Android 9 Pie-based EMUI 9.1 |
| IP Rating | IP68 |
| Connectivity | Wi-Fi 802.11ac, Bluetooth 5.0 BLE, USB Type-C |
| Sensors | Ambient Light, Gyroscope, Compass, Proximity, Gravity Sensor, Infrared, Colour Temperature Sensor |
| Battery | 4,200mAh |
| Colors | Breathing Crystal, Aurora, Amber Sunrise, Pearl White, Black |
Huawei P30 Pro: Design and Build
The Huawei P30 Pro is a visually stunning device and you'll notice that the moment you take it out from the box and remove the plastic wrap that secures it. This smartphone is building on the excellent design of Huawei's previous flagship, the Mate 20 Pro, and I'm loving what I see.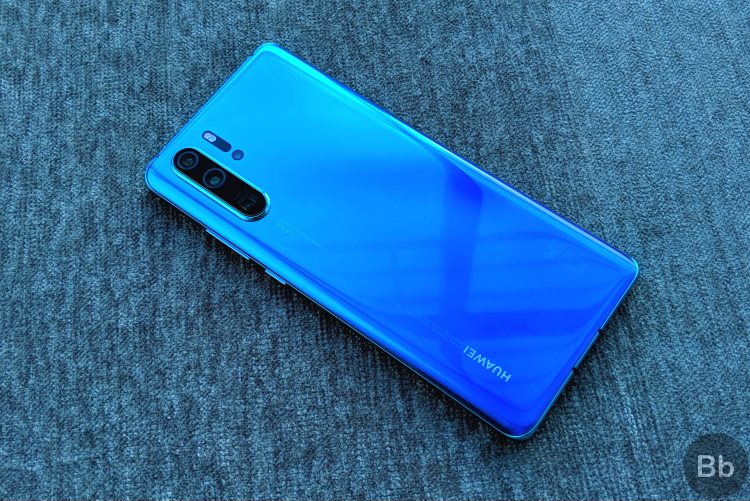 Huawei states that the colors of the beautiful gradient glass panels on the P30 Pro are derived from nature, specifically the salt flats and how the day goes by there. The comfort and in-hand feel of the device feels pretty much like the Mate 20, which implies that the P30 Pro is quite sturdy and does have some heft to it. It is IP68 certified and has wireless charging, as well as reverse charging capabilities in tow as well.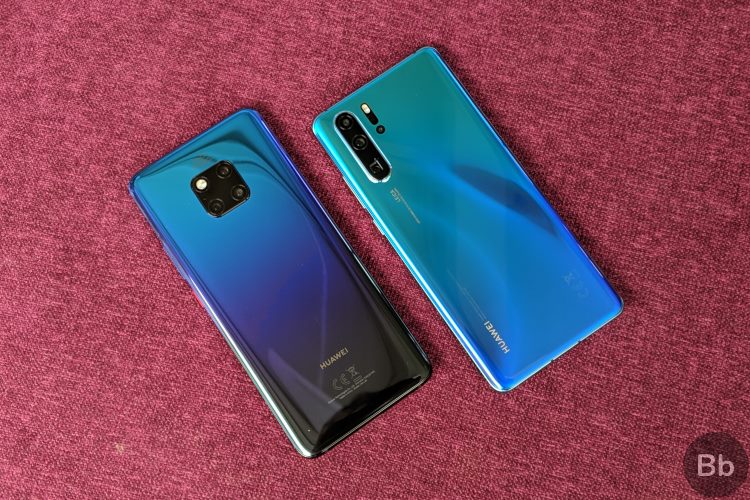 It makes you feel as if you are holding something substantial, yet delicate in your hands. There's also a stunning feat of technology, the Leica-branded quad camera setup on the rear that's placed vertically. Even though there's a lot of advancements crammed in this camera setup, the bump isn't huge and a case only further prevents it from scratches.
As for the ports and buttons, the latter are quite tactile and I love the red indent in the power button. They are also located at an appropriate position, whereas the former is a lone wolf. There's only a USB Type-C port at the bottom and no 3.5mm headphone jack. There's a speaker grill and SIM tray at the bottom as well, with the IR blaster and noise cancellation mic sitting up-top.
Turning our attention to the front, the Huawei P30 Pro includes a gorgeous display with smaller bezels (more on this below) and improved in-screen fingerprint scanner in comparison to the Mate 20 Pro. The fingerprint scanner on P30 Pro is an optical one (not the ultrasonic sensor we've seen on the Galaxy S10 Plus) and it's placed lower this time around.
It takes a while to set up, as is the case with most optical in-display fingerprint sensors, but works quite flawlessly. The unlocking process has been snappy and reliable. I haven't hit a snag, where I had to use the pattern so far, and the speed seems pretty comparable to latest Vivo smartphones.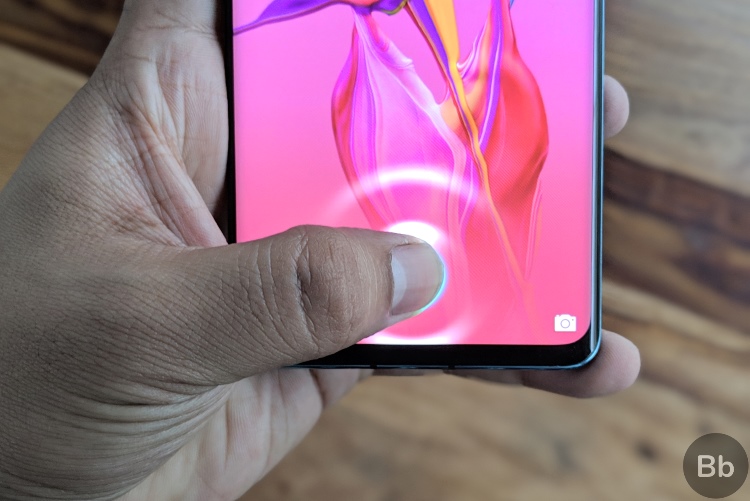 Huawei P30 Pro: Display
The massive 6.47-inch curved OLED panel is one of my favorite characteristics of the Huawei P30 Pro. The company has done away with its Apple iPhone X-style notch with all the necessary hardware to enable 360-degree face unlocking feature on the P30 Pro. It's adopted the trendy dewdrop notch for an unobtrusive experience and I really like how it makes the front of the device look – taller and beautiful.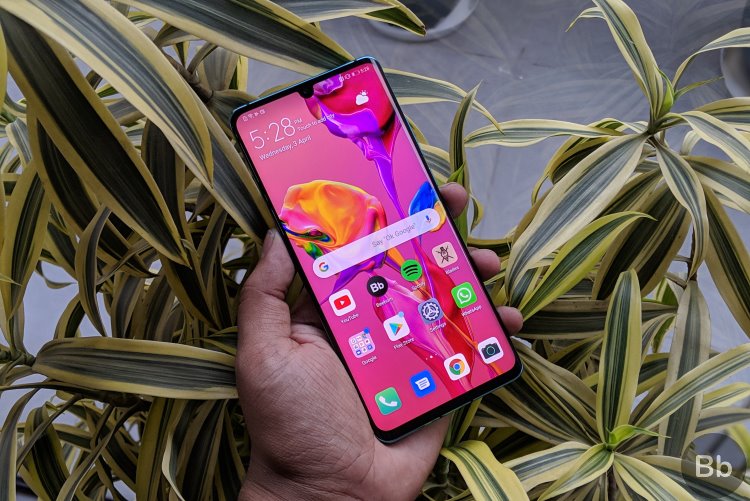 The Full-HD+ OLED panel, with a 19.5:9 aspect ratio and a 2340×1080 pixels resolution, looks pretty awesome, with punchy colors, deep blacks, and amazing brightness. There's minimal bezels at the top and bottom, similar to the Galaxy S10, and it looks pretty good for the brief time that I've spent with it.
Huawei P30 Pro: Cameras
Stepping up from its previous flagships, Huawei P30 Pro carries a Leica-branded quad-camera module which has a primary 40MP (f/1.6) SuperSpectrum sensor (with an RYYB  Bayer filter), a 20MP (f/2.2) ultra-wide angle camera (with more than 120-degrees FOV), an 8MP (f/3.4) telephoto camera (with the 10x SuperZoom capability) and finally a Time-of-Flight (TOF) camera. The TOF camera is currently used to better low-light photos and portraits, but will later come in handy for AR applications as well.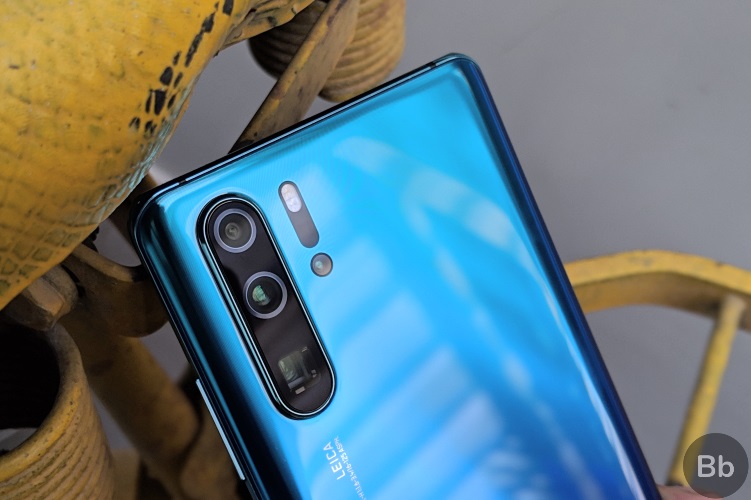 You can learn more about the quad-cameras on the Huawei P30 Pro using this link right here. There's also a 32MP (f/2.0) selfie camera on board, check out the camera samples captured by us right here:
The biggest highlight of the P30 Pro camera, however, will have to be its insane zooming capabilities. You have 5x optical zoom, 10x hybrid "almost lossless" zoom, and even 50x digital zoom available on this smartphone. I've been playing with this feature since I got my hands on the P30 Pro and my initial impression is my jaw hitting the floor. Here are a couple of samples:
If you want to check out some more awesome 50x camera samples, here's our YouTube video straight from Paris:
So the cameras here look promising, but obviously, I'll be testing them out thoroughly and comparing them against other flagship smartphones. Keep an eye out for our full review to get a more detailed look at the camera performance on the P30 Pro.
Huawei P30 Pro: Performance & Software
Though you may already know, still let's recap once again. Huawei P30 Pro is powered by the company's in-house 7nm Hi-Silicon Kirin 980 chipset, coupled with up to 8GB of RAM and up to 256GB of internal storage. This is Huawei's most powerful and capable chip to date and I've encountered no hiccup in the performance in the past 24 hours for which I have had the device.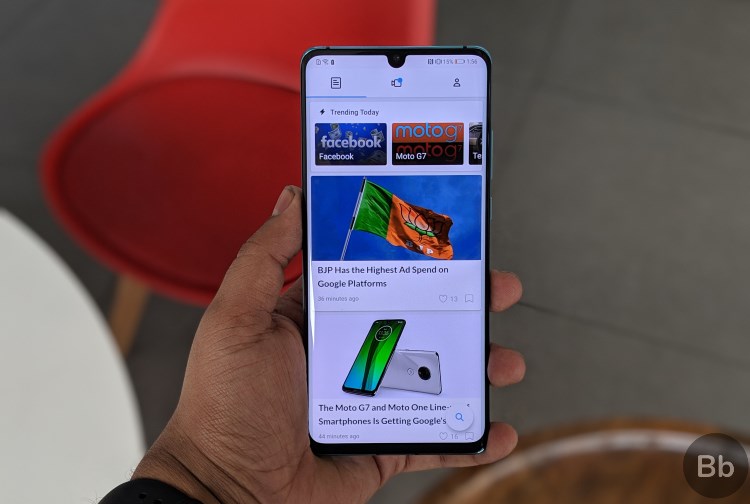 I understand that you want to learn how gaming on the P30 Pro feels like, but I haven't gotten around to testing that just yet because of the cameras on board. I will tell you all about it in our in-depth review.
As for the software, Huawei P30 Pro comes backed by EMUI 9.1, which is Huawei's custom take on Android and it's the only smartphone to come pre-loaded with this new variant of the skin. It's based on Android 9 Pie and loaded with features to the brim and I'm still to dive deeper to explore all of them. I mean, 24-hours is not really enough for that.
Huawei P30 Pro: Battery
The Huawei P30 Pro carries a massive 4,200mAh battery pack but still manages to keep the thickness at around 8mm, which is pretty impressive. The smartphone doesn't even feel heavy and is comfortable to use too. You should be able to extract up to a complete day of usage from this battery pack on a single charge, without having to push the limit.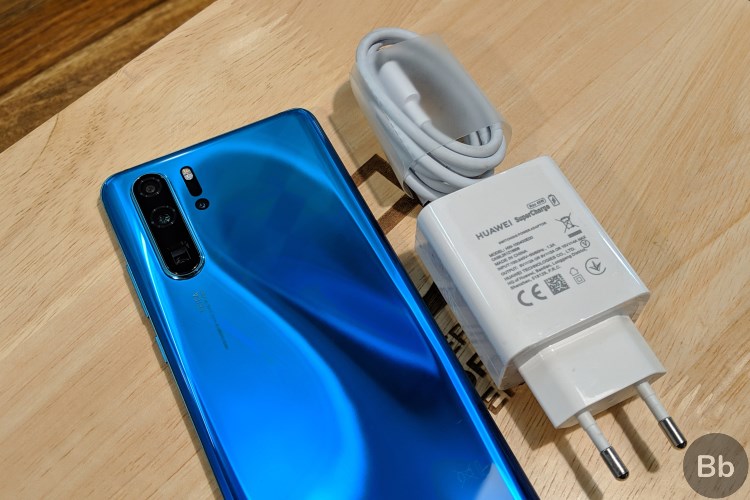 And even if you completely drain the battery by playing a ton of PUBG Mobile or viewing BTS videos (something that I've been doing, of recent), the 40W SuperCharger bundled with the P30 Pro will allow you to fill close to 75% of your battery in just 30 minutes. It's the same as the Mate 20 Pro and the charging power also hasn't been bumped to 50W or higher.
SEE ALSO: Everything You Need to Know About Huawei P30 Pro's Quad Cameras
Huawei P30 Pro First Impressions: That Camera is The Bomb!
Huawei P30 Pro offers you endless possibilities and I stand by this statement, right from this hands-on impression. I say that because of the jaw-dropping and mind-boggling (oh yeah, one adjective felt lacking) camera prowess of the smartphone. It seems to throw a challenge to its competitors in this department, while packing all necessary features and many over-the-top ones too.
Now, all that's left to see is whether Huawei P30 Pro is the best flagship smartphone out there or will Samsung manage to hold onto its crown? We'll explore the same in our in-depth review, coming very soon, so stay tuned.