Apple's new MacBooks run on the company's in-house Apple M1 chips based on the ARM architecture. While this means a lot of great things for battery life and overall efficiency, it also means that macOS can now run iPhone apps as well. However, a lot of iOS apps are touch-optimized and the Mac doesn't have a touch screen. So, if you want to play Among Us or something similar on your M1 MacBook, here is how to use touchscreen apps with keyboard and trackpad on M1 MacBook Air and Pro.
Use Touchscreen Apps with Keyboard and Trackpad on Mac
Since MacBooks don't have a touchscreen, Apple has tried to figure out a way for you to use touch optimized apps on macOS. It's called Touch Alternatives, and in this article I will show you how to enable and use touch alternatives in macOS.
How to Enable Touch Alternatives
Surprisingly, there's no dedicated preference pane or something similar for touch alternatives in macOS. The only way to enable this feature is when you're using an app that supports touch inputs. For example, games like Among Us, Crossy Road, and others that you download from the App Store will let you do this.
Launch the app you want to use touch controls with. In this example, I'm using Among Us to enable the feature.

Click on the app's name in the menu bar.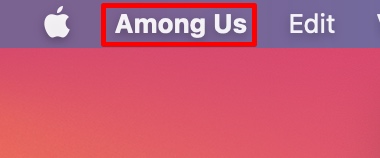 Here, click on 'Touch Alternatives'.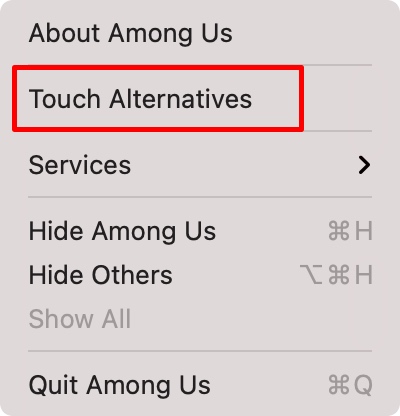 Your Mac will show you the touch alternatives baked into macOS for using touch-optimized apps using a keyboard and a trackpad, and you can now use touch alternatives to interact with the app.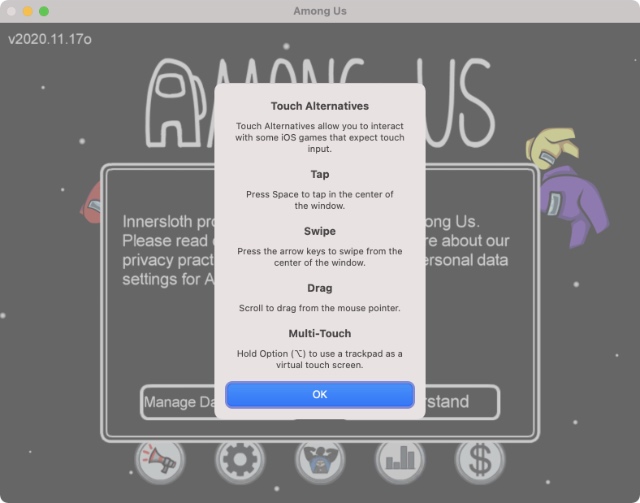 Touch Alternatives Key Mapping
Once you've enabled touch alternatives, you will not be able to see which keys do what. That's because macOS only shows the touch alternatives help menu once, when you first launch the app.
In case you didn't take a screenshot of the touch alternatives you can use, we are listing them here for your convenience.
Space bar: tap in the center of the window
Arrow keys: swipe from the center of the window
Scroll: drag from the position of the mouse pointer
Use trackpad as multi-touch area: press and hold the option key ⌥. You can now use the trackpad as a multi-touch area for the app.
You can also get this touch alternative key-mapping screen to show up by installing another touch-optimized app and enabling Touch Alternatives.
Use iPhone Apps with Keyboard and Trackpad on M1 MacBook
That's pretty much everything you need to know about using touchscreen iOS apps with keyboard on your M1 MacBook. Thanks to the built-in touch alternatives feature, you can use touch-only apps on your Mac as well. There is a learning curve involved, especially if you want to use touch-optimized apps with your Mac keyboard and touchpad all the time, but for the most part, if you're trying to use iPhone or iPad apps on your Mac, touch alternatives is a pretty solid way of getting it to work.
What do you think about touch alternatives on Mac? Have you used any iOS apps on your laptop yet? Let us know your experience in the comments below.
---
Load More