Google Bard has finally brought extension support, and it works similarly to how ChatGPT plugins add value to the AI chatbot experience. However, unlike ChatGPT which has thousands of third-party plugins, Google has only added its services, including Google Flights, Hotels, Maps, YouTube, and Workspace (Gmail, Drive, and Docs) to Bard. Despite limited extensions, it works surprisingly well as Google has well-built services around many utilities on the internet. Best of all, none of your personal data from Gmail, Docs, and Drive is used to train the model or seen by human reviewers. So, on that note, let's jump in and learn how to use Google Bard extensions.
How to Enable Extensions on Google Bard
1. Open Google Bard (visit) on your computer or smartphone.
2. A pop-up introducing you to Bard Extensions should appear on your screen. Click on "Next".
3. Now, click on "Show me more".
4. After that, click on "Continue" to close the info panels.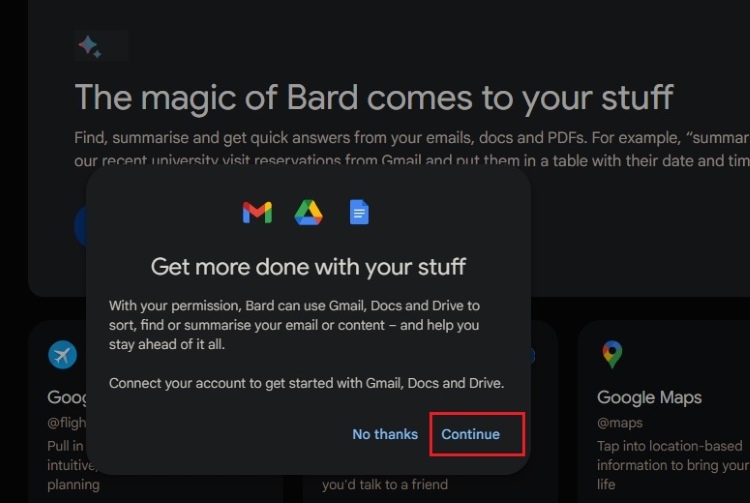 5. Finally, click on "Connect" to integrate Bard with Google Workspace.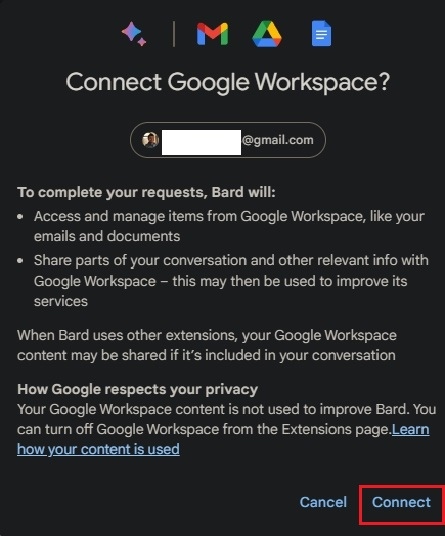 6. And there you have it! All Google services, including Gmail, Drive, Docs, YouTube, Maps, etc., will be linked to Bard. Keep in mind, your personal data is not used to train Google Bard.
7. If you want to disable Extensions on Google Bard, move to this page (visit) and turn off all the toggles one by one.
How to Use Extensions on Google Bard
Now that you have connected your Google account to Bard and authorized it to pull data from different companion services, let us have a look at some examples:
1. For starters, I asked Google Bard to check if my courier has been delivered or not using Gmail. And it accessed my Gmail account and accurately displayed the answer. Great start!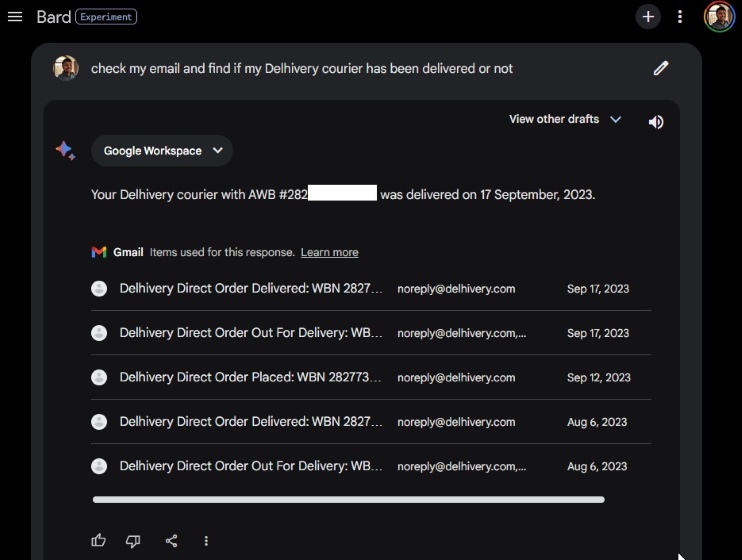 2. You can also type "@" in the input text box to choose an extension of your choice.
3. Next, I asked Bard to find me the cheapest flights from New Delhi to New York using the Google Flights extension.
4. I continued the conversation and asked Google Bard to find me an affordable stay in New York. This time I didn't mention the extension explicitly, but it automatically used the Google Hotels extension for the said date and showed results.
5. After that, it created an itinerary using Google Maps right inside of Bard. Impressed yet?
6. Following that, upon asking, Bard scanned my Google Drive, found an article I had written for Beebom, and summarized it for me. Quite useful, right?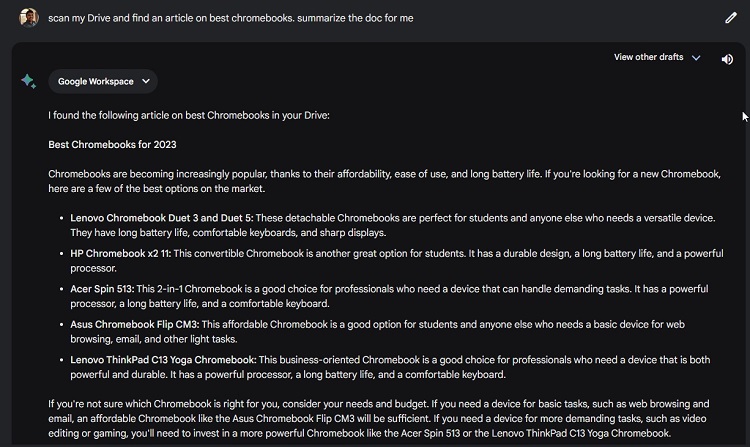 So yeah, extensions in Google Bard can help you simplify your day-to-day activities and even automate some of the tasks. Have you tried out extensions in Bard? Share your experience with us in the comments below.
---
Load More