Keeping track of your paper bills and receipts can be a huge inconvenience, since there's always a chance of them getting lost or crumbled. Thankfully, modern day apps available on smartphones have made life much easier. On Android smartphones, there are some very cool document scanner apps, which let you organize bills and receipts easily. So, if you have been wondering about a way to manage your bills & receipts digitally on your Android smartphone, here's how you can do it:
1. Organize bills with CamScanner
CamScanner is arguably the best document scanner app available for Android and you should definitely use it to scan your bills and receipts. The app has the ability to scan documents, receipts, business cards, notes on whiteboard, contracts or paperwork, certificates, ID cards and more.
To start scanning, simply open the app and hit the floating camera button, which will open the camera viewfinder. You can check out options like flash, orientation etc. to make sure that you capture the best picture. Then, hit the capture button and CamScanner will automatically crop the paper from the background.
Once you have adjusted the crop, hit the tick button and the app will optimize the scan in Auto mode. There are options to lighten the scan, add color, change it to B&W and more. After you are done taking the scan, you can add annotations, watermark and notes to the image. So, you can add the details of the bill through notes or annotations and save it.
2. Extract texts using Text Fairy
There are times when we need a particular info from a bill or receipt as text. Well, most document scanner apps also include the ability to extract text from images. While CamScanner includes the text extraction feature in the free version, it does not include the ability to save it as .txt file or edit it. You can go ahead and upgrade to CamScanner's Premium account subscription ($4.99/month) that brings the feature. However, if you are looking for a free solution, you can use Text Fairy.
Text Fairy is a simple app that lets you extract text from an image and save the text in a .txt file. After you have installed the app, open Text Fairy and hit the camera button on the top right. Take the picture of the receipt or bill and then, crop it to include all the text you want. The app will then ask you to select if the image has one or more than one column and language of the text in the image. Select the options according to the image you have and tap "Start".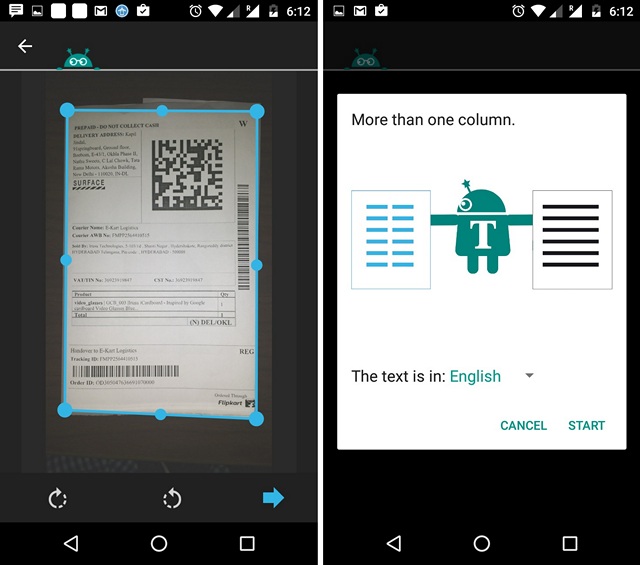 If you have selected the "more than one column" option, the app will prompt you to select the columns in the image you want the text from. Select the columns and tap "Start text recognition". The app will then start reading text and once it's done, the document will be saved with the extracted text. Keep in mind though that the text extracted will not be as good as the picture.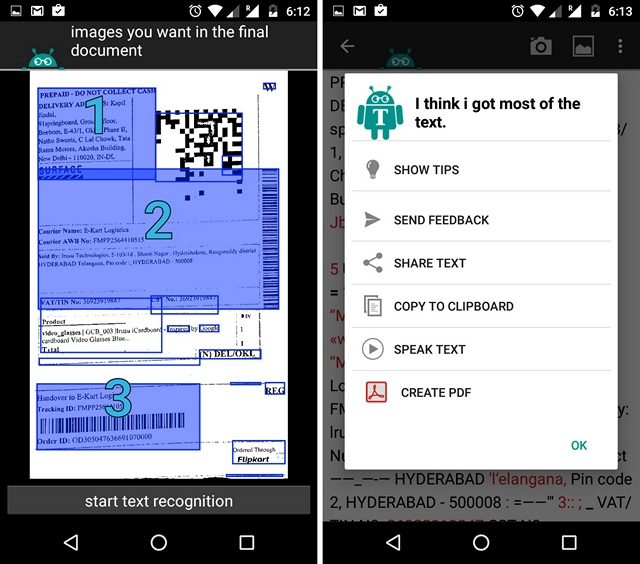 You can then easily copy text, share them and the app even includes ability to speak the text, create a PDF file out of it. So, the conclusion is you can easily extract important texts from your bills and receipts using Text Fairy.
3. Export the digital bills and receipts to cloud storage
After you have made digital copies of the bills and receipts, you should move them to a cloud storage, so that you can access them from anywhere you want with ease. CamScanner includes support for most of the popular cloud storage services including Box, Google Drive, Dropbox, Evernote and OneDrive. However, if you don't want to rely on a third party app, CamScanner also offers its very own cloud storage services. You can easily get up to 1 GB of free free cloud space from CamScanner by registering on the app, writing a review, sharing it and following them on social media.
To export your bill/receipt files to cloud storage, go to CamScanner Settings->Doc Export and tap "Manage Accounts" and then, select the cloud storage service you want.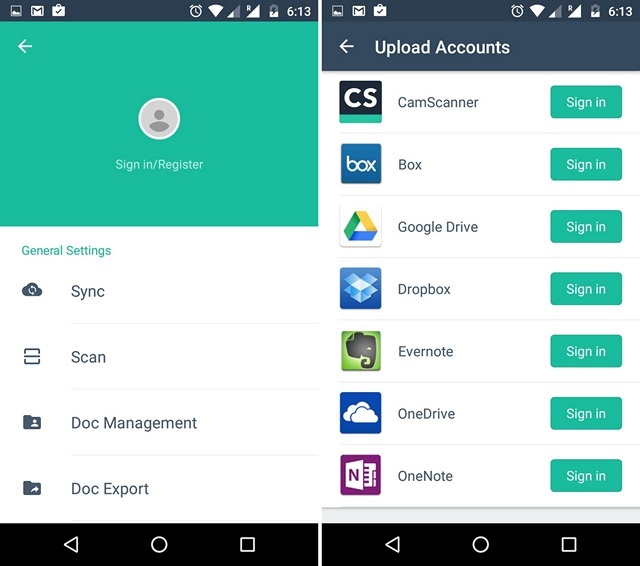 SEE ALSO: 9 Tips to Survive on Limited Internal Storage on Android
Organize your bills and receipts digitally with ease on Android
It's pretty easy, right? Thanks to the cool Android document scanner apps mentioned above, organizing a bill or receipt is a breeze. So, go ahead and start converting your physical bills to digital ones and do let us know if you have any doubts. We'll be happy to help!