The ability to record calls on your Android device is a feature which only a few smartphone manufacturers include by default. Since call recording is illegal in many countries, it deters manufacturers from including this service by default. While I can understand why these laws exist, I cannot deny the fact that call recording is a very handy feature to have. I personally record all my work calls just to make sure that I never forget what was discussed. That's why I was so happy when Truecaller (free, in-app purchases), which is the most popular callerID app in the world, started supporting the call recording feature. If you didn't know this before, stick around, as we show you how you can record calls using Truecaller on your Android device:
Record Calls on Android Using Truecaller
While the Truecaller app is available on both Android and iOS platforms, the call recording service is currently only available on Android devices. Also, not all the devices are supported equally so you will have to test it on your personal device to see if the feature is working properly or not. You can find the list of currently supported and unsupported devices in the table below.
Supported Devices
Unsupported Devices
Samsung Galaxy S8, S9, S9+
Nexus devices
Huawei P10 Plus
Pixel devices
Xiaomi Redmi Note 3
All Android 7.1.1 devices
Oppo F1s
Motorola G4
Oppo A57
(Automatic mode may be glitchy)
Vivo 1713
LG G5
Samsung J7 6.0.1
Samsung J2
Samsung J7 MAX
Wileyfox Swift 2
Intex Aqua Lions X1+
OnePlus 2
Do note that this is not an exhaustive list by any means, and if your device is not in either of the lists, you will have to install the app and check it out for yourself. With that said, let's see how we can use this feature:
Recording Calls Using Truecaller
Download and install the Truecaller (free, in-app purchases) app if you have not already done so. Once, you have done that, launch the app and tap on the hamburger menu at the top left.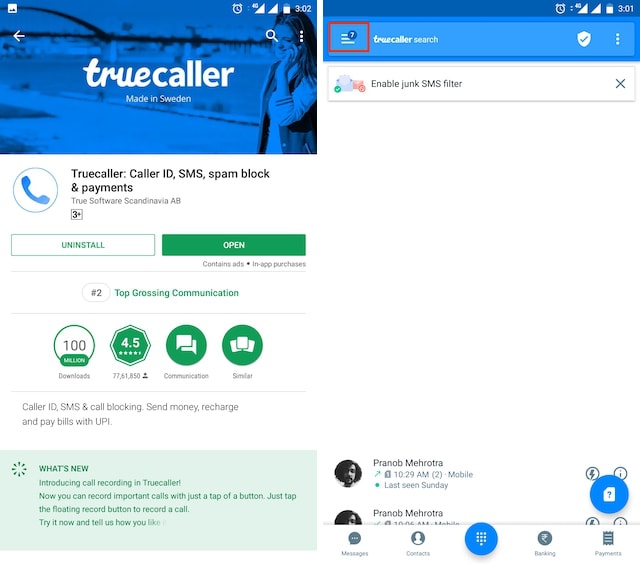 2. Now, tap on "Settings" and then on "Call Recording".
3. Note that call recording is a paid feature but you do get a 14-day trial period to test the feature out. Tap on the "Start" button to start your free trial.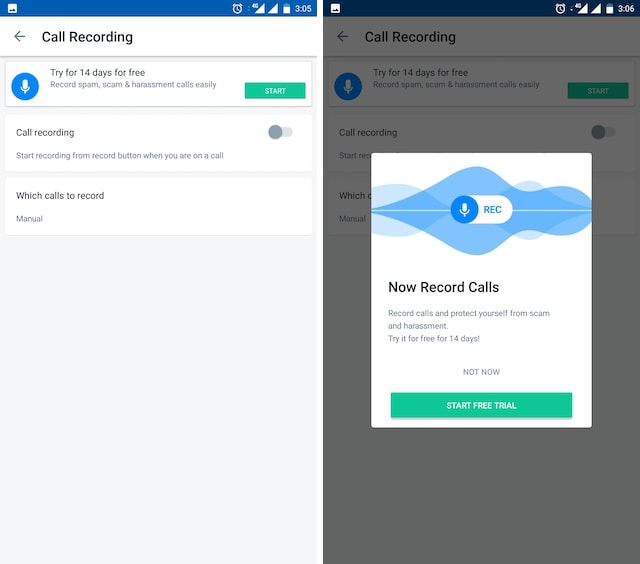 4. Now, the Truecaller app will ask certain permissions which you will need to grant if you want the app to record the calls. Once you grant these permissions, the app will be ready to record calls.
5. After granting necessary permissions, just flick the switch next to "Call recording" and select whether you want to manually record the calls or enable automatic recording for all calls.
6. If you want to listen to your recordings, you can find them under "Call Recordings" in the hamburger menu.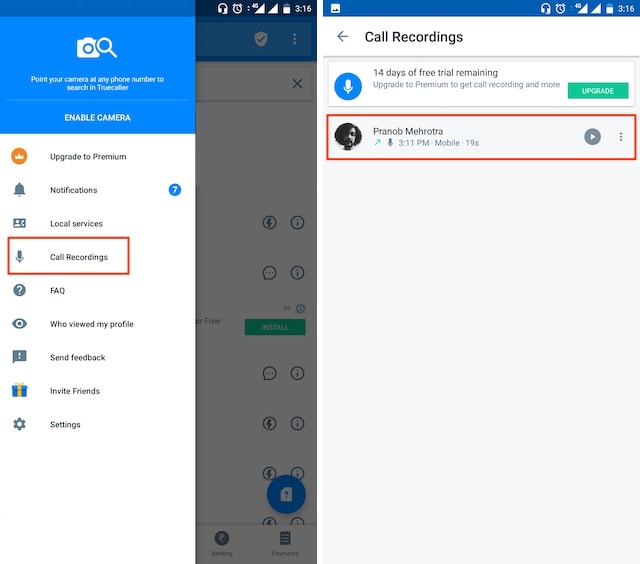 I tested this feature on my personal OnePlus 3 and it works extremely well. In fact, this was one of the best call recordings I have gotten using any third-party app. Also, if you checked the list closely, you will notice that the OnePlus 3 was not on it, and yet, the feature worked flawlessly for me. Do note that this feature is not free. You can check it out using the 14-day free trial after which you will have to pay ₹49/month to keep using this feature.
SEE ALSO: 10 Best Call Recorder Apps for iPhone in 2018
Record Calls on Your Android Device Using Truecaller
As you can see, once you have set up call recording with Truecaller, it works automatically and flawlessly. That said, you will have to check if the service is working for your specific device or not. Once you test it out, do share your device name and the working status of the feature in the comments section below. It will really help future readers as they will be able to check if their device is supported or not.
---
Load More