The trend in the market of tablets, smartphones, ultrabooks, notebooks changing day by day and competition getting tough with each release. The technology giants like apple and Google giving head to head competition to get crowned as the king of market share. In this clash  of  the titans when it seemed that Microsoft was loosing the battle with its aging windows 7,  suddenly Microsoft has fought back with its brand new operating system windows 8.
Microsoft has now become the first ever company to launch same line up of  operating system in tablets, smartphones and PC which is the most dynamic gadgets category today in the world of technology.
Windows 8 is a brand new operating system. It takes all the advantages of the Microsoft ecosystem be it the apps of windows market place, the old windows 7, the brand new tile user interface from windows phone, most useful Microsoft office, xbox games integration, skydrive etc. etc.
It is optimized to touch screen as well as for touch pads so you won't get disappointed in any case.  The most important that Microsoft has learnt from its past versions,  for eg. Windows 7 took half or a minute to boot, the most disliking feature on a conventional laptop. But now the boot time is reduced to 20 seconds or so. Moreover now it doesn't become slow with time.
There infinite reasons a normal windows 7 user would love to try windows 8.  Let's unveil them all gradually. This is the detailed review of windows 8 boot
First impression when you boot windows 8
Windows 8 is blazingly fast when it comes to booting. On a laptop having conventional hard disk it boots as fast 15 seconds ( as if resuming after hibernate mode).  Here are my stats as compared to windows 7 on a conventional hard disk , 2 ghz core 2 duo with 4 gb RAM

This comparisons is enough to explain what Microsoft has certainly optimized windows booting time taking care that booting doesn't delay with period of time. Note that SSD hard disks will certainly have even less than 10 seconds booting time making it fastest ever windows booting.
Well Microsoft has not just worked on booting but it has worked a lot on user interface. When you start any windows 8 machine, you are greeted by a pleasant lock screen.
This lock screen has a few features.
It is customizable ie. You can set your favorite picture as lock screen.
It offers you notifications and quick status of apps which you choose to run in background.
It shows the detailed status of any app say weather.
A new feature called picture password has been added. It allows user to unlock account using a combination of dots, lines and circles on your favorite picture. Although this feature is more usable in touch screens but touch pads are also capable of using feature but it requires practice.
How to change lock screen and picture password using simple steps
Lockscreen
Move cursor to upper right or lower right corner and press settings icon.
Choose change pc settings->personalize
Choose lock screen tab on right side of screen
Picture password
Move cursor to upper right or lower right corner and press settings icon.
Choose change pc settings->users
Select create picture password under sign in options on right side.
Enter password and choose picture.
Use combination of 3 (dots, lines and circles) and verify again by drawing same pattern.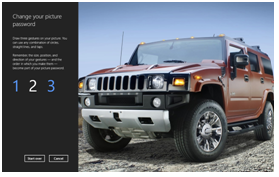 There are many features which tempt people to use and feel it. Stay tuned for more how tos and reviews.