Android has always been panned for being a resource hog and for its inconsistent performance, even on high-end powerful devices. Well, things have certainly improved with Google optimizing Android's performance with every new iteration. However, Android still has a long way to go before it reaches iOS-level sleekness (Sorry Android fans!). So, if you feel your Android smartphone or tablet has slowed down considerably over the past few months, here's how to speed up your Android device.
There are plenty of ways through which you can speed up your Android device and these include options inside Android settings, third party apps and more. So, without any further ado, let's find out the best ways to speed up your Android device:
1. Remove Bloatware
Installing a plethora of apps on your Android device certainly slows it down. Also, Android devices from manufacturers like LG, Samsung, HTC come with their own skins on top of stock Android, which include a lot of gimmicky apps that don't necessarily come to good use. While you cannot completely uninstall these "system" apps unless you root the device, you can disable them, which makes sure these apps are not seen and they don't run in the background or take up any cache/storage data.
You can disable an app by going to Android Settings->Apps and select the app you want to disable. In the app info page, hit the disable button and select "Disable App" in the prompt to disable the app. To know more about removing bloatware, check out our detailed post on how to remove bloatware on Android device.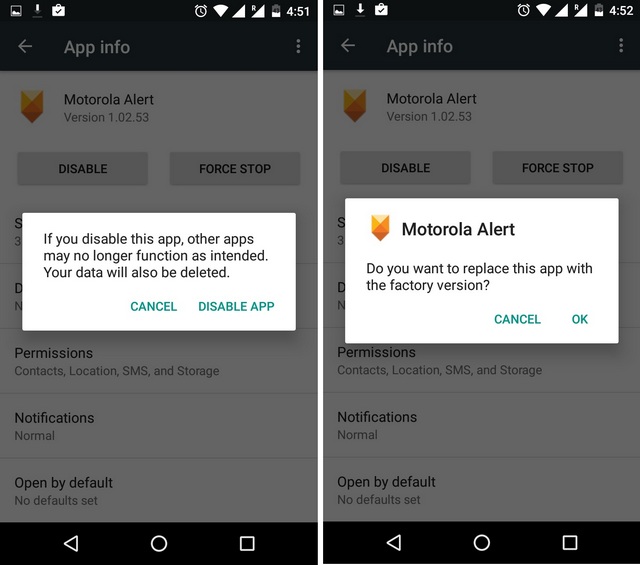 2.Disable or Speed-up Animations
The various animations and transitions on Android do look cool but they also take a toll on the device's CPU and RAM. On Android, you can easily tinker with the speed of the animations and even disable them. To do it, go to Settings->Developer Options and scroll down to find options like "Window animation scale", "Transition animation scale" and "Animator duration scale". You can then either turn them off or set them to o.5x for better performance. 
Note: To enable Developer Options, go to Settings->About phone and keep tapping "Build number" until you get the message saying "Congrats! You're now a developer".
3. Clear RAM
High-end Android smartphones these days pack 4 gigs of RAM, which speaks volumes of Android's memory optimisation. So, if you have an older Android smartphone with lesser amount of RAM, you will need to clear some memory to get the best multitasking performance. While Android skins from manufacturers come with an option to kill all tasks to clear RAM, stock Android does not offer such a straightforward approach. Instead, you can go to Settings->Memory and tap on "Memory used by apps" to see the apps that are most RAM hungry. You can then easily "force stop" apps to clear off RAM. You can check out other ways to clear RAM in our detailed post on best ways to clear RAM on Android.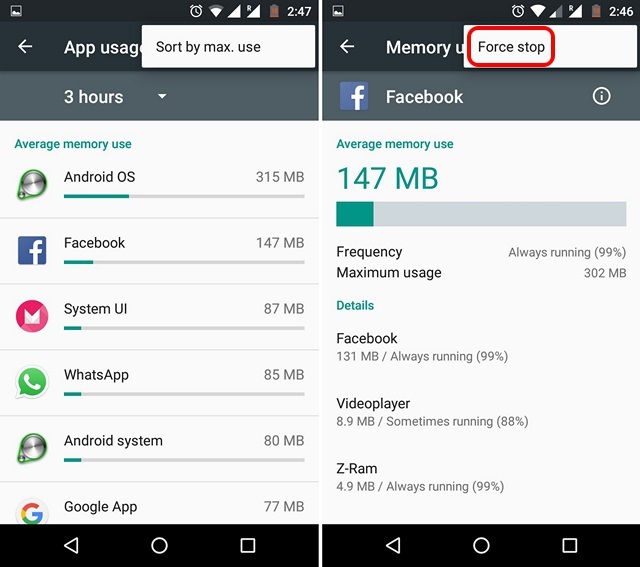 4. Clear App Caches
An app's cache data isn't necessarily bad for the smartphone's performance, as caches are generally some of the app's data to save on your load time every time you open the app. However, cache data of apps that you don't necessarily use can put a strain on your device's performance and also take up unnecessary space on your device's internal storage.
To clear an app's cache data, go to Settings->Apps and select the app you want . Then, go to "Storage" and tap on "Clear Cache".
5. Free up storage
If your Android device's storage is on the brink of getting full, it's no surprise that it might be slowing down. Also, there are plenty of junk files from older apps that you might have not removed, which also acts as a catalyst in slowing down your device. So, if you want your device to be running consistently smooth, you should make sure that there's enough free storage. To know the various methods to free up internal storage, check out our 9 tips to survive on limited internal storage on Android.
6. Use a different launcher
Android skins like TouchWiz, Sense, MIUI can get laggy at times, especially on smartphones featuring modest specs. Thankfully, there are tons of cool Android launchers available on the Play Store. While some of these launchers are aimed at making your homescreen more functional, some just make sure you get the best performance. For instance, launchers like Nova let you customize every little detail and they are also very light on the resources.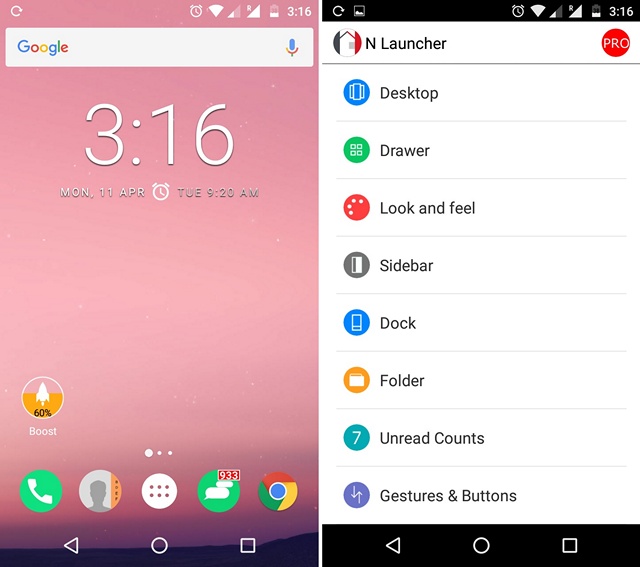 7. Steer clear of Live Wallpapers and Extensive Widgets
There are some very beautiful Live Wallpaper apps available for Android and while they look beautiful, most of them are pretty heavy on the CPU and take up a good amount of RAM. So, get rid of that live wallpaper you might be using and you should definitely see some improvements in performance. You should also steer clear of using a lot of widgets on the homescreen, as they constantly take up resources to bring a lot of info right to your homescreen.
8. Format your device
Formatting your device isn't the best way to speed up your Android device but you could do it from time to time. Doing a factory reset on your Android smartphone will make your device a clean slate, which means your device will perform like it was new. You can then install apps with care and make sure your internal storage is never too loaded for the best performance.
To factory reset your Android device, go to Settings->Backup & reset->Factory data reset and tap "Reset Phone". Before you do it, don't forget to make a backup of all your files on the device.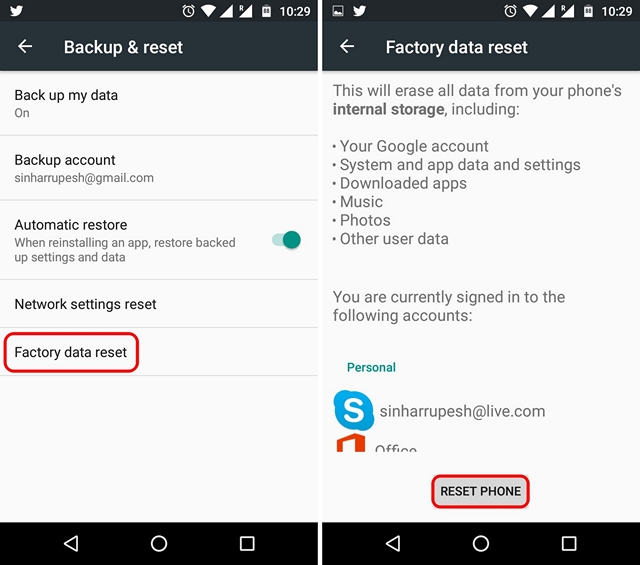 Bonus: Root your device
This method is certainly not for the faint heart, as rooting an Android device brings its own set of problems. However, rooting also opens gates to various options like overclocking, performance booster mods & kernels, several cool apps and more. Also, don't forget that you will be able to install custom ROMs that are light and would run flawlessly on your device.
SEE ALSO: How To Make Your Android Phone Battery Last Longer
Ready to get things to speed on Android?
Frankly, you might have to take up all of these ways to effectively speed up your Android device. So, you should give them a shot and see if your Android device starts performing better. Also, there are third party booster apps that claim to boost your device's performance, however, we don't really have a liking to them. If you must, you can check apps like Clean Master, CCleaner etc. Well, that's pretty much it, do let us know if you have another way that you think might help in speeding up an Android device. Sound off in the comments section below.
---
Load More