Every smartphone manufacturer does implement their own features or adds their own modifications to the Android OS that's provided in their devices. While some rely on adding minor tweaks and including their own set of applications like Motorola and OnePlus, there are companies like Asus and Xiaomi that believe in completely modifying the entire feel of the Android OS. While Xiaomi is known for bringing about various multiple additions to the OS as part of its MIUI, one feature that stands out is the Network Activity Meter in the status bar. Internet is an integral part of our lives, and the ability to monitor one's connection speeds in real time is something that all of us desire.
What if I told you that there is a way that you could get the same feature (or even an advanced version) on your Android device? Sounds too good to be true? Not really. Here is how you can show network speed in status bar on any Android device:
Show Network Activity on your Status Bar
1. You can use the Internet Speed Meter app from the Play Store to get the network activity in the status bar. It's available for free on the Play Store.
2. Once the app is installed, just open it, and you'll be presented with a normal screen that shows data usage. Notice that you will already be getting a Upload/Download meter in the center of your Status Bar. You can customize it further by tapping on the Settings icon.
3. In the Settings page, you can customize various aspects of this meter, such as using bits or bytes as the unit, showing the meter on the lockscreen, and various other tweaks.
4. You can also tap on the Widget Position option to alter the position of the internet speed meter, as shown below.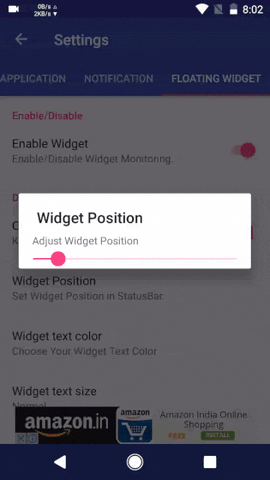 While there are other apps available on the Play Store that claim to provide the same features, I found Internet Speed Meter to be the best out of them all, with the simplest UI and great functionality. Even so, if you want to see some alternatives, feel free to check out Internet Speed Meter Lite, which is also available on the Play Store for free. While you can't re-position the meter on your status bar, and it displays just the download speed, it is nonetheless one of the more accurate internet meters out there.
SEE ALSO: How to Get OnePlus 5-Like Reading Mode on Any Android Device
Enable Network Activity in Status Bar on your Android Device
While MIUI only displays the download speed on your Status Bar, with the help of Internet Speed Meter, and other such apps, you can view the download speed, or both download and upload speeds, in real time on your device's Status Bar. So, try out these apps and let us know your thoughts in the comments section below. Also, if you have any queries, sound it off below.